Portable NXPowerLite Desktop Edition 10.0.1 (x64) Multilingual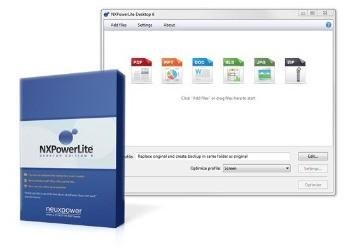 NXPowerLite Portable radically reduces the size of PDF, Word documents, Excel spreadsheets, PowerPoint presentations and JPEG images. Files remain in their original format, with no discernible loss of quality – and there's no need to unzip before using them. It's incredibly easy to use. Simply select a file, choose your optimisation level and click the 'Optimise' button. If you use Lotus Notes, Microsoft Outlook, Outlook Express or Windows Mail, it's even easier. NXPowerLite Desktop Edition will automatically optimize email attachments as they are sent. File recipients don't need NXPowerLite Portable to open or edit the attachments.
NXPowerLite Portable is a versatile software designed to compress and optimize files, enabling users to reduce their file sizes significantly without compromising on quality. With its intuitive interface and powerful features, NXPowerLite has become a go-to solution for individuals and businesses looking to optimize their digital assets and improve productivity.
One of the key features of NXPowerLite Portable is its ability to compress various file types, including PDF documents, Microsoft Office files (Word, Excel, PowerPoint), JPEG images, and ZIP archives. By reducing the size of these files, users can save valuable storage space, improve file transfer speeds, and enhance overall system performance.
The software employs advanced compression algorithms that analyze the content and structure of files to identify redundant or unnecessary data. It then intelligently removes this data while maintaining the integrity and visual quality of the file. This ensures that the compressed files retain their original formatting, fonts, images, and other elements, making them fully accessible and usable.
NXPowerLite offers different compression settings to cater to different user requirements. Users can choose between standard compression, which provides a balance between file size reduction and quality, or extreme compression, which achieves maximum file size reduction while still preserving acceptable quality. This flexibility allows users to customize the compression level based on their specific needs.
In addition to file compression, NXPowerLite offers a batch processing feature, enabling users to compress multiple files simultaneously. This is particularly useful for businesses or individuals dealing with large volumes of files, as it saves time and effort by automating the compression process. Users can simply select the files or folders they want to compress, choose the desired compression settings, and let NXPowerLite do the rest.
Another notable feature of NXPowerLite is its integration with popular email and file-sharing platforms. The software seamlessly integrates with Microsoft Outlook, Lotus Notes, and other email clients, allowing users to compress attachments before sending them. This not only reduces the file size but also speeds up email transmission, ensuring faster delivery and improved inbox management.
Furthermore, NXPowerLite integrates with cloud storage services such as Dropbox and SharePoint, enabling users to optimize their files before uploading them. This ensures efficient use of storage space and faster syncing across devices, making it easier to access and share files from anywhere.
NXPowerLite also provides comprehensive reporting and analytics, giving users insights into the impact of file compression. The software generates detailed reports that highlight the original and compressed file sizes, the percentage reduction achieved, and the amount of space saved. This information helps users track their file compression progress and measure the benefits of using NXPowerLite.
Security is a top priority for NXPowerLite, and the software ensures that all compressed files maintain their integrity and confidentiality. The software does not compromise on data security, ensuring that files are not exposed to any vulnerabilities during the compression process.
In conclusion, NXPowerLite Portable is a powerful file compression and optimization software that offers a range of features to help users reduce file sizes, improve storage efficiency, and enhance productivity. With its intuitive interface, support for various file types, batch processing capabilities, integration with popular platforms, and robust reporting features, NXPowerLite is a valuable tool for individuals and businesses looking to optimize their digital assets. By compressing files without compromising quality, NXPowerLite enables users to save storage space, enhance file sharing, and improve overall system performance.
Clean and intuitive interface
The interface of the application is plain and uncomplicated, letting you easily customize settings. Importing items into the file list can be done by using either the file browser or drag-and-drop feature. Working with multiple entries at the same time is possible, as batch processing is supported.
Predefined and custom-made output profiles with optimized settings
The file queue displays the source path and size for each item. So, you can make NXPowerLite optimize files for the screen, printing or mobile devices. Otherweise, you can enter custom mode to establish the new resolution for Microsoft Office, PDF and JPEG items, among other settings.
Furthermore, you specify a file renaming rule as well as set the tool to delete private application data and to preserve the original file's date and time.
Evaluation and conclusion
The utility runs on a very low amount of CPU and system memory, has a good response time, and includes a help file for inexperienced users. It quickly finishes a task and delivers good results regarding the optimized size. NXPowerLite Portable proves to be quite reliable for swiftly decreasing file sizes in an uncomplicated manner.
Main features:
Simple user interface
ZIP archive optimisation
Batch processing of documents
Integrate with email client to automatically optimise attachments
Choice of optimisation levels
Microsoft Office integration
Multilingual user interface
Custom profiles
Create unlimited personalised profiles with custom resolution, quality, hidden data settings and more. Quickly select any settings profile straight from the home screen for a great productivity boost.
Email compression
NXPowerLite can automatically compress your email attachments as they are sent in either Outlook or Lotus Notes.
System requirements:
Windows Vista and above
NXPowerLite integrates with 32 & 64-bit versions of the following applications:
Microsoft PowerPoint
Microsoft Word
Microsoft Excel
NXPowerLite can automatically optimize email attachments in the following email clients:
Microsoft Outlook
Lotus Notes
File Types supported:
PDF Documents
Microsoft PowerPoint presentations
Microsoft Word documents
Microsoft Excel spreadsheets
JPEG images
PNG
TIFF
All the above formats contained within zip archives.
NXPowerLite Portable Release Note:
When removing EXIF data from JPEGs we now retain the orientation data, so optimised photos will display with the correct orientation in Windows.
Custom optimise profiles are now listed alphabetically by name (we're not entirely sure why they weren't previously — sorry about that)
We've added common resolution names to the list of resolutions e.g. 4k, 1080p etc. to make it easier to pick out the one you need
It is now possible to drag and drop a file shortcut onto NXPowerLite
Fixed lots of high-dpi issues that caused the app to look bad on high resolution displays
Lots of visual tweaks and polishing
We crushed many bugs, some big, some small
Download NXPowerLite Portable