Portable NXPowerLite Desktop Edition 9.1.7 (x64) Multilingual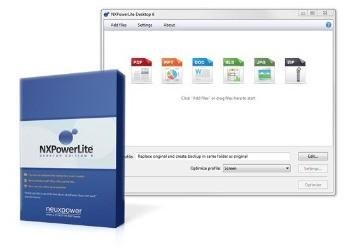 NXPowerLite Portable radically reduces the size of PDF, Word documents, Excel spreadsheets, PowerPoint presentations and JPEG images. Files remain in their original format, with no discernible loss of quality – and there's no need to unzip before using them. It's incredibly easy to use. Simply select a file, choose your optimisation level and click the 'Optimise' button. If you use Lotus Notes, Microsoft Outlook, Outlook Express or Windows Mail, it's even easier. NXPowerLite Desktop Edition will automatically optimize email attachments as they are sent. File recipients don't need NXPowerLite Portable to open or edit the attachments.
Clean and intuitive interface
The interface of the application is plain and uncomplicated, letting you easily customize settings. Importing items into the file list can be done by using either the file browser or drag-and-drop feature. Working with multiple entries at the same time is possible, as batch processing is supported.
Predefined and custom-made output profiles with optimized settings
The file queue displays the source path and size for each item. So, you can make NXPowerLite optimize files for the screen, printing or mobile devices. Otherweise, you can enter custom mode to establish the new resolution for Microsoft Office, PDF and JPEG items, among other settings.
Furthermore, you specify a file renaming rule as well as set the tool to delete private application data and to preserve the original file's date and time.
Evaluation and conclusion
The utility runs on a very low amount of CPU and system memory, has a good response time, and includes a help file for inexperienced users. It quickly finishes a task and delivers good results regarding the optimized size. NXPowerLite Portable proves to be quite reliable for swiftly decreasing file sizes in an uncomplicated manner.
Main features:
Simple user interface
ZIP archive optimisation
Batch processing of documents
Integrate with email client to automatically optimise attachments
Choice of optimisation levels
Microsoft Office integration
Multilingual user interface
Custom profiles
Create unlimited personalised profiles with custom resolution, quality, hidden data settings and more. Quickly select any settings profile straight from the home screen for a great productivity boost.
Email compression
NXPowerLite can automatically compress your email attachments as they are sent in either Outlook or Lotus Notes.
System requirements:
Windows Vista and above
NXPowerLite integrates with 32 & 64-bit versions of the following applications:
Microsoft PowerPoint
Microsoft Word
Microsoft Excel
NXPowerLite can automatically optimize email attachments in the following email clients:
Microsoft Outlook
Lotus Notes
File Types supported:
PDF Documents
Microsoft PowerPoint presentations
Microsoft Word documents
Microsoft Excel spreadsheets
JPEG images
PNG
TIFF
All the above formats contained within zip archives.
Download NXPowerLite Portable