Portable Paragon Hard Disk Manager Business 16.20.1 (x64) + WinPE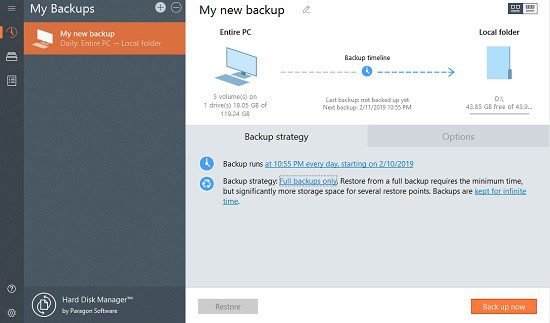 Hard Disk Manager™ for Business – Disaster Recovery from the bottom up for business and organizations of all sizes. Hard Disk Manager™ for Business helps organizations build a reliable Disaster Recovery framework, from storage management to system integrity and data protection.
Basic Partitioning
Create, format, delete / undelete, hide / unhide, active / inactive, assign / remove drive letter, change volume label, file system conversion (FAT to NTFS, NTFS to FAT, HFS to NTFS, NTFS to HFS), file system integrity check
Advanced Partitioning
Split, merge, expand, redistribute free space, change cluster size, convert to logical / primary, edit sectors, convert to MBR / GPT, change primary slots and serial number, test surface, compact / defragment MFT, partitioning virtual disks (via Connect VD)
System and Data Protection
Back up an entire system, volumes and files, scheduled backup, incremental and differential imaging, backup encryption and compression, backup data excludes, pre-/post backup scripts, pVHD, VHD, VHDX, VMDK containers support.
Recovery Media Builder with drivers injection and pre-mounted network connections capabilities during setup helps to prepare bootable (uEFI and BIOS compatible) Windows PE or Linux USB sticks or ISO images to use the product utilities on bare metal machines or when OS is down
Data Migration
Copy partition / entire disk / Windows OS, copy with partition resize up and down, data exclusion filters, migration from HDD to SSD, migration to dissimilar hardware, V2P migration (via Connect VD).
Bare-metal and Granular Restore
Restore an entire system, individual volumes or files and folders, restore to the original or new location, restore to dissimilar hardware, restore with resize, mount / import backup containers.
Data Wiping
10 industry-class software algorithms, hardware trim and secure erase for SSD / NVME, clear free space, set wipe stamp, residual data verification, cleanup reports.
Automation
Predefined/ custom backup strategies / data retention policies, scripting, mail notifications.
Connect VD
Direct connection to VHD(X), VMDK, VDI disks from local / external / network storages in read/write / read-only / non-destructive VD connection modes
Remote connection to disks of virtual machines hosted by VMware vSphere in open / encrypted VD connection modes.
Key Points
– Innovative backup imaging technology (pVHD, VHD, VMDK)
– One integrated and comprehensive solution for backup and disaster recovery, migration and data management
– Proven in millions of installations worldwide
– Never before at this price: image- and file-based backup, bare-metal recovery to dissimilar hardware, migration, partitioning and wiping for physical servers and workstations
Product Features:
Embedded Recovery Media Builder 3.0
– Instead of two utilities downloaded from Paragon's website (BMB and RMB), the RMB 3.0 is now embedded into the product. Combining the best of the two utilities, it can boast more options, usability, and stability.
File-level backup/restore for virtual containers (pVHD, VHD, VHDX, VMDK)
– Paragon's innovative backup imaging technology now opens up the option of creating file-level virtual containers (full, incremental, as well as file complements), thus offering users rock-stable, high-performance technology to protect system and data not only on sector-level, but file-level as well.
Wiping SSD
– Wipe SSDs of most manufactures very user-friendly and permanently!
Agentless protection of Hyper-V guest machines
– Unlike traditional backup tools designed to work with physical machines, the product can operate at the virtualization layer, employing MS VSS (Volume Shadow Copy Service) to agentlessly backup/restore any guest machine of Hyper-V. Thus the solution doesn't need an agent on a target virtual machine to create its point-in-time copy including its configuration, operating system, apps, etc.
Portable:
Download – 169.2 MB
WinPE:
Download – 423.1 MB