Want to revive your family archive? Save those faded, ripped, and stained photographs? Fix them all with PhotoGlory Portable, an easy but efficient program for restoring old photos. Whether you are new to photo restoration or a pro in the field, you will enjoy the software's intuitive and semi-automatic workflow, as well as a stunning result you can accomplish with it.
If you have old family photos that suffered from the passage of time, then chances are that you are looking for a way to save them those faded, ripped or stained heirlooms. While old photos restoration is a rather complicated process, PhotoGlory Portable is an advanced tool that can lend a hand with reviving your family archives.
Cleans the time imprints and allows you to colorize the pictures
The application comes with a modern interface that dedicates most of its space to viewing the actual picture. You can access the restoration tools from either the upper menus or from the right panel, where you also have access to considerably more features.
As you probably hinted, you first need to make a digital version of the photo you want to restore and then open it within the app to correct it. With a simple click of a button, you can easily remove stains, creases, scratches and other defects. Moreover, you can get a new image from its negative.
The application provides a very detailed guide on how to restore pictures, so if you did not do this before, you can take the time and follow the instructions provided.
Works with ripped images and can restore washed out photos
You will be happy to learn that the program also allows you to restore photos that are ripped or torn. From the Retouch menu, you can use the Patch function to remove major defects, fix small blemishes, remove unwanted objects – such as stains, for instance – or adjust parts of the image. At the same time, you can revive washed up as well as black and white photos manually via the Coring function from the same menu.
Powerful photo restoration software
– Remove scratches, creases, stains, tears
– Colorize a black and white photo in a click
– Restore colors to faded & washed out images
– Add stylized text labels and date stamps
Features :
– Restore photo clarity, contrast and saturation
– Two modes for colorization: auto and manual
– Colorize B&W photos automatically or manually
– Built-in-artistic effects
– Enhance your retro pics with 100 built-in effects
– Effortless geomerty correction
– Straighten tilted pics and crop damaged edges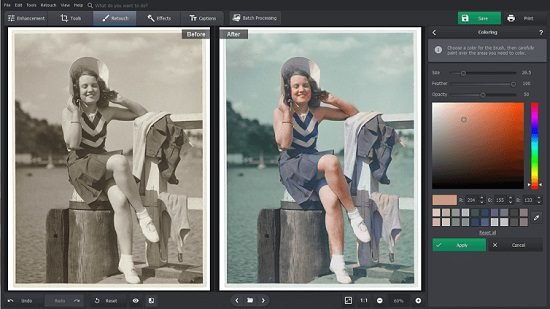 Download PhotoGlory Portable