Portable Picture Cutout Guide 3.2.12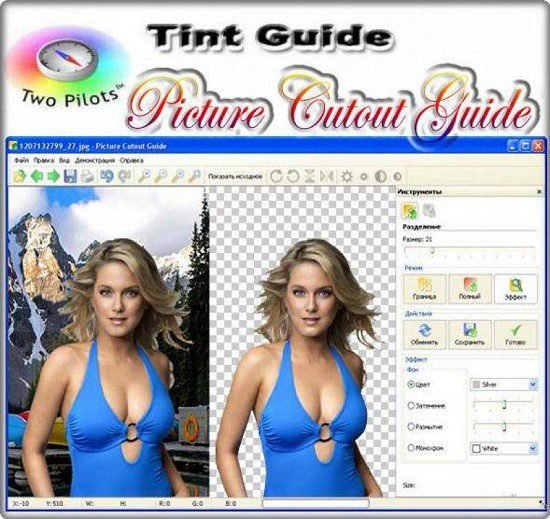 Picture Cutout Guide Portable is a graphic editor developed specifically for helping you separate objects from the background of an image and generate a photomontage.
Features:
Intuitive layout and supported file formats
You are welcomed by a clean feature lineup that allows you to add images into the working environment using the built-in browse button or "drag and drop" operations. It works with the following file formats: JPG, TIF, PNG, BMP, TPI, DBI, and RLE.
In case you don't understand the function of each built-in parameter, you can consult the help manual or watch the built-in tutorials for making the most out of this utility.
Cutting and pasting operations
Picture Cutout Guide gives you the possibility to separate an object from its background, completely clear the wide edge, swap the object and its background, store the separated object for pasting it into another image, as well as fill in the background with a user-defined color.
Plus, you are allowed to paste an object (separated from its background) into an image, transform the object using a vertical or horizontal reflection, and delete or rotate the objects to different angles.
The program comprises several special effects developed to help you apply shadows for reducing the background brightness, as well as blurring or monochrome options.
Additional editing operations
What's more, you can resize the current image, crop items, rotate the photo to different angles, embed text messages, which can be customized in terms of size, font, and color, as well as boost your photo appearance by altering the brightness, contrast, gamma, saturation, and RGB.
The program gives you the possibility to paste another image into the current photo, apply a patch from one area of an image to another, undo or redo your actions, print or save the edited image to a file, zoom in or out, and display the picture at the best viewable size.
Bottom line
All in all, Picture Cutout Guide proves to be a handy piece of software worth having when you need to separate solid objects from a background and transfer the objects to another photo.
What's new :
• Portuguese (Brazil) was added. Twenty one languages are included by this moment.
Download Picture Cutout Guide Portable