Portable Poser Pro 13.0.287 (x64)
Poser Pro Portable is a powerful 3D graphics software designed for professional artists, illustrators, and animators. It allows users to create stunning 3D models, animations, and visual effects with ease. With its intuitive interface and advanced features, Poser Pro has become the go-to tool for many creative professionals in the entertainment industry.
Poser Pro Portable offers a vast library of pre-built 3D assets, including human figures, animals, props, and environments. These assets can be easily customized, scaled, and posed to fit any project's needs. The built-in character rigging system allows users to create complex animations and poses quickly. Users can also import their own 3D models created in other software packages, such as Maya or 3ds Max.
One of the standout features of Poser Pro Portable is its advanced rendering capabilities. The software offers several rendering options, including photorealistic rendering using the Firefly render engine. Firefly produces high-quality renders that are indistinguishable from real-life photographs. It also offers advanced lighting effects, such as global illumination and soft shadows, giving artists full control over their scene's mood and atmosphere.
Poser Pro's animation tools are equally impressive. The software offers a range of animation techniques, including keyframe animation, motion capture, and procedural animation. Its pose creation tools allow users to create complex animations quickly, while its motion blur and depth-of-field effects give animations a more natural look and feel.
Poser Pro also includes a powerful material editor, allowing users to add textures, bump maps, and other effects to their models' surfaces. The software supports a wide range of file formats, including OBJ, FBX, and COLLADA, making it easy to exchange data with other 3D modeling and animation applications.
Another feature that sets Poser Pro apart from other 3D software is its integration with other tools. For example, users can import their Poser scenes into Photoshop as 3D layers, allowing them to composite their 3D characters and environments seamlessly with 2D artwork. Poser Pro also supports the PoserFusion plug-in, which integrates Poser scenes directly into popular 3D software packages like Cinema 4D, Lightwave, and 3ds Max.
Poser Pro is also known for its community of dedicated users who share tips, tricks, and resources through online forums and user groups. The software's developer, Smith Micro, provides regular updates and technical support to ensure that users have access to the latest features and tools.
In conclusion, Poser Pro is a comprehensive 3D graphics software designed for professional artists and animators. Its vast library of pre-built assets, advanced rendering capabilities, animation tools, and integration with other software make it an invaluable tool for anyone working in the entertainment industry. Whether you're creating character designs for film, animation, or video games, Poser Pro has everything you need to bring your ideas to life.
New Features in Poser 13 Portable
– Updated SuperFly render engine utilizing the latest open source Cycles engine. GPU renders of complex scenes benchmark at under half the time required for the same scene on Poser 12.
– New Post FX options for rendered images including: denoise, exposure, saturation, gamma, brightness, contrast, bloom, blur and pixelate.
– Updated animation rendering system for better productivity rendering movie sequences.
– GPU rendering on remote nodes with Queue Manager allows creation of a powerful render farm on your local network
– New app launcher with Recent and Start Up scene templates
– Updated Walk Designer and Talk Designer for better compatibility with all figure types and support of imported libraries.
– Improved adaptive sampling for faster renders.
– Improved Intel Open Image Denoise (OIDN) that uses AI to denoise SuperFly renders.
– HDRI environment rendering for SuperFly.
– Enhanced shadow catcher and included HDRI environments enable realistic 360-degree VR-like environments inside Poser
– Improved morph and weight map copying system makes creating clothing easier.
– Streamlined installer, less than a 1/4 the size of previous version.
Improved included content delivery using Poser's content library. One click installation of included and store assets. Over 25 GB of updated and re-organized content from Poser versions over the years.
– New online help system works in your web browser with translation & bookmarks.
– Downloadable PDF version of the manual for off-line reading.
Returning Features
– Firefly render engine for compatibility with scenes from previous versions.
– Powerful non-photographic render modes including Cartoon, Comic Book and Sketch Renders.
– Python 3 API updated for more versatile Python scripts
– SuperFly shadow catcher objects and background transparency.
– Material manager allows you to quickly and intuitively copy materials.
– Continued support of LaFemme and L'Homme figures.
– HiveWire3D's Dawn, Dusk feature updated SuperFly materials.
– Control handles provide interactive controls to make posing and animation more intuitive.
– Improved Library Search for internal and external content.
– Render layers for Firefly.
– All former Pro options are included in Poser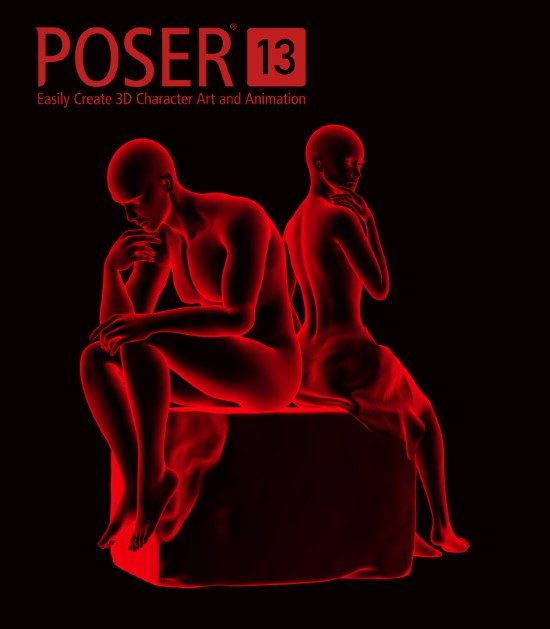 Download Poser Pro Portable