Portable QuarkCopyDesk 2021 v17.0 (x64)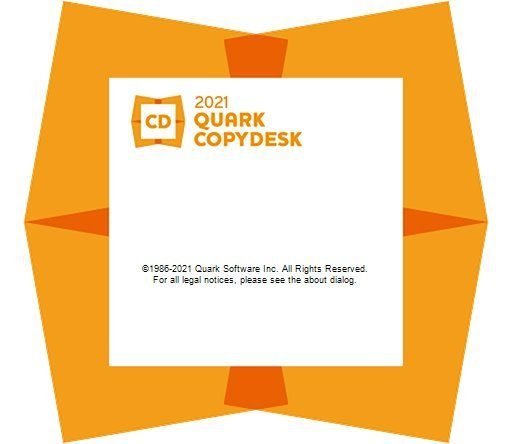 QuarkCopyDesk Portable provides the ability to edit content without altering the layout. Using components designated as editable, authors can amend text, place photos, and precisely fit copy.QuarkCopyDesk® can help writers and reviewers fit copy precisely to the final QuarkXPress layout, eliminating extra keystrokes and risk of errors — resulting in a more efficient production environment.
QuarkCopyDesk
Do you struggle with an editorial workflow and review process that involves handwritten comments, manually applied changes, and double or triple-checking to make sure changes are made properly?
QuarkCopyDesk® can help writers and reviewers fit copy precisely to the final QuarkXPress layout, eliminating extra keystrokes and risk of errors — resulting in a more efficient production environment.
Is Your Workflow Broken?
Your publishing process involves different types of contributors, such as writers, editors, reviewers, designers, and production managers. While some contributors use word processing tools, your designers and production managers use QuarkXPress. If your workflow consists of sending files back and forth through e-mail and manually updating word processor files in your layouts, then you're slowing down your publishing process.
Streamline Your Workflow with QuarkCopyDesk
You can streamline your publishing process by introducing QuarkCopyDesk to your production environment. QuarkCopyDesk is a desktop application that integrates with Quark Publishing Platform. QuarkCopyDesk lets writers, editors, reviewers, and other non-designers create, edit, and review their content from the page designer's perspective, which allows everyone to see the final layout.
Using QuarkCopyDesk, writers can compose copy to fit the layout precisely, which eliminates numerous cycles of copy and design adjustments. QuarkCopyDesk users can view and edit content that resides in the QuarkXPress layout. Notes and tracked changes travel with each QuarkCopyDesk article and are visible to everyone, which improves communication among team members. QuarkCopyDesk users also can edit images.
QuarkCopyDesk users check in and check out files from Quark Publishing Platform or their content management system, which provides a central repository for all content, while managing your creative process, file routing, and version control. By integrating writers, editors, and other non-designers into the layout and production workflow in a single system, you can speed up the entire publishing process, reduce errors, and meet deadlines.
Stand-alone Version
QuarkCopyDesk is an integral part of Quark Publishing Platform as the Quark Publishing Platform Client. However, it can also be used separately as a stand-alone text editor for writers, editors, and reviewers in smaller production environments that use QuarkXPress for page design.
QuarkCopyDesk Features:
Multiple Views
View articles in Galley, Full Screen, or WYSIWYG view, or all three at the same time using Split view. Content edited in one view updates in the other views simultaneously. Each view shows how your copy fits in the layout, as well as line counts, line breaks, and column breaks. Split view supports working with two monitors. QuarkCopyDesk continuously displays under-set or overset amounts, word and line counts, and column depths, along with previews of images anchored in a text component.
Import and Edit Images in Any Format Supported by QuarkXPress
Import images in a variety of formats, including native Photoshop® (.psd) and Adobe® Illustrator® (.ai) files. And use the same image-editing features as in QuarkXPress to apply cropping, scaling, and rotation.
Notes and Redlining
Place electronic notes directly in article text. Notes travel with the article, even when it's checked into Quark Publishing Platform and imported into QuarkXPress. Use redlining to track revisions and provide production teams and others with a record of changes. You can even view insertions and deletions made to an article, along with the details of who made each change.
Compatible with Industry-standard Word Processors
QuarkCopyDesk contains filters for exchanging text with Microsoft® Word and other common word processing formats.
Language Support
QuarkCopyDesk supports 12 user interface languages: Dutch, International English, U.S. English, French, German, Swiss-German, Italian, Japanese, Polish, Russian, Spanish, and Swedish.
A menu selection allows users to choose the user interface (UI) language displayed in their specific regional edition. All UI languages are included in the QuarkCopyDesk®. Users can choose among dictionaries and hyphenation in more than 30 languages.
Download QuarkCopyDesk Portable