Portable reaConverter Pro 7.766 Multilingual
A Better Way to Handle Your Images. Flexible, Smart and Very Fast. Understandable on a hunch, reaConverter makes batch conversion and oft-recurring image editing simple. Every year thousands of users around the world save thousands of hours using reaConverter!
Most graphic converters only focus on their main function, and you need to look for a separate tool if you are also interested in editing them. ReaConverter Pro is one of the apps that can perform all these tasks, while packing everything is a user-friendly GUI.
Step-by-step approach
To encourage even novices to enhance their images, the application comes with a step-by-step approach – you need to select the source files or folders, specify the target format, then configure the editing operations.
If you only want to add certain files from a chosen directory, you can simply enter the extensions you are interested in, then enter the file sizes.
When it comes to the converted graphic files, ReaConverter Pro supports numerous formats you can choose from, such as AI, BMP, CAL, DGN, DXF, EMF, GIF, ICO, JPG, PCX, PDF, PNG, SVG, SWF, TGA, TIF, WebP, XBM and more.
Includes numerous editing operations
Once you created the source list, you can move on to the next step, selecting one or more operations for enhancing the images. You can resize, rotate, split, crop or upscale pictures, as well as overlay image or text watermarks.
If you are looking for color adjustments, you can modify contrast, brightness, hue, saturation, color depth and so on, whereas creative retouching is also supported (sharpen, blur, stylize, shadow, border, lens correction, selective color change or JPEG artifacts removal).
Versatility
As well as handling every conceivable format you may encounter, reaConverter also provides a command line utility allowing you to process images automatically.
Power
And of course, we've added all the most useful features, such as image editing and the most efficient batch processing in any software of this type.
Add Images
Load files you want to process.
Apply Editing
Select from a variety of editing actions.
Save the Result
Choose output format and folder, tune saving options.
Automate
All the actions are available in an automatized way.
Widest Range of Supported Formats
– Highly efficient software that makes it easy to convert millions of files and folders in a single operation.
– Convert between a great number of file formats, including archaic and rare ones.
Ample Scope for Image Editing
– Understandable on a hunch, reaConverter makes oft-recurring image editing simple.
– Touch up, transform, apply editing and effects to any number of images at the same time.
State-of-the-art Features
Uber-powerful tool with a great variety of features. It gives advanced solution for image processing and tuning. Get complete, fine-grained control over your work.
Windows Context Menu Integration
Managing basic image conversion processes with reaConverter's latest edition takes less time and effort than ever! And now it doesn't even have to include opening the actual program — you can manage everything from Windows Explorer. Simply browse and select the images you intend to convert, right click and opt for a regular conversion, or for a conversion with changes.
Watch Folders
Editing a large amount of images can be extremely time consuming and drain you of energy and creativity. For this reason, reaConverter brings you one step closer to avoiding repetitive and dull batch image editing operations by adding an additional feature called Watch Folders. With Watch Folders you can configure reaConverter to monitor your system folders and automatically apply specific processing actions to all files you drop in Watch Folder.
Command-line Image Processing
reaConverter functionality can be implemented into scripts, applications or websites via command-line tool. It provides command-line access to all reaConverter features and can be used to automate processes via scripting. Running through command-line is an advanced feature available with Pro edition — a piece of software intended mainly for users who do image processing professionally.
DLL
reaConverter's full range of conversion and image editing options can now be included into your own customized software solution using the latest edition's Dynamic Link Library (DLL) feature. This is mainly addressed to developers and proficient users and is designed for the Windows platform. The DLL feature works similarly with the command-line interface, however, the DLL works only via internal program calls. reaConverter DLL is available with Pro edition only.
Version 7 puts the functionality to the whole new level:
– Ultra-fast multi-threaded conversion
– The entirely reworked user interface
– New image editing options and graphic filters
– New formats support including CAD and MS Office documents
– New ways to save the conversion result
– New Watch Folders feature to monitor folders and automatically apply processing
– New command-line tool for simple integration to server-side and third-party solutions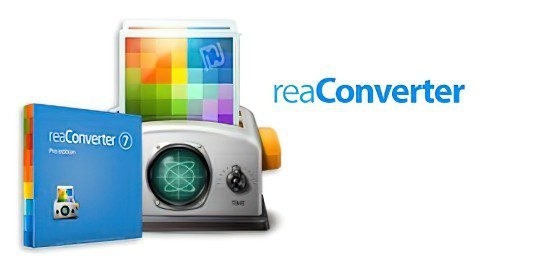 Download reaConverter Portable