Portable Renee Becca 2021.55.77.357 Multilingual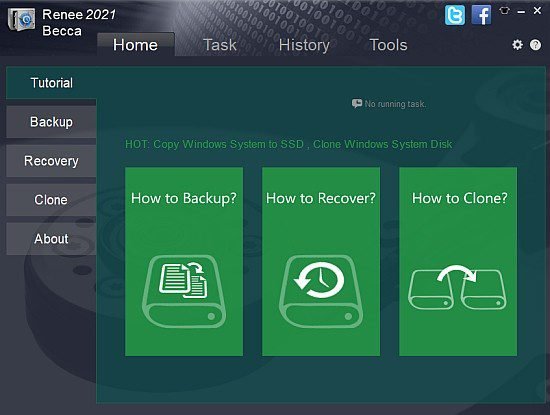 When we lost files, file recovery software should be the final method to save it. Good fortune does not always wait for us. Regular backup with professional backup and restore software. Renee Becca Portable helps you ready for any unpredictable disaster. Backup the system, configurations, programs, files, folders and etc in your computer at will! 5 different backup schedules, automatic backup plans are all available!
Renee Becca is an intuitive and straightforward piece of software designed to assist you in cloning your entire system or a single drive, enabling you to have copies that you can restore, should anything happen to the originals.
Multiple Modes Backup Modes
Migrate System to SSD with 3 Steps
Clone Disk/Partition/Folder within Steps
Features :
Stay on Optimum Perference
To improve the stability and working efficiency, Renee Becca will automatically check server and upgrade when started.
Automatic 4K Alignment
Built-in automatic 4K alignment function improves SSD performance after migrating system to SSD.
Multiple Backup Plans
Renee Becca supports backups of system/partition/hard drive/documents/disk, which will fulfill your different needs.
Use a few Memory & CPU
When running Renee Becca and processing task, it will not influence the normal work of the other software.
Leading Backup Technology
Automatically analyzes differences between source and backup documents, which save disk space by backing up the differences.
Automaticaly Backup and Update Plan
Backup and update the backpu files regularly with auto backup plans you set. Multiple plans help you save time and space.
Clear-cut and pleasant user experience
The program goes through a brief and uneventful setup process, after which you can launch it and begin creating various backup tasks.
Renee Becca features quite an accessible and user-friendly appearance, and it makes sure that computer novices do not have to waste time trying to figure out how to use it, by providing handy tutorials for this purpose.
Run or schedule backup operations for your system, a partition or just a folder
The application comprises three main functions, specifically 'Backup', 'Recovery' and 'Clone', each one with a subset of options allowing you to target your entire system, a partition or just a directory.
After choosing the source item for your 'Backup' tasks, you need to define the destination folder and name for the generated file, a timestamp being automatically attributed. The operation can run right then and there, or you can postpone it for later. Similarly, you can schedule it to run 'Daily', 'Weekly' or 'Monthly', on a precise date and time.
To 'Restore' an item, you simply need to load a previously created backup file and choose the output location, either a new one or the original. The 'Clone' function enables you migrate from one PC to another, moving all your data to a new hard disk; this can also be done for a single partition or you can redeploy your system to a different HDD.
Other components offered by Renee Becca allow you to erase a partition or a selected disk, in order to prepare it for storing backup files, for instance. The 'Disk Manager' helps you view various details about your drives or run certain related operations.
An effective backup tool
Overall, Renee Becca proves to be a complex and reliable utility that can successfully assist you in backing up your entire computer or only essential data, making sure you never run the risk of completely losing the stored information, should you experience a crash or other such situations.
Download Renee Becca Portable