Portable Applian Replay Media Catcher 9.3.12.0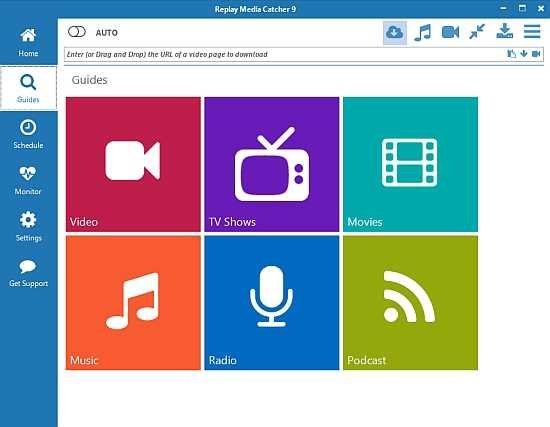 The Ultimate Internet Video Downloader and Converter Tool. Replay Media Catcher Portable is the most powerful, convenient online video downloader in the world. And it supports audio/MP3 download or recording too.
Sharing information of all kinds and formats has become increasingly easier thanks to the introduction of the internet to the masses. While uploading and sharing media can be done instantly, there is always a risk of the hosting platform to get shut down, the file in question to be struck by copyright holders or the user choosing to delete the account on which the item resides.
One way to avoid losing access to your favorite videos and music tracks is by using a comprehensive download utility such as Replay Media Catcher in order to save them in various formats for offline use.
Extensive features within an accessible layout
The app greets users to a straightforward interface that lays all the core functions within the Home tab, letting the user download videos through their website links and capture both audio and video from various premium streaming platforms. The second tab contains searching tools for quickly finding videos, movies, TV shows, music, radio channels and podcasts.
A third menu supports downloading a later time, while a dedicated live stream monitoring tool is also available for automatically downloading the content as soon as the stream starts. Finally, a comprehensive settings menu lets the user tweak the app's behavior by enabling sound effects, choosing the output folder for each media type, choose the audio and video codecs and establish file naming rules for a neatly organized media collection.
Manual or automatic downloading features
Downloading can be done by either copying and pasting or dragging and dropping website links into the input field for exporting in a wide variety of formats, ranging from 3GP, M4A, MKV to MP3, MP4 and OGA. Digital Video Recording can be done using a dedicated browser-based window with shortcuts to the most popular streaming services.
For easily managing all current downloads, the context menu button in the top right corner of the window provides quick access to functions such as deleting, renaming, playing, converting, importing, restarting and combining files. Lyrics, artwork and tags can be assigned to music files, while advanced features such as advert blocking, account credentials support for video extraction engines and HTTPS monitoring are also available.
Useful companion for media consumption
For archiving or collection purposes, Replay Media Catcher is a viable tool capable of downloading, recording and preserving music and videos in an impressive range of formats.
Here's why Replay Media Catcher is the world's most popular tool to capture online video
Easy to Use.
Just play an online video, movie, or song, and a copy is downloaded to your PC. That's it! The built in Media Guide contains thousands of options to help you find the content you want.
Convert More Formats.
Our web video downloader supports more web site media protocols and converts to over 130 device and file formats.
Powerful Audio Recorder.
For music lovers, you can record and convert audio from ANY web site or source, at high quality.
Smart Video/MP3 Naming.
Automatically names video files, and identifies and tags recorded MP3 music files. Amazing!
Super Fast.
Advanced downloading technology captures videos and MP3 files at up to 10x playback speed.
Phone and Tablet Support.
Integrates with iTunes, DropBox, Google Drive or SkyDrive for automatically copying files to your Apple or Android phone or tablet.
Download Internet Video and MP3s
Replay Media Catcher Portable is the only video downloader software you'll need to capture almost any internet video or audio. Most files can be downloaded at 10x speed, and for music sites that use encrypted formats, you can legally record them with the built-in audio recorder or our powerful DVR feature.
Explore Huge Media Guides
Replay Media Catcher also contains Media Guides to help you find and save online video, movies, TV shows and music. We've made it easy to find and grab the content you want in one simple step. You're going to love the new Media Guide.
Scheduled Downloads, Power Converter
Replay Media Catcher also has a scheduler and a powerful built-in converter. Discover the video downloader the pros use to capture video, audio and MP3s.
What's NEW:
DVR improvements for sites backed by cloudflare
Improved HLS protocol retries
Misc fixes and improvements
Download Replay Media Catcher Portable