Portable SharpCut 1.4.4.0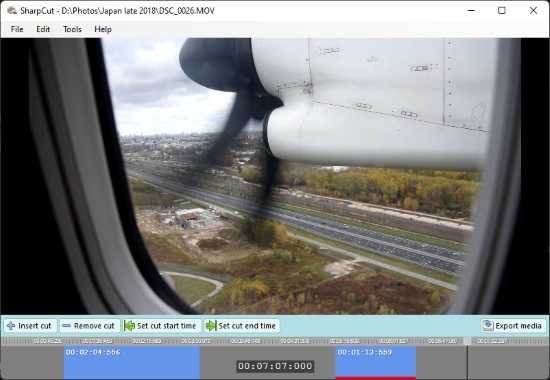 When you record an important event in your life, you might end up with a very large file that nobody has the patience to watch in its entirety. However, you can extract the most interesting scenes and save them as separate videos that can be easier to watch on any device you might choose.
The cutting process does not require re-encoding, making it a superb app for novices, but experienced users will like its efficiency. You have options of similar video editing software like LossLessCut that are feature-rich and, to some, complicated. SharpCut focuses on timeline scrubbing performance and ease of use instead. The interface is about as self-explanatory as possible while retaining modern usability. SharpCut supports MP4, MKV, TS, AVI, MOV, MPEG, WEBM, and OGV source file formats.
SharpCut will showcase its usability when working on large (and long) video files. Unlike LosslessCut, SharpCut doesn't require container remuxing other than MPEG-4 (.mp4) to make files work with HTML5 video tag. An excellent choice when you need down-and-dirty video cutting capabilities without a plethora of features.
Intuitive looks
This application packs a user-friendly GUI and it is meant to encourage even novices to save the most exciting parts of a large clip as standalone videos.
You need to start by loading the file you want to process and there are two ways to do that: you can either drag and drop the file onto the main window, or you can manually browse to its location.
SharpCut supports several source formats, such as MP4, MKV, TS, AVI, MOV, MPEG, WEBM and OGV.
Visual method to cut videos
Unlike some other video editing tools out there, SharpCut does not require any expert skills and extracting a certain segment from your video is achieved as straightforward as it can be.
You can jump to the frame you need, then set the starting point, then navigate to the end of them scene and mark it as the ending point. You can repeat this operation multiple times for a single clip, and you will be left with a collection of nice, little scenes, each exported to its own MKV or MP4 file.
To sum things up
All in all, SharpCut might not look too impressive at first sight, yet its graphical interface is designed specifically to simplify the extraction of one or more segments from a selected video. You can even save the current project and continue it in LosslessCut, if you prefer.
Download SharpCut Portable