Portable SNS-HDR Pro 2.7.3.1 (x64)
The HDR technique makes it possible to create an image so faithfully to how the scene is perceived in reality. When the scene being photographed has both very dark and very bright areas, the camera is unable to capture its entire range of luminosity. As a result, the image will contain underexposed or overexposed areas, which cannot be adequately corrected at the editing stage. In order to capture the full range of luminosity of such scenes, the HDR technique is used. It consists in capturing several images of the same scene at different levels of exposure and subsequently combining them into one complete image.
SNS-HDR is a software for processing images using the HDR technique. It allows users to create HDR images from sequences of photos, as well as process single images. Featuring a wide array of tools, the software has been optimized to make the generated images look natural. SNS-HDR is available in 3 versions (Professional, Home and Lite), which have different licenses and offer different sets of features.
The program works with a wide range of file formats, namely JPG, PNG, TIFF, EXR, HDR, ARW, DNG, RAW, SNS, SRW, 3FR, and others.
SNS-HDR Pro gives you the possibility to switch to a full screen mode for a better focus on your work, zoom in or out, as well as apply various special effects (e.g. dramatic, natural, neutral, night, soft, interior).
What's more, you can apply masks, edit the photos using an external program, undo or redo your actions, rotate the pictures to different angles, and use a histogram.
The utility offers support for batch processing, which means you can add multiple images to the list and process them at the same time.
Other notable characteristics bundled in this app are represented by the possibility to adjust the levels for brightness, contrast, shadow, temperature, saturation, and hue, as well alter the RGB values.
During our testing we have noticed that SNS-HDR Pro offers very good image quality, and no errors showed up throughout the entire process. It eats up CPU and memory, so the overall performance of the computer may be affected.
To sum things up, SNS-HDR Pro offers an intuitive layout and a handy set of parameters for helping you edit images, and is suitable for beginners and professionals alike.
Features:
Reading images in popular formats.
Reading RAW, Radiance HDR and OpenEXR images.
Merging several photos into HDR.
Processing single images.
Image alignment.
Ghosts reduction.
Unique image editing tools.
Built-in presets.
Masks.
Saving and restoring projects.
Saving images in JPEG and TIFF formats.
The batch processing module.
Whats new:
Improved Emphasizing Light parameter.
Improved Clarity parameter.
Increased range of the Emphasizing Light parameter.
Added meta information to 360 panorama images.
Added option to disable automatic luminance adjustment.
Improved White Point parameter.
Updated LibRaw.
Updated ExifTool.
Added support for new cameras.
Fixed file name generation in the batch processing module.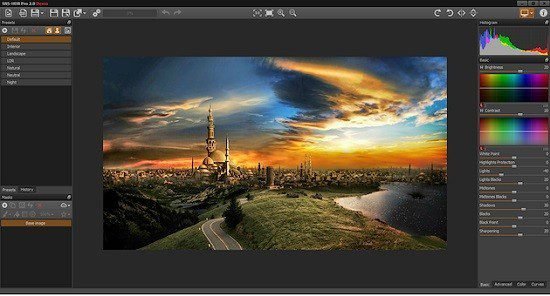 Download SNS-HDR Pro Portable