Portable Windows Repair Toolbox 3.0.3.3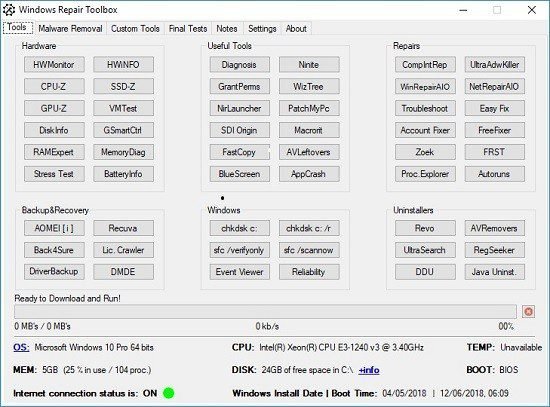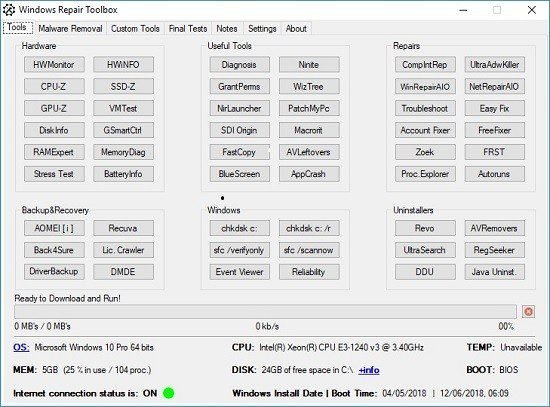 Windows Repair Toolbox Portable is a software created to help you repair a Windows system, by making the process faster, easier and uniform.
In case you noticed that your computer has been running slow lately and its performance is consistently decreasing, then perhaps it is time to consider clean it of junk and other obsolete apps that are clogging the resources.
Windows Repair Toolbox is a lightweight bundle that provides you with an extensive set of tools to help you monitor, clean, enhance, tweak and repair broken processes that make your system sluggish.
Comes with numerous monitoring, tweaking and repair tools
The setup is as straightforward as it gets, especially since it entails decompressing the archive in any desired location on your hard drive. You should make sure that you have free space, as the tool creates a special folder to store the applications that you are downloading.
While it is not exactly impressive, the GUI is clean and displays various tools well-organized based on the primary function they are developed for. Therefore, you can choose between different hardware monitoring, backup and recovery, repairs, uninstallers, Windows enhancement solutions and other tools that help you configure the behavior of your operating system.
It helps you maintain your computer clean of malware
If you have reasons to believe that the sluggishness of the operating system is due to a virus infection, then you will be happy to learn that the app provides you with several solutions to remove Trojans, spyware and other malware.
Once you have removed the problematic viruses or PUPs, you can verify whether the operation has affected the integrity of the files that have been corrupted. Then again, if you are not happy with the apps recommended, then you can also add your own programs by following the steps indicated in the Custom Tools tab.
Features:
– Download and run "on-the-fly" the best free portable software when it comes to diagnose and solve several kinds of Windows problems. The tools are categorized by their function, and the program will automatically download the correct version for the Windows edition in which you're working. When you finish, simply uninstall the tool, and all downloaded software it's also removed.
Note: there are 3 tools that aren't portable, those are marked with an [ i ] (stands for "installer");
– Displays relevant information about the computer to be repaired: CPU temperature, name and % of use; amount of RAM installed on the system and % of use; amount of free space left in C:\ partition; Windows edition and install date.
– Allows you to perform quality assurance tests after the repair is complete;
– Allows you to save notes about the repair process;
– Provides 1-click access to some useful Windows tools (chkdsk, sfc, regedit, msconfig);
– "Unattended fix" option, automatically performs: malware removal, system cleaning and repair and disk defragmentation. A email letting you know that the automatic repair is complete, and containing the logs, can be sent to you.
What's NEW:
- Fixed a bug in the GUI for the Sysinternals Suite: the command-line tools would not run if the path contained an empty space.
Download Windows Repair Toolbox Portable