Portable StreamFab 6.1.5.2 (x64) Multilingual
StreamFab Portable is a versatile and powerful software designed to help users convert, download, and stream their favorite video and audio content from various popular streaming platforms such as Netflix, Amazon Prime, Disney+, Hulu, HBO Max, and more. With its user-friendly interface and advanced features, StreamFab Portable is the perfect solution for people who want to enjoy their favorite movies, TV shows, and music offline, without any restrictions or limitations.
One of the most impressive features of StreamFab Portable is its ability to remove DRM protection from streaming content. DRM (Digital Rights Management) is a technology that restricts users from copying or sharing digital content, making it difficult to watch or listen to content on multiple devices. However, with StreamFab, users can bypass DRM protection and save their favorite movies and TV shows to their local device, so they can enjoy them anytime, anywhere, without an internet connection.
StreamFab also supports a wide range of video and audio formats, including MP4, AVI, MKV, WMV, FLV, MP3, AAC, and more. This means that users can choose the format that best suits their needs and device compatibility, whether they want to watch content on their TV, smartphone, tablet, or computer. In addition, StreamFab offers high-speed conversion and downloading capabilities, ensuring that users can quickly and conveniently access their content without any delays or buffering issues.
Another key feature of StreamFab is its intuitive and user-friendly interface, which makes it easy for users to navigate and access all of the program's functions. Users can easily search for and select the content they want to download or convert, and the software provides clear and helpful instructions throughout the process. Moreover, StreamFab offers a range of customization options, allowing users to adjust the resolution, bitrate, and other settings to optimize the quality of their content.
StreamFab also includes a built-in video editor, enabling users to edit and enhance their videos with ease. The editor includes a range of tools and features, such as trimming, cropping, merging, subtitle editing, and more. This means that users can customize their content to suit their preferences and create their own unique versions of their favorite movies and TV shows.
Overall, StreamFab Portable is an essential software tool for anyone who wants to access and enjoy their favorite streaming content offline, without any restrictions or limitations. Its advanced features and user-friendly interface make it easy and convenient to use, while its support for a wide range of formats and devices ensures that users can choose the best options to suit their needs. With StreamFab, users can take control of their streaming content and enjoy it on their own terms, wherever and whenever they want.
On-demand videos come and go on streaming services
Most on-demand videos on a streaming service, including Netflix, Prime Video, HBO Max, and many others, come and go due to the licensing agreements between the streaming service and the studios that produce them.
The movies, TV shows, and other videos will be removed if the licensing agreement is due and not renewed. What's more, if a title is gone, no one knows for sure whether or not it will come back in the future. It could be gone forever.
Offline saving the downloaded video forever
Although streaming services allow you to download videos to watch offline, that feature comes with many limitations.
– The downloaded videos expire after a certain period, usually 30 days.
– Once start, you have to finish watching a video within 48 hours.
– Not all videos are downloadable and some are only available on mobiles, and cannot be transferred to other devices.
With StreamFab, however, all of these terms and rules are gone, you can keep the downloaded videos permanently, and transfer them to any device you have to watch anytime and anywhere.
Download videos from Amazon, Netflix, Disney Plus, and more
Are you finding it hard to download videos available for streaming from Amazon, Netflix, or other streaming services to your device for offline watching? Well, no more!
The StreamFab products offer the most complete downloading solution available to help you download any video from popular streaming services, such as Amazon, Netflix, Disney Plus, Hulu, and more.
Download videos in 1080p and EAC3 5.1 audio tracks
With regards to downloading videos, the StreamFab products allow you to download videos in HD 720p or Full HD 1080p quality. The choice is yours.
Additionally, you also have the option to download videos with either EAC3 5.1, AC3 5.1 or AAC 2.0 sound channels.
Download videos in MP4 format
There is no need to worry about the playing issue. With the StreamFab products, you can download and save videos as MP4 files, a format that is compatible with almost all devices.
Play and share your downloaded videos on numerous media players without concern.
Remove ads during the downloading process
Some streaming services have pop-up ads while you are watching videos. In order to improve your viewing experience, the StreamFab products remove ads on videos downloaded from Amazon IMDB TV, Hulu Basic Plan, Paramount Plus Limited Commercials, YouTube, and more.
With our downloader products, you can now enjoy your favorite videos without being interrupted by ads.
Select an audio and subtitle language according to your UI language
Since most movies and TV shows contain more than one audio track and subtitles of different languages, our downloader products are able to pre-select the audio and subtitle language so that it is consistent to the UI language you have set.
But if needed, you can also choose another language yourself.
Download subtitles as SRT files or remux them into the video
Besides selecting audio and subtitle language, the StreamFab products also give you a choice on how to process the subtitles, according to your specific needs.
You can decide to save them as external SRT files or remux them directly into the MP4 file.
Auto-download newly released episodes at scheduled time
Fans of TV shows all know that new episodes are always aired at a scheduled time, periodically. It would be nice if you can download the future episodes as soon as they are released.
With this downloader software, you can have that. Just add all your favorite TV shows to the Scheduled queue, it will download all the new episodes automatically, based on your schedules, weekly, or daily.
Batch download and fast speed
Our downloader products will never disappoint those who are concerned about the downloading performance. Designed with a batch download mode, the StreamFab products allow you to choose multiple episodes, or even an entire season to download.
On top of that, the fast download speed is another impressive feature of our downloader products. This makes downloading a movie in just 10-20 minutes possible.
Built-in browser to find videos to download
Instead of prompting you to enter the video URL, StreamFab relies on the built-in browser to help you search for the video you want. Alternatively, you can provide a video URL or even upload multiple URLs from a text file to download videos in batch.
The tab-based browser allows one-click access to frequently used websites and popular services, while also providing an extensive list of supported websites in alphabetical order. By default, the selected service is YouTube and you can easily start a new search or type in the URL of the video to download. Social media sites and video sharing services are on this list.
The good thing about working with a browser-based video downloader is that you get to perform the search using the main window of the downloader and enjoy watching it in full instead of previewing a small thumbnail.
Download subscription-based content at high speed
Another plus of StreamFab is its support for subscription-based services, including Amazon Prime, Disney+, Netflix, and so on. Subscribers can use this application to login to their account and start downloading content for offline viewing.
It only takes pressing a button to send a video to the download queue in StreamFab. It supports up to 4K or 8K resolutions, MP4 and MP3 format, with options to download both audio and video at high speed. Subtitles can also be downloaded with StreamFab, if available.
Versatile video and audio downloader
With StreamFab, creating your personal, offline multimedia library is easier and faster. Thanks to its integrated browser, you can perform searches much easier and download the videos and music you want in an instant. The incredible high number of supported websites is its main selling point, but ease of use and its browsing capabilities are also pluses worth considering.
StreamFab Portable Release Note:
New: Added support to download MissAV videos with the DRM M3U8 Downloader module.
Fix: A failure problem when downloading videos from Hulu Store of Japan.
Fix: A problem that the EN-GB subtitles cannot be preselected as default when downloading Netflix videos.
Fix: A problem that only one subtitles stream is downloaded despite selecting two when downloading Netflix videos.
Fix: A failure problem when downloading certain videos from Apple TV.
Fix: A failure problem when downloading certain videos from CW TV.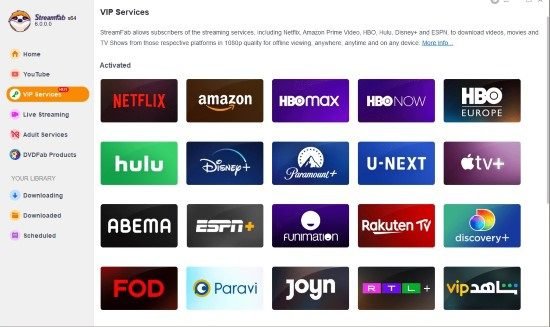 Download StreamFab Portable