Portable Synthetik Studio Artist 5.0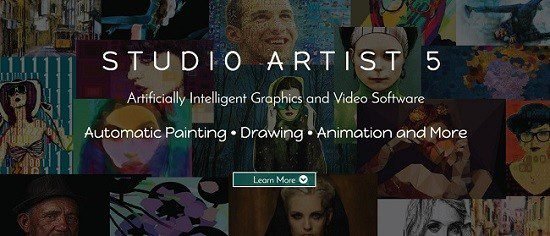 Studio Artist portable is the first and only software program that can automatically paint, draw and auto-rotoscope. Studio Artist examines a source image or video and then re-renders from scratch in the style you choose either automatically or interactively with just Two Easy Steps. Pick an Auotmatic Paint preset and press action or pick an Assisted Paint preset and let Studio Artist help guide your drawing. You can also manually paint or draw with Studio Artist.
There is nothing on the market like Studio Artist. Based on continuing Neuroscience and Artificial Intelligence Research, Studio Artist has an embedded model of the human visual cortex and knows how to automatically paint and draw. But that's not all Studio Artist can also Auto Rotoscope turning video into moving art and animation automatically.
Main Features
• Automatic Painting
• Auto Rotoscoping
• Image Effects Suite
• PhotoMosaic EFX
• Vectorizer
• Gallery Show
• Morphing Warping
• Time Particles
• KeyFrame Animation
• Thousands of Presets
• MSG Evolution
• Paint Action Sequence
• Live Performance
• Real-Time Editing
• Supersizer
• Time-Based Effects
• Full Wacom Support
What's NEW:
Now over 600 Editable Parameters
Thousands of New Curated Presets
Extensive New Vector Paint Features – Natural Media to Wild Vector Paints – Exclusive to Studio Artist (See Gallery Examples)
Configurable Shadow Options for Vector Paint and Region
New Path Start Regionizers for Intelligent Mosaic Generation Features
New Canvas Textures – Examples are used on this Website
Dynamic Brushes – Intelligent Brush Size Modulation Emulates How an Artist Paints. Brush Size changes based on different regions of the source image.
Current Vectorizer Preset Parameters can be embedded in the Paint Synthesizer through Path Start to direct the Synthesizer how to paint.
Ip Op effects, that generate vector output, can also be embedded in a Paint Synthesizer Preset for region or path generation through Path Start.
New Macro Edit Help Commands
Image Folder Brushes
Enhanced Intelligent paint brush modulators for more tightly defined paint effects.
Enhanced Paint Lighting Options for Creating Realistic Oil Paint Effects
More Powerful Brush Load Parameters (what gets put on the Brush) and Paint Fill capabilities (how the canvas interacts with the brush)
Lots of new Sketch effects like Space Filling Curve, Traveling Salesman, Hedcut, Scribble, Line Screens and more.
Improved muilti-pen and Interactive Region Draw Features
Thousands of New Curated Presets
Lots of new Sketch Effect parameters. Hatching, Edge, Line Screens, Pens, Pencils, Shape Fills, Painter, Abstract and more.
Many Image effects Now Support Vector Output
Vector Image Effects can used to Generate Bezier Paths that can be use by the Paint Synthesizer or Path > Path Layer Commands which is a way to Create Different Drawing Styles Based on Automatically Manipulating Bezier Paths.
Hundreds of New Editable Parameters For Existing and New Image Operation Effects
New Multi-Octave Gradient Effects – Exclusive to Studio Artist – Great for Enhancing Oil and Raised Effects
New Watershed Regionizer Effect Types
New Linescreen Effect Types
Now over 640 Different MSG Processors to create Automatic Imagery
New Shadowing Parameters
MSC Vector Effects Can Now Be Output as EPS or SVG
More Workspace Configuration Options For Advanced Editor and Evolution Editor
Over 800 New Curated Presets
Extensive New Shadow Drawing Features – Simple Shadowing to Amazing Painterly Effects
New Voronoi Cells and Delaunay Triangulation Region Generation Options – Automatically Regionize Images Into Shapes
New Region Fill Options – Gradients, Patterns, Shapes, Hatching, Halftone Screening, Line Screening, Extrusion, Coloring and more
New Vector Edge Sketch Options – Lots of new sketch parameters including shadowing and Paint Effects
New Image Shape Technique Renders Images with Shapes – Lots of New Shapes and Ways of Organizing them Within the Image
Adaptive Auto Masking Options
Procedural MSG or Vectorizer Source Options
Adjustable Paint Mutation Controls
Adjustable Paint Path Options
Adjustable Adaptive Color Palette Generation Options
User Selectable Process Folder for more Elaborate Start-End Cycle Transformations
Image Folder Input Option for Temporal Effects Derived from Multiple Images Rather than Movie Files
Randomized Effect Composite Options
New Slit Scan and Scan Tracker Effects – Slit scan temporal effects can be used to Expand, Contract, Extract or Remove Motion from a Scene as well as Create Amazing Visual Effects.
Gallery Show Now Supports Generating Temporal Operation Effects from a Folder of Images

https://uploadrar.com/wjtm0wok1h53/X-50ASAS.rar