Portable PDF-XChange Editor Pro 10.1.3.383 (x64) Multilingual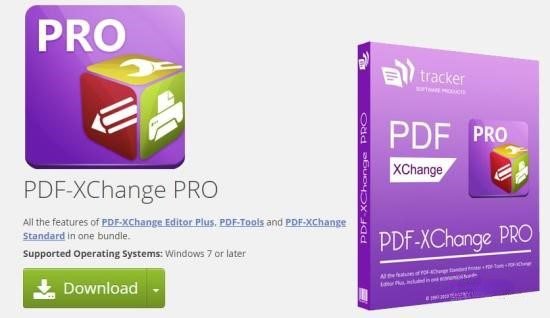 Text documents are usually to compose and edit, but it's not the same when handling PDF files. These are preferred for their level of security, and possibility to hold different types of content. In this regard, PDF-XChange Editor Portable comes as a powerful PDF editor which bundles a variety of features to work on existing documents and save with new changes.
PDF-XChange Portable is a powerful PDF editor and viewer that offers a wide range of tools and features to help users create, edit, and annotate PDF documents. Developed by Tracker Software Products, PDF-XChange is a popular choice among individuals and businesses looking for an efficient and user-friendly PDF editing solution.
One of the key features of PDF-XChange Portable is its ability to edit PDF files directly, without the need to convert them to other formats. This means that users can make changes to text, images, and other content within the PDF document itself, rather than having to go back to the original source file.
PDF-XChange also offers a range of annotation tools, including the ability to highlight text, add comments and sticky notes, and draw shapes and lines. These tools make it easy for users to collaborate on PDF documents, whether they're working with colleagues or clients.
In addition to its editing and annotation capabilities, PDF-XChange also includes a number of features designed to enhance document security. Users can add passwords and encryption to their PDF files, as well as control access to certain parts of the document. This makes PDF-XChange an ideal solution for businesses and organizations that deal with sensitive information on a regular basis.
Another key feature of PDF-XChange is its OCR (optical character recognition) functionality. This allows users to scan printed documents and convert them into searchable PDF files, making it easier to find specific information within the document later on. The OCR tool is highly accurate and reliable, even when dealing with complex layouts and fonts.
PDF-XChange also supports a wide range of file formats, including Word documents, Excel spreadsheets, and image files. This makes it easy to convert existing files into PDF format, or to save PDF files in different formats for use in other applications.
The software's interface is clean and easy to navigate, with all of the primary tools and functions located in a single toolbar. Users can customize the toolbar to suit their specific needs, adding or removing tools as required.
Overall, PDF-XChange Portable is a powerful and versatile PDF editor that offers a wide range of tools and features to help users create, edit, and annotate PDF documents. Its ease of use, security features, and OCR functionality make it an ideal solution for businesses and individuals looking for a reliable and efficient PDF editing solution. Whether you're working with complex documents or simple forms, PDF-XChange has everything you need to get the job done quickly and easily.
File support and view options
Files first need to be loaded to be able to use any features. On the bright side of things, the application supports an impressive variety of formats besides PDF, such as XMP, BMP, GIF, ICO, JBG, PBM, PGM, TGA, PCX, DCX, PNG, JPG, TIFF, EMF, RTF, DOC, DOCX, XLS, PPT, TXT, and a few more. Each document you open is at a mouse click away in its own tab.
View options make it possible to adjust page display for a more comfortable experience, with options for single or continuous pages. Thumbnails can be enabled for preview, rotation is included, zoom helps analyze details, while the ruler makes it easy to measure specific elements or better align objects inside the document.
Content editing and exporting
Document content benefits from a decent array of manipulation tools. It's possible to extract multiple pages, and even have them replaced. Furthermore, you can limit editing to content itself, with options to insert and select text, add pictures, barcode, or draw directly on the page using dedicated brush tools and shapes.
In case you're working with freshly-scanned paces, the OCR component attempts to translate readable text, which you can then fine-tune with the built-in spell check tool. You can take snapshots of the documents and save as pictures, and measure perimeter, distance, or area.
Export possibilities aren't that abundant, but make it possible to generate a new PDF, or even PPT file with all changes you make. Additionally, documents can be sent via email, or saved to SharePoint servers, or cloud services like Dropbox or Google Drive.
Advanced features:
• PDF-XChange Editor (Plus only) Create and Edit Fillable PDF Forms
• PDF-XChange Editor (Plus only) Create and Edit Dynamic Stamps
• Convert PDF to MSPowerPoint® format
• Reduce PDF file size by Image compression/downsampling & embed/unembed Font, PDF Optimization
• Advanced PDF Bookmark creation and management
• Direct Content Editing (Paths & Images)
• Combine PDFs open/closed pdfs
• Import Directly from XPS and other support formats
• Header & Footer Support
• Bates Numbering
• Delete Pages
• Move Pages – By Drag&drop in Thumbnails View.
• Insert/Import Pages (from existing PDF files)
• Extract pages to a new file (PDF or Image format – 15 formats supported)
• Crop Pages/Files
• Flatten Annotations/Comments
• Insert Blank page
• Summarize Comments
• Export Comments
• Scan Direct to PDF (now with inline OCR option during scanning process)
• Create PDF documents from text and RTF files
• Convert 15 supported image formats to PDF
• Extended Digital Signature Support (incl. Time Stamps)
• Security Profiles (for adding security to documents conveniently)
• Improved Browser Plug-ins to reduce compatibility issues
• and much more…
PDF-XChange Pro Portable
PDF-XChange PRO Portable is the ultimate PDF solution. It's a bundle package that combines the three best-selling applications that Tracker Software produces:
PDF-XChange Editor Plus

is a hugely dynam

ic and fully-customizable PDF application. Create, view,

edit, annotate, OCR* and sign PDF files – and that's just the beginning. If you work with PDF then this fully-customizable product will optimize your work process to levels that no other product can achieve. Create PDF files from scanned documents, images, text files, Markdown files and much more. Open, edit and convert Microsoft Office documents.* Avail of over thirty tools to assist in the creation of document comments, annotations, links and fillable forms. These tools make editing PDFs a finely-tuned, precise process that produces documentation and image files of the highest quality. Our user-friendly functionality is diverse enough to meet the needs of all practitioners from novices to professionals.**

PDF-Tools

is a worldwide leader in the creation and manipulation of PDF and image files. Highly user-friendly, it can be used to convert files of almost any format to/from PDF. Avail of seventy built-in standard tools, as well as functionality to clone and edit these tools and their variables as you desire. Use the Actions Library to fully customize your tools and the Tool Actions Sequence to determine the order in which they perform operations. Combine seventy-seven available actions to create your own tools – out of billions of possibilities. PDF-Tools is compatible with large PDF files and can also handle a huge number of files simultaneously – batch conversion is its strength.
What's NEW in PDF-XChange Editor Portable
A range of additional features to those listed above have been added to PDF-XChange Editor/Editor .
These include:
The Split Documents by Size feature, which enables the splitting of documents via the specification of a desired output file size.
The Overlay PDF feature, which makes it possible to overlay document pages with existing files.
The Recompress Multiple Images feature, which enables the simultaneous recompressing of multiple images.
Media Box Normalization, which enables the location of the media box to be set to the (0;0) coordinates in order to facilitate simpler content copying and pasting.
3D PDF Measurement Tools are also now available, so you can now perform measurements on 3D documents.
Crop to White Margins functionality.
Improved Features
A range of features have also been improved and enhanced for the V9 release. The Split Pages dialog box can now display deltas from both top and bottom, and several lines can be selected and removed at the same time. Additionally, a new 'Split Every x Points' command is available, which enables more dynamic splitting options, and it is now also possible to split pages by guide lines. The Watermarks features have also been updated – now you can specify when watermarks are visible: during View, Print and/or Export, and new macros have been made available. Dialog box functionality has also been enhanced in the Markdown to PDF and Export to Word/Excel/PowerPoint features.
A selection of new options are available in the Layers pane, including the ability to Import as Layer, Move Content and Annotations to layers, Specify Default layers, Drag and Drop content and annotations to the Layers Pane, Show/Hide/Toggle selected layers, Sort Layers alphabetically, Extract selected/visible layers and Flatten selected layers/all optional content. File and Destination controls have been updated in several dialog boxes, and the Export to Office options have been enhanced. The process of Editing Text also has some new features – it is now possible to retain the original text layout when editing document text, and list-creation is supported in both comments and page content. Numerous additional bug fixes and improvements have also been made to the software.
PDF-XChange Portable Release Note:
Bugfixes and Improvements
Fixed some security and stability issues.

Fixed a rare but critical issue in the Enhanced OCR feature that sometimes caused an 'Unspecified error' or 'Some pages weren't OCR'ed …" error on specific documents.

Fixed 'Paste Special' issue when using the keyboard. There was an issue with choosing different paste options when using the keyboard in the context menu.

Restored the ability to use a "Destination" when using 'Insert scanned images'.

Minor fix: increased the threshold that determines when a user can begin specifying a custom size for a new stamp in order to ignore small fluctuations caused by mouse/finger twitching.

Fixed an issue with using the 'Cut' operation for images in content that is selected with the Select Text/Hand tools.

Fixed an issue related to editing images in base content. In some cases glitches were possible after making changes to images.

Fixed mouse/touch handling when the Hand/Select Text tool is active and then an image is selected. Previously, it was impossible to select text over the image or 'scroll-by-Hand' inside the region of the image.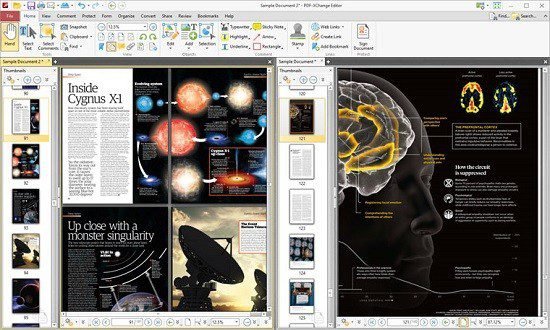 Download PDF-XChange Editor Pro Portable