Portable Acelogix System TuneUp 5.6.0.485 (x64)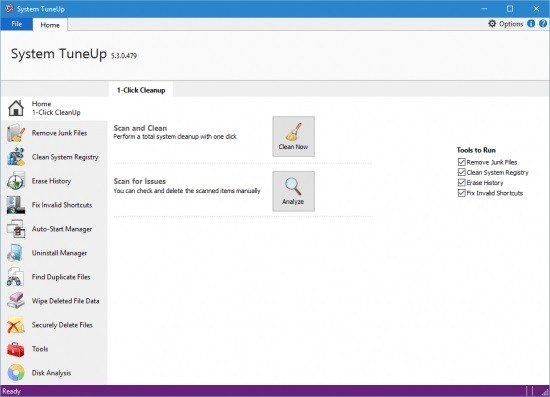 System TuneUp Portable is a modified version – with a different user interface. It's a collection of tools to optimize your Windows PC's performance. It has two modes – 'Normal' and 'Expert' so both novice and experienced users can use it accordingly.
System TuneUp promises to keep your computer in top shape and increase its performance by removing bloatware, cleaning the registry and fixing errors, repairing non-working shortcuts, erasing duplicates, and allowing you to efficiently manage storage space.
Perform a quick cleanup or choose the items to delete
Packing a plethora of tools into a single installer, System TuneUp can put your PC under the microscope and detect junk files, registry errors, and invalid shortcuts.
Upon start, a system restore point is automatically created, just to take that task off your hands and allowing you to focus on optimizing the PC. All the tools and options of System TuneUp are within reach, and one-click cleanup is available. Nevertheless, you can choose to give System TuneUp permission to perform the cleanup itself, or instruct it to perform a simple scan and let you delete items manually.
Clean the registry, uninstall apps, and manage startup items
There are various operations you can carry out with System TuneUp, starting with removing unnecessary files that are occupying storage space with no reason.
System TuneUp can also detect errors in the registry's hives and keys, related to the start menu, file associations, users, ActiveX, fonts, shared folders, and much more. Moreover, it enables you to erase the Internet activity and files you worked with, web browser cache, cookies, passwords, and forms.
Alongside the cleaning tools above, System TuneUp also bundles a startup manager that can help you configure the applications that are set to run with Windows, system services, and scheduled tasks. The built-in uninstaller can safely remove applications on your PC, while the file wiper can permanently get rid of sensitive files.
Duplicate remover, file wiper and storage manager
System TuneUp deploys all the tools you need to clean your system, including a duplicate remover, a secure file eraser, and a disk analyzer. As it creates a restore point before applying the changes, you shouldn't worry too much, but you can also create a backup of the registry using the dedicated option of System TuneUp, just in case something goes wrong.
Clean up your PC
Cleans junk, temporary and obsolete files from your disks using a swift disk cleaning tool.
Built-in steps ensure safer cleaning process.
Correct shortcut errors in your Start Menu and desktop.
Fix errors in Windows Registry
Remove invalid entries from Windows registry.
Windows boots up quickly.
Reduces application crashes.
Can create System Restore Point before deleting entries.
Can easily reverse changes made to the registry.
Ensure Your Privacy
Removes internet browser history and cache.
Supports IE, Chrome, Firefox, Opera, Safari and many other browsers.
Cleans Cookies and HTML5 data stored by all browsers and Flash.
Cleans usage tracks kept by Windows like the media you play, files you open, programs you run etc.
Erase the usage-history for over 300 third-party applications.
You can create custom plug-ins to delete files of your choice.
Supports multiple user accounts.
Can 'analyse' your PC and inform you how many files you can delete and how much space can be recovered.
Secure your PC by making data recovery impossible
Securely delete files and folders and make them unrecoverable.
Wipe your disk free space and remove all traces of data that previously existed.
Shred the contents of the Recycle Bin.
Four efficient and customizable data wipe methods.
Ensures that the deleted information does not fall in to prying eyes.
Eliminate duplicate files and folders
Helps you locate true duplicates of your files and folders in your disk.
You can search based on file type, category or size range.
Built-in support to check for duplicate music/video files.
Can exclude important folders from scanning.
Can ignore files below certain size to find space-consuming larger files.
Control the items that start with Windows
Easily manage programs and services that start with Windows.
Alerts you when a previously disabled program gets enabled.
Prevent malicious programs from running at start-up.
Your PC will boot up faster and use fewer resources.
Automate the clean-up process
Run multiple tools in one go with 'Quick Cleanup'.
Schedule cleanup to run at your convenience.
Disk Analysis
Gives you detailed analysis of your disk or drive contents.
Graphical pie chart representation; easy to understand.
Shows space usage by files and folders; lists the top 100 files by size.
Registry Backup and Restore
Easy backup and restore of Windows Registry.
Restore ability from Windows Recovery Console.
Can save space by keeping the backup files in compressed format.
Registry Compactor
Compacts and rebuilds Windows registry.
Removes registry fragmentation.
Improves system performance.
Manage Windows System Restore Points
Easily manage system restore points by removing the ones you don't need.
Uninstall programs properly
Uninstall applications quickly and easily.
Download System TuneUp Portable