Portable Uninstall Tool v3.7.3.5720 Corporate Edition Multilingual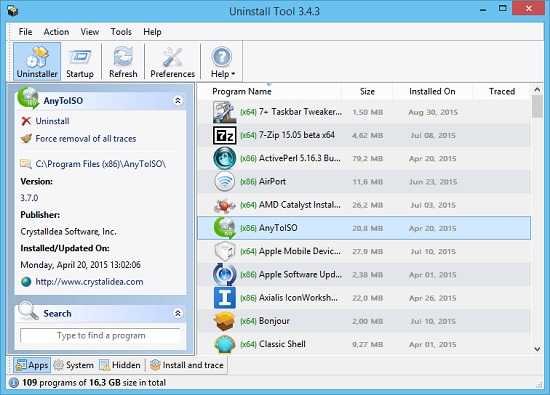 Uninstall Tool Portable – Unique And Powerful Uninstaller. Make your Computer Work Faster Now by using Uninstall Tool! It's a fast, secure and convenient way to remove unneeded applications and system components. Great, powerful and reliable alternative to standard Windows Add/Remove program. The program has lots of features and options mising in Microsoft's applet. Uninstall Tool works with LIGHTNING SPEED and COMPLETELY removes any program from your computer.
Uninstall Tool Portable is a professional software application whose purpose is to help you uninstall programs from your system and delete registry entries and other remnants. Additionally, the tool includes a startup manager that allows you to disable or enable programs that run at Windows startup.
Smooth installation and several tweaks
Installing the software takes place in no time and you may select the components that you want to deploy on the system. You can opt for the "Install and Trace" feature which helps you monitor all entries added to your system by a new installed utility. Plus, you can place Uninstall Tool's icon in Windows Control Panel.
User-friendly interface
The program automatically builds up a list with all utilities installed on your system and provides information about each one, such as name, size and installation date. The list can be refreshed with a single click and exported to HTML file format.
What's more, you may perform search operations for quickly identifying an app in the list, sort items by system or hidden files, open up the Windows Registry Editor for viewing info about the entries for a particular tool, access the installation folder, as well as perform searches on Google about the desired software.
Different uninstallation modes
Uninstall Tool Portable gives you the possibility to works with two different modes for getting rid of software from your computer. You can uninstall the selected program, scan the computer for registry entries and leftover files, as well as delete all the detected traces.
The second mode is built specifically for helping you identify system files and registry items belonging to a certain tool. It proves to be particularly useful especially when you need to delete obsolete or invalid entries, which couldn't be normally removed from the system.
Monitoring options
The "Install and Trace" mode helps you keep an eye on the changes that are made to your system when installing new software. You can view all entries left behind for each monitored utility.
Startup manager
A smart feature bundled in the package empowers you to check out the programs that run automatically at Windows startup, view current user registry key and details about the utility's name, status, source and company, enable or disable them, as well as add a new app to startup.
Configuration settings
Uninstall Tool Portable lets you make several tweaks related to sorting the installed applications listed in the main panel by different criteria, highlight recently installed programs, display popup window with recently installed software, and activate or disable the uninstallation wizard.
Powerful and reliable uninstaller
All in all, Uninstall Tool Portable combines ease of use with several advanced features for helping you remove programs and leftover files, trace new installed software, as well as manage startup items.
Key Features
Completely remove any software installed! (using Uninstall Wizard technology)
3 Times Faster than Add/Remove program!
3 Applications Categories: Software, System, Hidden
Remove Programs that automatically run at system startup
Many ways of Sorting Applications: by Name, by Occupied Size, by Installation Date.
Uninstall Programs that could not be removed by Add/Remove program.
Force removal of uninstall related entries in the registry.
Highlighting of recently installed applications in the list
Smart Search allows quick finding of any application you need.
Navigate to a selected program's Registry Entry, Installation Folder and its Web Site.
View Detailed Information of a certain application installed on your computer.
Easy to use and modern User Interface allows to work comfortably with Uninstall Tool.
Multilingual interface!
Option to replace Add/Remove program.
Saving (exporting to HTML) detailed reports about currently installed applications
Running "Windows Components" and "Add/Remove Programs" tools
Complete compatibility with x64 Windows
Much More…
What's NEW
The app can now be installed on arm64 Windows 11 in emulation mode
Slovak and Chinese (Simplified) translations update
Fixed incorrect detection of some 32 and 64-bit apps
Download Uninstall Tool Portable