Portable VSDC Video Editor Pro 8.3.6.500 (x64) Multilingual
VSDC Video Editor Portable is a powerful, yet easy-to-use video editing software for Windows. With a wide range of editing tools and features, VSDC Video Editor Pro allows users to create professional-looking videos with ease.
One of the standout features of VSDC Video Editor Portable is its non-linear editing capabilities. This means that users can edit video and audio tracks independently of each other, allowing for greater flexibility and control over the final product. Additionally, VSDC Video Editor Pro supports a wide range of video and audio formats, making it easy to work with any type of media.
The interface of VSDC Video Editor Portable is clean and user-friendly, with all of the essential editing tools easily accessible from the main toolbar. Users can add and arrange clips on the timeline, trim and split footage, adjust playback speed, apply effects and transitions, and much more. The software also includes advanced color correction tools, allowing users to adjust brightness, contrast, saturation, and hue to achieve the desired look.
In addition to traditional editing features, VSDC Video Editor Pro also offers a number of unique tools designed to enhance the creative process. For example, the software includes a motion tracking tool that can be used to add text or objects to moving footage. There is also a screen capture tool that allows users to record video directly from their computer screen, making it a great option for creating tutorials and instructional videos.
Another standout feature of VSDC Video Editor Pro is its ability to export videos in a wide range of formats, including popular options like MP4, AVI, MPEG, and WMV. Users can choose from pre-configured export profiles optimized for specific devices like smartphones and tablets, or create custom settings tailored to their specific needs.
Despite its impressive range of features, VSDC Video Editor Pro remains accessible to users of all skill levels. Beginners will appreciate the intuitive interface and tutorial videos included with the software, while more advanced users can dive into the extensive documentation and online support forums to unlock even more capabilities.
Overall, VSDC Video Editor Portable is an excellent choice for anyone looking to create high-quality videos on their Windows PC. From basic edits to advanced effects, this powerful software has everything you need to bring your creative vision to life. Whether you're a professional videographer or just getting started with video editing, VSDC Video Editor Pro is definitely worth considering.
Non-linear video editor
Our editor is a non-linear tool. This means that unlike in most other editors, where scenes come one after another in a linear sequence and certain order, our software allows objects to be placed in any position on the timeline and have any size. Besides, various parameters, shape and position of objects can change arbitrarily over time.
Visual and audio effects
You can apply various visual and audio effects to your videos to achieve the necessary result. Since the number of available visual effect is very high, they are split into five categories for ease of navigation: color correction, object transformation, object filters, transition effects and special fx.
Blending modes and Instagram-like filters
One more way of changing the look of your video image according to your preferences is color blending. Using a wide array of adjustable parameters, you can attach a unique professional style to your video. Newbies or those, who would like to save time, can benefit from stylish Instagram-like filters applied in one click.
Masking
VSDC Video Editor allows for creating different shaped masks for hiding, blurring or highlighting certain elements in your video. You can use it to apply special effects inside or outside the masked area. One of the most common reasons for masking are to blur a face to protect the identity or remove unwanted marks.
Subpixel accuracy
Objects in a scene are positioned with subpixel accuracy, which makes for smooth animation, rotation, transformation and precise relative positioning.
Support of popular formats
Our software supports virtually all video, image and audio formats and codecs. That is why you won't need any additional conversion tools to edit your files, as is often the case with other programs.
Creation of videos for specific multimedia devices
Thanks to a large set of preconfigured profiles, you can easily create videos for most popular multimedia devices, such as DVD players, iPod/iPhone/iPad, PSP, any smartphones and regular phones, Sony PlayStation, Xbox, Zune, Archos, iRiver, Creative Zen, Blackberry, MP4 players and many others.
Working with charts
You can create diagrams of different kinds, including 3D diagrams: Bar, Stacked Bar, Point, Bubble, Line, Scatter Line, Fast Line, Step Line, Spline, Area, Spline Area, Stacked Area, Stacked Spline Area, Range Bar, Gantt, Pie, Pie 3D, Torus 3D, Radar Point, Radar Line, Radar Area, Radar Spline, Radar Spline Area, Funnel, Pyramid, Pyramid 3D, High Low, Candle Stick. These objects can be based on dynamically changing data of different types. Besides, the appearance of diagrams is fully customizable (appearance of charts, coordinate axes, user-defined axes, legends, names of charts and axes, lines, labels and other elements), which will help you tailor them to your specific needs. Integrated color themes make it possible to quickly change the way your charts look.
Video library (to be included in the next program release)
The editor software lets you create your own library of multimedia files with brief or detailed descriptions. This will help you organize your video collection and simplify access to the necessary files.
Built-in DVD burning tool
The editor comes with a DVD burning tool, allowing you to easily burn the results of your work to optical discs.
Video File Converter
The application is designed to quickly convert video files from one format to another. It has some basic features for editing videos: removing unneeded segments, splitting your video into parts, and merging several files into one.
Desktop video capture
The video editor features a desktop video capture utility that saves captured footage to a video file for subsequent processing in the editor.
Video capturing
Another feature of the our editor is the ability to capture video from various video tuners, webcams, IP сameras and save the captured footage on your computer in an arbitrary format for subsequent editing.
Experienced users can benefit from VSDC Pro, the advanced version of VSDC Portable Video Editor. It brings a set of pro-level video editing tools and allows for faster processing.
For instance, VSDC Pro users are able to:
Use motion tracking: apply any object's movement trajectory to a text title, a mask, or an image
Sync video effects to the beat: connect any video effect parameters to the sound volume and frequency
Work with audio waveform: use a convenient sound graph to edit tracks more precisely
Make use of video masking: apply clipping mask, inverted mask, create censorship, and more
Stabilize shaky footage: fix jittering videos recorded on the go without special equipment
Record real-time voiceovers: add voice commentaries to your video right during the playback
Apply multi-color Chroma Key: isolate and remove any background color (not just green)
VSDC Video Editor Portable Release Note:
Introducing the Vectorscope histogram type for precise color analysis
Text stretching capability between two curves now available
Added support for 10-bit compression in AVC and HEVC codecs
Enhanced perspective effect with tracking points for image transformation
The Audio Spectrum object now includes an 'echo' parameter
Advanced color editing and keyframe functionality for seamless customization
Dedicated audio playback volume window for improved control
The 'Water' effect now supports service points
Parameters can now be edited along either the X or the Y axis by holding down the Shift key
Resource and effects preview integrated into the Source window
Basic proxy file support for enhanced performance
Other notable improvements and bug fixes:

Resolved issues with certain modes in the audio spectrum effect and fixed peak caps display
Fixed the issue with record updates when changing the order of resource columns
A blocked object remains blocked when copied to a new layer
Fixed the display of multicam projects when opening multiple projects simultaneously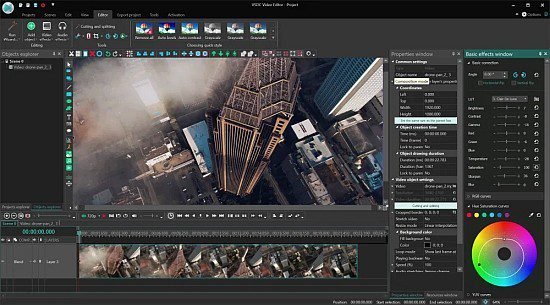 Download VSCD Video Editor portable