Portable Wise Data Recovery Pro 6.1.3.495 Multilingual
Wise Data Recovery Portable is a powerful and easy-to-use software that helps users recover lost or deleted files from their computer's hard drive, external storage devices, CD/DVD drives, and other removable media. This reliable and user-friendly tool can recover various types of data, including documents, photos, videos, music, archives, and more.
The software has a simple and intuitive interface that makes it easy for even novice users to navigate. The main screen displays all the drives connected to the computer, and users can select the drive they want to scan for lost or deleted files. The software supports both quick and deep scan modes, allowing users to perform a faster scan when time is limited or a more thorough scan when trying to recover critical files.
One of the most impressive features of Wise Data Recovery Portable is its advanced filtering options. Users can filter the search results by file type, size, date modified, or even by keyword search. This feature allows users to quickly locate the files they need and saves them time by not having to sift through countless irrelevant files.
Another standout feature of Wise Data Recovery Portable is its ability to preview files before recovery. This feature is particularly useful when recovering images, videos, and audio files as it allows users to confirm they have found the correct file before restoring it. The preview function also ensures that the recovered files are free from any corruption or damage.
Wise Data Recovery Portable supports various file systems, including NTFS, FAT, exFAT, and HFS+. The software also supports a wide range of storage devices, including internal and external hard drives, USB drives, memory cards, and even mobile devices. It has a built-in "Deep Scan" feature that can recover files that were lost due to formatting or partitioning errors.
Overall, Wise Data Recovery is an excellent tool for anyone who needs to recover lost or deleted files. Its simplicity and ease-of-use make it ideal for users of all levels of experience. Additionally, its advanced filtering and preview features set it apart from many other data recovery tools on the market.
The software is available in both free and paid versions. The free version offers basic recovery features, whereas the paid version provides more advanced features such as automatic updates, technical support, and unlimited recovery. The pricing for the paid version is reasonable and is based on a yearly subscription model.
In terms of system requirements, Wise Data Recovery can run on Windows XP, Vista, 7, 8, 10 and 11. It requires at least 128 MB of RAM and 10 MB of free disk space. The software is lightweight and does not put a strain on system resources.
In conclusion, Wise Data Recovery is a versatile and reliable data recovery tool that can help users recover lost or deleted files from a variety of storage devices. Its simple interface, advanced filtering, and preview features make it one of the best options on the market for data recovery. Whether you are a novice or expert computer user, this software is worth considering if you need to retrieve lost data.
Modern, and all the better for it
The program comes with many of the benefits that you would expect of modern software aimed at the general audience: the interface slants to the minimalist side, whilst still being practical to use. You select the drive where you previously stored the files you want to recover, and the program will automatically commence the scanning process. Thus, little input is required from the user.
As for the retrievable files, the program categorizes everything it finds, so the user can have an easier time with navigation. For instance, recovered audio files can be found in their designated category, which is then broken up into the relevant extensions of what had been found. If you do not wish to browse through all of those files via the File Type menu, you may choose the File Path view, which displays a sort of File Explorer of the recovered data.
1000+ Types Of Files Can Be Recovered
Wise Data Recovery Portable searches for multiple types of files, not only documents, but also videos, audios, emails, etc.
Documents: DOC/DOCX, XLS/XLSX, PPT/PPTX, PDF, CWK, HTML/HTM, INDD, EPS, etc.
Graphics: JPG/JPEG, TIFF/TIF, PNG, BMP, GIF, PSD, CRW, CR2, NEF, ORF, SR2, MRW, DCR, WMF, RAW, SWF, SVG, RAF, DNG, etc.
Videos: AVI, MOV, MP4, M4V, 3GP, 3G2, WMV, MKV, ASF, FLV, SWF, MPG, RM/RMVB, MPEG, etc.
Audios: AIF/AIFF, M4A, MP3, WAV, WMA, APE, MID/MIDI, RealAudio, VQF,FLV, MKV, MPG, M4V, RM/RMVB, OGG, AAC, WMV,APE, etc.
E-Mail: PST, DBX, EMLX, etc.(from Outlook, Outlook Express, etc.)
Other files: Such as Archives(ZIP, RAR, SIT, ISO etc.), exe, html, SITX, etc.
Recover Files For Different Loss Situations
Accidental & permanent deletion, Disk formatted, virus attack? No problem! This professional data recovery tool helps you recover files easily.
If you lost data from an unexpected system crash, it enables you to recover data from a crashed Windows and Mac OS with advanced WinPE bootable media technology.
Recover Data From A Variety Of Devices
Wise Data Recovery Portable recovers data from HDD, SSD, External hard disks, Floppy Disks, USB flash drives, Memory cards, Digital cameras, and any other storage devices.
It supports recover data from FAT, NTFS, HFS, HFS+, HFSX, Ext2, and Ext3 file systems.
The Fastest Data Scanning Speed
With advanced algorithm, Wise Data Recovery is able to finish the Quick Scan process in seconds, saving you a lot of time. You can also choose your recovery file types or type in keywords before scanning to narrow down searching results and save more time.
Perfectly Compatible with Almost All Windows Versions
Wise Data Recovery Portable is a small and absolutely virus-free program that consumes very little system resource. It allows you to recover lost files in your Windows system(64 and 32-bit). It has been developed and fully tested to work great on Windows 10/11 and other Windows operating systems, from Windows XP and up. No matter what you own – a desktop or a laptop.
Release Note
Fixed an issue that could leave an afterimage on the desktop when the window was minimized.
Fixed an issue where the program could close unexpectedly when restoring data.
Fixed some minor bugs in the previous version.
Improve the preview window to center the previewed image.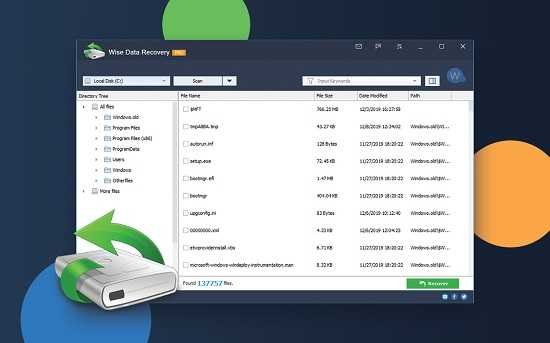 Download Wise Data Recovery Portable