Portable Active@ File Recovery Ultimate 22.0.7 (x64)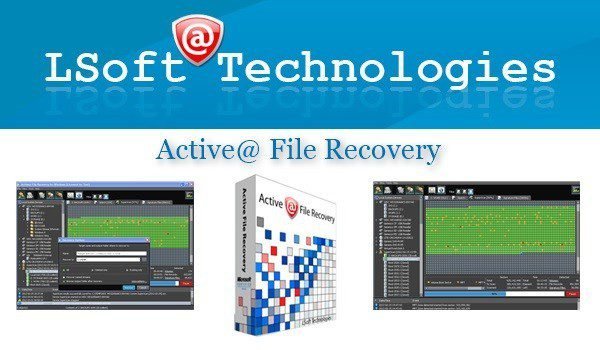 Active@ Partition Recovery Portable is an ultimate data recovery tool set. Active@ File Recovery Portable, efficient & easy to use recovery tool for deleted or lost files, damaged or re-formatted volumes, even if your PC doesn't boot. Recovers NTFS, ReFS, FAT, exFAT, HFS+, XFS, JFS, UFS, Ext2/3/4, BtrFS. Recovery software provides ability to detect and recover files,volumes & disks lost due to deletion, formatting, physical damage, viruses & other…
Ultimate version also includes the Active@ File Recovery – tool to recover deleted files, files on damaged partitions and to reconstruct damaged RAID disk arrays. Active@ File Recovery allows you to save particular files in case of unsuccessful partition recovery (for example, the file system itself is severely damaged).
Active@ Partition Recovery Ultimate Features:
– Includes DOS, Windows & Linux versions in one package. Windows Installer
– LastChance recovery mode detects files by their signatures on severely damaged volumes new!
– Built-in Organizer allows to rename & organize files in folders (detected by signatures) new!
– Includes integrated Active@ Disk Editor (Hex Viewer) – low-level disk and file inspector
– Includes Active@ File Recovery – recovery tool for restoring deleted files & damaged RAIDs
– Includes WinPE-based Active@ Boot Disk Lite (Windows Recovery Environment) for recovery of system partitions on unbootable systems
– Includes OpenSUSE-based Active@ LiveCD (Linux Recovery Environment) for unbootable systems recovery, being able to boot the latest x86 & x64 UEFI secure boot – systems, and regular BIOS new!
– Bootable Disk Creator allows you to create bootable USB Flash disk, as well as CD/DVD/Blu-ray disks
– Bootable Disk customization – adding user files, changing network, security & language settings
Can recover files coming in various formats
Active@ File Recovery Portable recovers lost data from hard drives, floppy or USB drives, and offers support for the following file systems: FAT12, FAT16, FAT32, NTFS, and NTFS5.
Furthermore, the program is able to restore files with the following file formats: DOC, XLS, PPT, MDB, SDW, RPT, VSD, PST, DOCX, XLSX, PPTX, JPG, BMP, AVI, ZIP, and others.
The application features two scanning modes: quick and super scan. Of course, the first one performs a basic scan and reveals the deleted files and folders found on the selected hard drive.
Lets you filter the results
The second method offers a comprehensive scanning operation which looks for all possible deleted data. At the end of the task, you can view details about the name of the file or folder, size, attributes, ID, as well as date when it was created, modified, and deleted.
Active@ File Recovery Portable gives users the possibility of performing searches based on different criteria (e.g. file format, size, ID), viewing information about each partition (e.g. label, type, file system, capacity, serial number, volume status), and selecting the directories and files to be restored.
The tool also features an advanced disk editor that allows users to analyse the contents of hard drives, partitions, and volumes, create bookmarks, search text or byte sequence, as well as change the content of the opened file or disk.
User-friendly tool protecting you from data loss
Last but not least, you can create a disk image, evaluate the recovery chances by inspecting file headers and raw disk structures, reassemble deleted or damaged RAID, as well as check the log for possible errors.
Key Features:
– Recover deleted files after Recycle Bin has been emptied or files were deleted while by passing the Recycle Bin
– Recover files lost due to accidental disk formatting damage by virus attack, malicious program, or a power failure
– Recover photos & pictures deleted from a USB Flash or images lost after formatting a Memory Card (SD, CompactFlash)
– Data restoring when partition or volume is deleted damaged or formatted, or disk has bad sectors
New Features:
– More pre-defined file signatures recognition: Microsoft SQL Server Databases (MDF), Virtual Hard Drive Files (VHDX)
– Support for Microsoft's ReFS versions 3.x file system data recovery
– Improvements in Linux/Unix JFS and XFS file systems data recovery
– Improved handling of dynamic virtual disk arrays: Microsoft's LDM & Linux's LVM
– Improved software stability while working with damaged disks
– Improvements in Windows Storage Spaces partitions handling
– Data recovery for ReFS file system having non-standard sector sizes: 1024, 2048 & 4096 bytes
– Improved Custom Signatures scripting for user templates creation to search deleted file by their signatures
Features Supported:
– FAT, exFAT, NTFS, ReFS, Apple HFS+, Unix UFS, XFS, JFS, Linux Ext2/3/4, BtrFS;
– HDD, SSD, USB, IDE, SATA, eSATA, SAS, SCSI hard drives, USB Flash, SD, MMC, CompactFlash;
– RAID reconstruction (RAID-0/1/5, Span); Deleted/damaged partitions recovery.
What's NEW in Active File Recovery Portable:
Added new predefined file signatures recognition:

Adobe iWork Pages (PAGES)
Apple iWork Numbers (NUMBERS)
Apple iWork Keynotes (KEY)

Performance enhancements and bug fixes
Ultimate package: improved Bootable Disk Creator
Ultimate package: Active@ Boot Disk switched to the latest WinPE v.10 based on Windows 11 v21H2 code base
Download Active File Recovery Portable
Download – 24.3 MB
Active@ File Recovery Users Guide – 1.6 MB