Acronis Cyber Backup 12.5 Build 16545 Multilingual BootCD
Acronis Cyber Backup delivers the data protection that meets today's demands. It keeps your business running, protecting any workload, scaling without limits, and saving you money.
We are happy to introduce Acronis Cyber Backup 12.5 – the most secure backup solution on the market, capable of protecting 20+ platforms no matter the size or location – on-premises, in remote systems, in private and public clouds, and on mobile devices. It ensures business uptime by spinning up backup on a virtual machine or by restoring an entire system to new, dissimilar hardware, overcoming compatibility issues.
Acronis Backup provides flexible storage options: NAS, SAN, tapes, disks, Acronis Cloud, or any private or public cloud, such as Azure, AWS, or Google. Its proprietary AI- and ML-based technology features proactively prevent cyber attacks, stop questionable behavior, and automatically recover damaged files. Its intuitive, web-based management console provides full oversight on the backup management tasks and monitoring in 25 languages.
Why Acronis Cyber Backup is Better
Packed with innovative security features, Acronis Cyber Backup sets a high bar for new-generation data protection. Learn what makes Acronis different and how its unique technologies safeguard data with one easy, affordable and versatile solution.
Proactive Ransomware Protection
Avoid downtime by actively protecting files from unauthorized modification and/or encryption. Acronis Active Protection uses artificial intelligence and machine learning technologies and white-listing to keep your data safe.
Instant Restore
Manage your recovery time objectives (RTO) and minimize process disruption to seconds, all while maintaining your company's overall productivity with our unique runVM technology.
Complete Protection
Keep your infrastructure and data completely secure, whether you're facing growing amounts of data, adopting new business processes, or migrating to new applications, platforms or cloud. Acronis Cyber Backup protects 20+ platforms – physical, virtual, cloud or mobile.
Blockchain Notarization
Ensure data integrity with our innovative blockchain-based Acronis Notary technology which prevents damage to or tampering with your files by attacks targeting archive files.
Unmatched Simplicity
Save on licensing, education, integration and daily operations with a simple, scalable tool that manages any data protection task. Our easy-to-learn solution protects data with less effort, so IT generalists can perform backup tasks efficiently.
Hybrid Cloud Architecture
Manage all forms of data protection within one workflow through a centralized management and unified control interface. Back up to any kind of storage and recover any piece of data easily with minimum downtime.
Complete Business Protection
Disk-Imaging Backup
Protect your entire business with complete and reliable backup images of your entire system, files, or data.
Store backups to a variety of storage devices, including local disks, network storage, and the cloud.
EXCLUSIVE
Mitigate risks with agentless and agent-based backup and recovery of your virtual machines and hosts on any of six supported hypervisors.
Migrate between different hypervisors and to/from physical machines (P2V, V2V, V2P, and P2P) or the cloud.
Cloud Protection
Increase user service availability by protecting your Office 365 mailboxes, Microsoft Azure VMs, and Amazon EC2 cloud workloads.
Migrate workloads easily between various clouds, virtual systems, and physical machines (P2C, V2C, C2C, C2V, and C2P).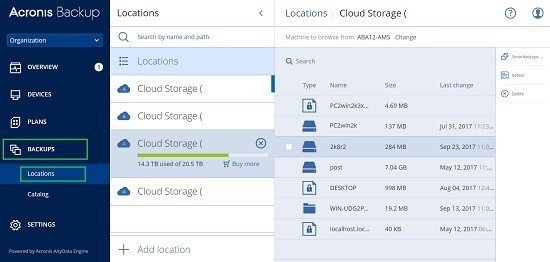 Download Acronis Cyber Backup BootCD