Acronis True Image 2021.6 Build 39287 Multilingual Boot ISO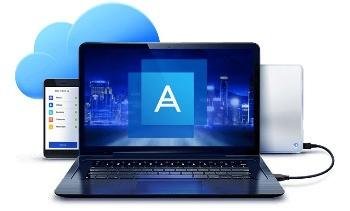 Acronis, a global leader in hybrid cloud data protection for business and consumers, today introduced Acronis True Image 2021. The new release includes major updates the program's backup and recovery capabilities, and is the first personal backup software to incorporate artificial intelligence-based technology designed to actively protect data against ransomware.
Backup and Recovery
Mirror imaging. Disk cloning. All‑in‑one recovery drives. It's easy to ensure your data is available for recovery, no matter what happens.
Anywhere Access
Retrieve any file from your cloud backup, wherever you are, on any device. Manage backups remotely. Enjoy secure file sync and share.
Innovative Protections
The only personal backup solution that uses AI to stop ransomware and cryptojacking in real time. Offers blockchain data notarization.
Enhanced 2021 Vision
How we access and use data is constantly changing, as are the threats to that data. Your protection must evolve too. With 100+ enhancements and new features, Acronis True Image 2021 keeps you current.
Automated Dual Protection
Back up locally while simultaneously replicating it in the cloud so you've always got a secure off-site copy for recovery.
Tray Notification Center
Messages pushed to your desktop tray enable you to monitor the status of backups so you can quickly respond to any issues.
Custom Power Management
Avoid draining your battery by efficiently managing laptop backups. Set a minimum power level or block backups on battery power.
Back Up on Select Wi-Fi
Where you back up is your choice. Now you can easily avoid the metered connections and public networks that put data at risk.
Improved Cloud Restores
Enjoy faster performance and a more intuitive experience. Enhanced for even easier navigatation.
Efficient, All-in-one Protection
Using multiple solutions to protect your data? Then you're paying more for a patchwork that creates gaps in your defense. Acronis True Image 2021 delivers the power of integration, with data protection, cybersecurity, and management features you control from a single intuitive dashboard.
Versatile
Back up what you want, how you want with tools like mirror imaging, file/folder-level backups, active disk cloning, cloud-to-cloud Office 365 backups, event-based scheduling, non-stop backups, and automatic replication of local backups in the cloud.
Flexible
Control where you store your data, whether it's locally on an external hard drive, network folder or NAS device, off-site in the cloud, or a combination to ensure total protection. Approve specific Wi-Fi networks to avoid potential problems.
Visual
Know everything about your backup at a glance. Monitor the status of backups with push notifications to your desktop tray. See file sizes, backup speeds, and color-coded displays of the type of data stored with our visual dashboard.
Compatible
Safeguard your data regardless of where it lives with a solution that supports the latest versions of Windows, Mac, iOS and Android devices, as well as virtual machines. Our integrated anti-malware defense is 100% compatible with other anti-virus software.

What's new
Dual Protection
Acronis makes the protection process easy and efficient by replicating local backups in the cloud automatically, so that you always have an off-site copy available for recovery. Once you've successfully completed the first backup, the backup and replication occur simultaneously.
Enhanced Backup Technology
Our new backup format delivers a better overall performance, enabling faster browsing of cloud backups, improved speed for backups and recovery, and data deduplication.
Tray Notification Center
You can get messages pushed to your desktop tray. This allows you to monitor the status of your backups easily, receive timely tips on how to enhance your protection, and quickly respond to any issues.
Enriched Anti-Ransomware
As cyberthreats continue to evolve, we constantly enhance Acronis Active Protection to stay ahead of them. Our new machine learning models make our software more effective and the latest version now stops illicit service termination attacks. You will be informed of the reason a particular process is being monitored or blocked as malicious.
Back up on Selected Wi-Fi
You can easily avoid metered connections and unsecure public networks that put your data at risk, by selecting the Wi-Fi networks you use to back up your data. This keeps your uploads secure.
Custom Power Management
Manage your backups so they don't drain the battery. This ensures that your laptop will run when you need it. You can set a minimum power level for backups or completely block backups on battery power.
Release Note:
What's new
Critical support for improved security protocols for secure communication with data centers.
Bug fixes and other improvements.
Download Acronis True Image Multilingual Boot