Portable Advanced System Repair Pro 1.9.9.3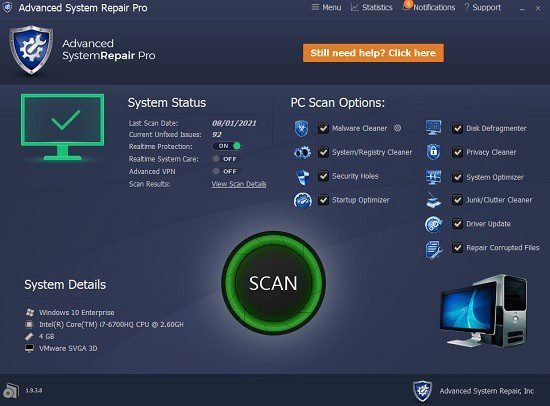 Advanced System Repair Portable brings you all the tools you need in one program to clean, fix, protect, optimize and boost your PC!
Over time, computers can become slower. This is because of a variety of reasons which may include software issues, the hardware getting out of date, and even malware and viruses that may be taking advantage of the computer's lack of defense. Because of this, users are advised to get computer configuration tools to be able to sort out their computers for obtaining a better performance. Most likely, most of the issues of a slower computer can be solved through software configuration.
What are the usual causes of a slower computer?
There are a variety of reasons for a slower computer. These are the main reasons for it:
Outdated hardware – The computer may be the newest unit when you buy it, but it will eventually be considered outdated through time. This is because the software that it uses are continuously being updated. With each update, their demand for hardware specifications become increasingly higher. Other factors related to your hardware that may be causing a slower performance is too much data on the storage disk or low internal memory.
Corrupted or disorganized software – The operating system of a computer is responsible for handling all the tasks for it to be used by a user. As the user continues to delete and install applications, the software may eventually be disorganized. Specifically, the registry is at risk with continued use of the computer.
Malware and viruses – These are malicious software that you may unconsciously download from the internet. They cause your computer to be slower and may also cause some files to be corrupted altogether. They are not entirely avoidable while online which makes it hard to leave your computer without any security.
Advanced System Repair
The free version of the app can be downloaded from the official website, but unless you're willing to register the software, it will be pretty useless. All you can do with it is to test the interface and perform a scan to see what the issues are with your PC. If you want those issues fixed, you have to subscribe to a paid plan (upgrade to the Pro version).
Advanced System Repair Pro on the other hand is a very complex optimizer packed with a lot of features:
Ease of use – Advanced System Repair Portable has an interface that is easy to use and navigate through. They use a minimalist blue application that highlights all of the necessary parts of the application. You can also use a black or silver GUI based on your preference. Upon starting the application, you can immediately see all of the important features including the privacy scan, system junk, clutter scan, system startup optimizer, registry scan, security holes scan, malware scan, outdated drivers scan, disk defragment scan and corrupt system file scan.
Junk Cleaner – You can use the application to select all of the files that are deemed unnecessary by the application. This is because having too many files on your hard disk may cause it to become slower. It may also hinder you from installing more.
Application analysis – Advanced System Repair Portable can be used for you to see the specific applications which are causing your computer to be slower. This is because there are specific background applications which may cause your computer to become slower even if unnecessary. It may also cause a slower startup.
Disk Defragmentation – As you use your computer more, the data you store in the computer may be scattered throughout the disk. This causes a slower performance because it will take longer for the disk to process the data inside it. Defragmentation is an efficient way to make all the data inside to be stored properly for faster computer performance. This can be done with only one click.
Malware removal – As explained earlier, malware and viruses can cause your computer's performance to be slowed down drastically. This includes adware, bots, worms, trojans, spyware, and even bitcoin miners. Removing these files can cause a huge increase in computer performance.
Privacy Cleaner – Advanced System Repair portable can be used to check up on the current privacy settings of your computer. Through the privacy suite, you can check on all of the data that you are currently making public. Through fixing this, you can make your computer safer and secure.
System Tweaking or Optimizer – The application can also be used to see the current system optimization of your computer. Adjusting this can result in faster overall performance.
Registry cleaner – The registry of the computer is an important part of the computer that keeps track of all of the installed applications on your computer. Too much installing and uninstalling may make it unstable.
IE Extensions – This is a feature that allows you to view all of the add-ons of your browsers. This is because some of these applications may cause your system to have less security. It can also lead to slower system performance. While some of these may be beneficial, some can be installed along with other applications without your knowledge.
Uninstalling menu – You can also uninstall applications through the Advanced System Repair. This makes it easier for you to sort out the applications once it reviews those which are specifically causing your computer to be slower.
Startup manager – If you have too many applications on your computer, you may notice that your start-up may be slower than usual. This is because some of these may be opening along with the computer. This results in an annoying slow startup. You can use Advanced System Repair to choose the specific applications which will be opened.
Download Advanced System Repair Portable