Portable AOMEI Backupper Technician Plus 7.3.2 + WinPE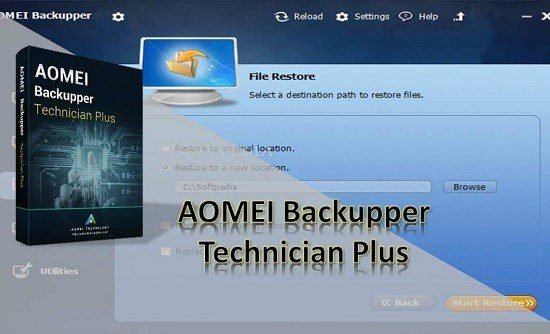 AOMEI Backupper Portable is a powerful backup and restoration software that is designed to protect your system, files, folders, partitions, and disks from data loss. The software comes with many advanced features, such as file synchronization, disk cloning, partition alignment, and system migration, making it an all-in-one solution for PC users.
One of the key features of AOMEI Backupper Portable is its simple and user-friendly interface. Even if you have no prior experience with backup software, you can easily navigate through the menus and perform backup tasks in just a few clicks. The software supports multiple languages, making it accessible to users around the world.
AOMEI Backupper Portable offers several backup options. You can choose to back up individual files or folders, entire partitions, or even your entire system. You can also schedule backups to run automatically at specific times, ensuring your data is always protected. The software also supports incremental and differential backups, which allows you to backup only the changes made since your last backup, saving time and storage space.
In addition to backing up your data, AOMEI Backupper also includes tools for restoring your system to its previous state. You can easily recover lost or damaged files or restore your entire system to a previous backup point. The software even includes a bootable rescue media builder, allowing you to restore your system even if it won't boot normally.
Another useful feature of AOMEI Backupper is its disk cloning functionality. This allows you to create an exact copy of your hard drive or SSD, including all partitions and data. This is especially useful if you are upgrading to a larger hard drive or SSD and want to transfer all your data without having to reinstall everything from scratch.
AOMEI Backupper also includes a file synchronization tool, which allows you to synchronize files and folders between two locations. This is useful if you work on multiple devices and want to keep your files up-to-date across all of them. The software also supports real-time file sync, which automatically synchronizes your files as soon as changes are made.
Overall, AOMEI Backupper is a powerful backup and restoration software that offers a wide range of features to help protect your data. Its user-friendly interface makes it easy for anyone to use, while its advanced features make it a versatile tool for PC users of all levels. Whether you need to backup individual files or your entire system, AOMEI Backupper has you covered.
AOMEI Backupper Portable is a professional-like, easy-to-use backup and recovery software. It lets you securely backup PC and Server, provides one-click backup your system partition or disk and does it in minutes. This software also can explore the created image and restore it to the hard drive if your data gets lost or corrupted. In addition, you can create a bootable rescue disk for recovering your data when the system crashes and the application cannot be accessed from the Windows interface.
AOMEI Backupper Portable lets you clone the partition or disk, too. The software already supports the Microsoft Volume Shadow Copy Service (VSS) that enables the data backup process and does not interfere the running applications. This option of AOMEI Backupper is very efficient because backup data can still be made when you're working. To prevent data loss, so we need to make data backup, AOMEI Backupper with the following features to ensure the safety of your data.
System Backup. One-click back up all data of system drive, including system files and installed applications without interrupting system run.
Disk Backup. Backup your hard disk drives including MBR disk, GPT disk, external hard drive, USB disk, and other storage devices that can be recognized by Windows.
Partition and Volume Backup. If you just want to backup a partition or volume, not the entire disk, the feature will be your best choice. With it, you can backup one or multiple partitions/volumes (including dynamic volumes) to an image file.
When your computer occurs some problems, such as accidentally deleted files, the system can not start, virus damage, by using the created backup before, you can restore system to its previous normal state or retrieve lost data.
System Recovery. Easily and quickly restore system partition and ensure system bootable after completing the recovery process.
Disk and Partition Recovery. Reliably recover the whole hard disk drive, partition or dynamic volume to original state.
Selective file restore. Selectively restore individual files and folders from a backup image file without recovering the entire backup.
In addition to backup and restore functions, AOMEI Backupper supports cloning operations. If you need to upgrade hard drive, or replace old disk, or migrate hard drive to new one, this feature can be more convenient to your work.
Disk Clone: Directly copy one hard drive to another without creating an image file. The program allows you to resize partitions during this cloning process, and supports to clone small disk to larger disk as well as copy traditional hard drive to solid state drive.
Partition and Volume Clone: Directly create an exact duplication of partition or dynamic volume and exactly transfer it to another partition or volume.
Easy Backup
Mirror Windows OS, hard drive (HDD/SSD), individual partition, files into an image file with simple mouse clicks. Set unlimited PC backup daily, weekly, monthly, event triggers, or USB plug in, backup the changed data since the last (full) backup, use command line to back up, etc.
Fast Restore
Restore data from backup image rapidly to go back to previous state or factory settings with enterprise backup software. Restore on-demand, like restore system to dissimilar hardware computer and ensure secure boot, restore individual files from system/disk/partition backup, restore with CMD, etc.
Safe Clone
Migrate Windows OS to SSD on a new computer without reinstalling Windows and programs; Clone HDD to another one to transfer everything easily, including Windows system, installed programs, settings, personal files.
Smart Sync
Sync your files and folders automatically with Real Time Sync to keep all data up to date, mirror sync files and folders to keep target be consistent with the source, two-way sync features keep the source and the target both identical from each other.
AOMEI Backupper Other Features:
Incremental and differential backups. Based on a full backup, the software supports to create incremental or differential backups to taking less time and save storage space.
Encryption and Compression. You can set a password for each backups to prevent unauthorized access. When the backup process, specify an industry leading compression algorithm to compress image file in order to take up less disk space.
Image file checker and explorer. Check data integrity of image file to ensure the backups can be restored successfully. Mount image files to a virtual partition so that you can browse the contents of the backups in Windows Explorer.
Comment Backups and Splitting Backups. Add comments to backups so that the backups can be further identified and clarified. Let you know what a backup is for or what it contains. Splitting Backups can split backup an image file into proper sizes to fit storage media.
Create Bootable Rescue Media. You can create a bootable media (e.g. CD or USB media) to restore system drive on the condition that Windows can not boot.
AOMEI Backupper Portable Release Note:
Fixed issue: Email notifications failed to be sent after completing backup operations in some environment.
Fixed issue: The program's interface information displayed incorrectly when mounting a file backup image..
Supported OS: Windows XP, Vista, Windows 7, Windows 8/8.1, Windows 10, Windows 11 (32-bit, 64-bit).
Storage Devices: Supports all storage devices recognized by Windows, such as IDE, SATA, SCSI, SSD, USB external disks, Hardware RAID and so on. Moreover, supports MBR and GPT style, and fully support capacities greater than 2TB.
Download Aomei Backupper Portable
Download Aomei Backupper Bootable WinPE