Portable Boilsoft Video Splitter 8.3.1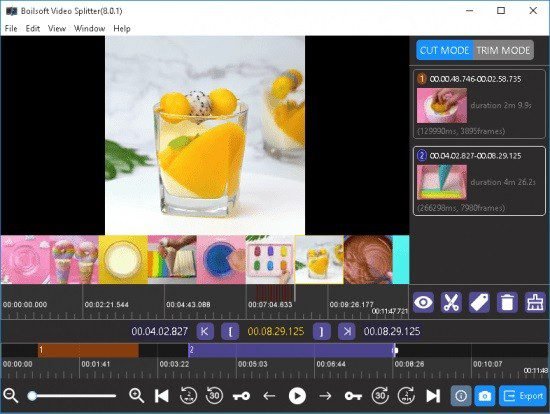 Boilsoft Video Splitter Portable is a powerful video cutter to split, cut or trim a large AVI, MPEG, RM, ASF, WMV, 3GP, MKV, FLV or MP4 Video file into smaller video clips without re-encode. This video splitter and video cutter software has the built-in video player, you can easily split/cut AVI, MPEG, RM, ASF, WMV, 3GP or MP4 video file by time or the selection as needed. Our Video Splitter, as a best video cutter, is the most efficient and fastest in the market.Split, cut or trim a large video file into several segments.
Features:
Split video by time or keyframe.
Extract Video Frames and Save to Images
Support all popular video formats.
Split videos by size or time selection.
Direct Splitting Mode splits video to source format with original quality.
Encode Splitting Mode supports splitting any format video to any format as you likeSplit, cut or trim a large video file into several segments.
Direct stream cut, without re-encode
Split video files to source file format very quickly and does not require re-encoding. Formats including AVI, MPEG, VOB, MP4, 3GP, RM, ASF/WMV/WMA, MKV MP3 and FLV are all supported. Split videos while keeping the original audio/video quality. Splitting speed is extremely high. Split 10 times faster than the Encode Mode.
Cut/Split video by frame
The cutting area can be selected per frame which allows the user to precisely choose the starting/end point. Split a large video file into smaller equal files or custom duration videos.
Freely split video or split into several equal-size clips
Extract any part of the video by setting the start and end time with the built-in player, or split the file into multiple pieces of equal size.
Powerful and EASY to use
Split large video files, even larger than 2GB.
Support drag-and-drop.
All encoders/codec are built-in.
Preview the video result.
Download Boilsoft Video Splitter Portable