Portable BurnAware Professional 14.8
BurnAware Professional Portable is a powerful CD, DVD and BD disc burning solution intended for users who need maximum control over every aspect of the burning process and use multiple burners for mass-production of various discs and quick creation of disc-to-disc copies. It's a solid piece of software that will help you cope with your daily burning tasks faster and more efficiently. The program enables users to create data discs (CD, DVD, Blu-Ray, bootable CD and DVD discs) and discs with multimedia content (Audio CD, MP3 discs and DVD video discs). Apart from this, BurnAware Pro will help you create and burn ISO images (ISO and CUE/BIN image files supported), erase rewritable discs, burn multisession discs and even extract specific files from disc sessions and tracks from Audio CDs. A simple and intuitive interface of the program will make even novices feel comfortable with the program features.
Burn CDs and DVDs to multiple drives simultaneously
Record one or more titles to separate drives simultaneously, even while creating a new title.
Keep original discs scratch free
Duplicate CDs and DVDs or store them as ISO image files on your hard disk. You can always burn them later to create and backup copy of the original movie/game/software.
Create data backups
Burn your photos, spread sheets, home work results etc. to CD/DVD/Blu-Ray Disc. A hard disk crash would no longer be fatal to your work or family archives.
Update existing discs
You can use the same media for sequential recording daily. New data would perfectly co-exist with previously recorded data. The only limitation is the physical media capacity.
BurnAware Professional Features:
• Burn Data, Bootable and Multisession discs
• Burn Audio, Video and MP3 discs
• Create and burn ISO/CUE/BIN images
• Copy discs to discs or to ISO images
• Erase rewritable discs
• Extract tracks from Audio CDs
• Extract data from unreadable or multisession discs
Supports:
• All media types (CD/DVD/Blu-ray Disc) including Double Layer
• All current hardware interfaces (IDE/SCSI/USB/1394/SATA) including AHCI
• UDF/ISO9660/Joliet file systems (any combination)
• On-the-fly writing (no staging to hard drive first)
• Verification of written files
• Multisession DVD-RW/DVD+RW
• Unicode CD-Text (tracks and disc)
What's NEW:
Enhancements
• Updated translations.
• Updated default theme and user interface.
• Improved AAC conversion in Audio Grabber.
• Compatibility improvements for Windows 11.
Bug fixes
• Fixed minor bug with saving log files.
• Resolved problem with registering 32-bit version.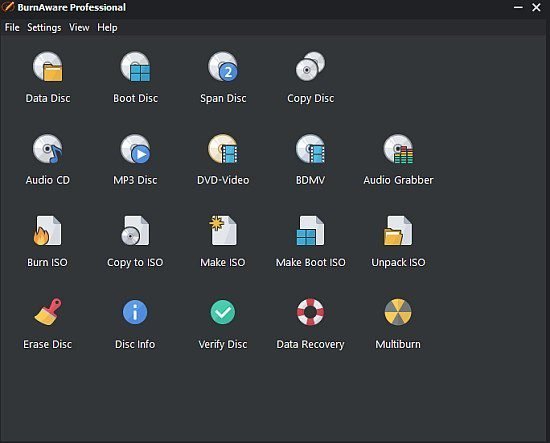 Download Burnaware Professional Portable