Portable BurnAware Professional 17.0 (x64)
Burnaware Portable is a powerful yet easy-to-use software for burning all types of discs. Whether you need to create audio CDs, MP3 discs, DVD movies, or Blu-ray discs, Burnaware has got you covered. With its intuitive interface and comprehensive set of features, Burnaware makes it simple to create high-quality discs that are compatible with most media players and devices.
One of the standout features of Burnaware Portable is its support for a wide range of disc formats. This includes everything from traditional CD and DVD discs to newer formats like Blu-ray and M-Disc. You can also create bootable discs for installing operating systems, ISO images for backup purposes, and multisession discs that allow you to add new files to the same disc over time.
Another key feature of Burnaware Portable is its ability to create audio CDs and MP3 discs. With support for a variety of audio formats including WAV, WMA, and AAC, you can easily create custom playlists and burn them to a disc in just a few clicks. Burnaware even includes a built-in audio player so you can preview your tracks before burning them to disc.
For those looking to create video DVDs and Blu-ray discs, Burnaware includes a number of advanced features to help you get the job done quickly and easily. This includes support for adding menus, subtitles, and chapter markers to your videos, as well as the ability to customize the bitrate, frame rate, and other settings for optimal playback quality.
In addition to its disc creation features, Burnaware also includes a number of tools for managing and copying existing discs. This includes the ability to create disc images from existing discs, copy entire discs or just specific files and folders, and erase rewritable discs for reuse. The software even includes a tool for verifying the integrity of burned discs to ensure that they have been written correctly and are error-free.
Despite its many advanced features, Burnaware is surprisingly easy to use. The software features an intuitive drag-and-drop interface that allows you to easily add files and folders to your disc projects. The software also includes helpful wizards for creating certain types of discs, such as audio CDs and video DVDs, that walk you through the process step-by-step.
Overall, Burnaware Portable is an excellent choice for anyone looking to create high-quality discs quickly and easily. With support for a wide range of disc formats and advanced features for creating audio CDs, video DVDs, and Blu-ray discs, Burnaware is a versatile tool that can handle almost any disc burning task. And with its intuitive interface and easy-to-use tools, Burnaware makes it simple to create professional-looking discs that are sure to impress.
Burn CDs and DVDs to multiple drives simultaneously
Record one or more titles to separate drives simultaneously, even while creating a new title.
Keep original discs scratch free
Duplicate CDs and DVDs or store them as ISO image files on your hard disk. You can always burn them later to create and backup copy of the original movie/game/software.
Create data backups
Burn your photos, spread sheets, home work results etc. to CD/DVD/Blu-Ray Disc. A hard disk crash would no longer be fatal to your work or family archives.
Update existing discs
You can use the same media for sequential recording daily. New data would perfectly co-exist with previously recorded data. The only limitation is the physical media capacity.
BurnAware Professional Features:
• Burn Data, Bootable and Multisession discs
• Burn Audio, Video and MP3 discs
• Create and burn ISO/CUE/BIN images
• Copy discs to discs or to ISO images
• Erase rewritable discs
• Extract tracks from Audio CDs
• Extract data from unreadable or multisession discs
Supports:
• All media types (CD/DVD/Blu-ray Disc) including Double Layer
• All current hardware interfaces (IDE/SCSI/USB/1394/SATA) including AHCI
• UDF/ISO9660/Joliet file systems (any combination)
• On-the-fly writing (no staging to hard drive first)
• Verification of written files
• Multisession DVD-RW/DVD+RW
• Unicode CD-Text (tracks and disc)
What's NEW in BurnAware Portable:
New features
• New icons in Welcome screen.
• Added support of Microsoft Virtual DVD-ROM driver.
• Added command line parameter to set disc type in Span Disc.
Enhancements
• Updated disc burning SDK.
• Improved two-stage disc copying process.
• Improved optical drive initialization.
• Improved program performance and error control.
• Improved ISO unpacking and data recovery.
Bug fixes
• Resolved issue with setting read speed.
• Fixed bug with burning more than one copy of VIDEO_TS folder.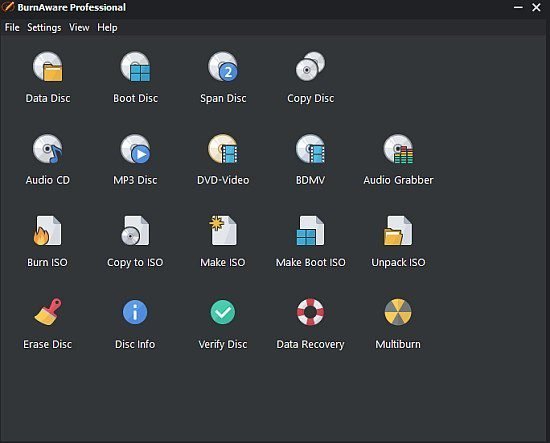 Download Burnaware Professional Portable