Portable Diamond Cut Audio Restoration Tools 11.0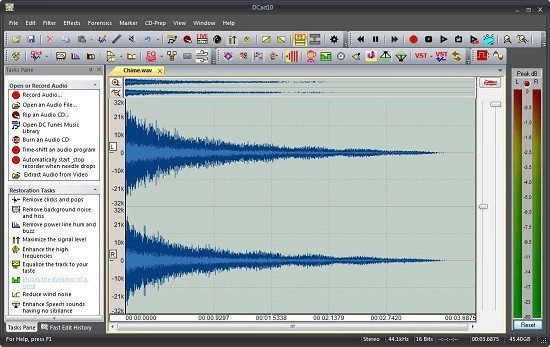 Diamond Cut Audio Restoration Tools is the next step in audio processing evolution. With DCart10, we have added to, and enhanced the existing tools you know and love and we have made the much easier to find and use. Diamond Cut DCart10 builds on the previous DCart foundation and adds many new features to make it a "State of The Art" audio restoration system. We have again listened to our customers and added enhancements to many aspects of the program. We have improved the click detection and replacement with the addition of our Big Click Filter, added new audio enhancement filters and updated the CD burning capability with a full featured CD and DVD burner. We have added direct support for many more file types like Broadcast Wave, Ogg Vorbis and FLAC files.
Audio Restoration & Enhancement
Make MP3's of your favorite music
Clean up your old records and tapes
Create CD's of your favorite music
Clean up recorded conversations, speeches, concerts, etc.
File Transcription / Time Expansion / Speed and/or Pitch Change
Organize and play all of your music
Add effects and enhancements to your music on the fly
Audio & Acoustical Measurements
Audio File Format Conversions
Statistical Measurement Tools
And much more . . .
Ease of Use
Tasks Pane feature guides you to the correct filter
Updated GUI Appearance
VST Hosting (VST Plug-in Support)
Waveform Overview for quickly getting around in a file
Tabbed display or traditional multi window view
Larger  and completely configurable toolbar Icons
One-Click Switch between Fast & Classic Edit Mode
Improved tracking of all editing functions in classic editing mode between source and destination files
Customizable Keyboard Accelerators
Customizable Application Look
Quick access to Spectrogram or Histogram views from the main window
Changed the software application "look" to follow various flavors of Windows
Paste Interpolate Icon button for easy waveform interpolation when working with tablet computers.
Additions and Improvements to existing features
New Auto Voice Tool – This is a Major new tool. It has two independent math processes that adapt in real time. One finds noise and the other finds human speech. These are then separated. This is a tool you should try first with any voice recording as it's so quick and easy.
New Cell Phone Noise Filter – This new tool allows you to "teach" the program what a cell noise impulse looks like. It'll then search out those impulses and remove them and replace the pulse with interpolated good audio. You'll find this is useful on a wide variety of cell noises that are picked up by nearby recorders.
Direct Spectral Editing is now available – This will allow frequency domain edits or interpolate functions. Not only can an area be attenuated right on the spectrogram display, but an area can also be augmented so as to be heard better.
New Spectrogram Functionality – The tool has many enhancements but retains its super high resolution and fast speed. You can even scroll the spectrogram while playing audio. This is now a great tool to do authenticity studies.
New DeClipper tool – Now includes two methods for the repair of clipped and distorted signals. One has an adjustable strength and the other uses a method of frequency domain interpolation. The result is much more distortion is removed.
New Voice ID Function – Uses industry standard approach to allow you to see and rank the speech formants of a selected word, syllable or other speech. It also shows a frequency response plot and a Cepstrum graph. It provides the tools necessary for an expert analysis of speech characteristics.
New Overtone And Sub-Harmonic Synthesizer – Allows the operator to add some "fidelity" into muffled or otherwise hard to understand speech.
New support for Flac, Ogg Vorbis and Broadcast Wave audio file formats.
Voice Garbler – This tool disguises a human voice making it unrecognizable as to person and the process used in non-reversible providing security sometimes needed in Forensics audio where a person needs to remain covert.
Documentation – Spiral Bound, 570 Page Printed Users Guide and comprehensive Help File
Download Diamond Cut Audio Restoration Tools Portable