Portable DP Animation Maker 3.5.13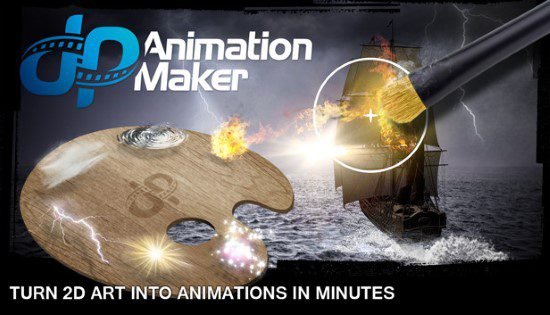 Smart 2D animation software that lets you turn still images into live moving scenes. Create living, breathing worlds from your still image with minimum effort. DP Animation Maker lets you make natural scenes burst with vibrancy and give motion to people and objects.
DP Animation Maker Portable is a feature-packed solution that does exactly what its title claims, it helps you generate a wide range of animated scenes that you can personalize as you see fit.
Comes with several sample projects
To help you understand and appreciate all of its features, DP Animation Maker packs multiple samples that you can experiment and adjust to your liking.
Each of these projects includes several layers that you can enable or disable with only a single mouse click, and creating a new layer can be done just as easily, you only need to explore the available objects and select the one you want to include.
To make the entire animation even more interesting, you can apply an effect, such as underwater, water mirror, fire, rings on water, Matrix code, glass ball or no background.
Moreover, adding MP3 sounds as the background music can also make the whole experience more appealing, as well as tampering with the timing settings.
Supports multiple export formats
When you are fully satisfied with the result, you can move on to the final step, that of saving the project in a format that can be played without issues on your device. DP Animation Maker makes it possible for you to export the file to MP4, AVI, MOV, WMV, PNG sequence, or GIF.
A special case is exporting your animation to a standalone EXE as it can be opened by simply double-clicking the file, meaning no third-party software is required. You can even assign it a custom icon and a relevant title.
To wrap it up, DP Animation Maker Portable can come in handy to all users when they need to design a personalized animation, yet they lack the technical skills to build it from scratch. This app comes with an extensive library and many customization options, making it ideal even for novices, with little to no PC knowledge.
Fun software, with a wide variety of uses
DP Animation Maker Portable helps you make animated videos for lots of stuff. Whether for business or personal use, some of the most popular items people create with the software include:
– Animated videos
– Web banners
– YouTube videos
– Digital greeting cards
– Mobile phone backgrounds
– PowerPoint presentations
– Music videos
– Video footage
– And more!
Download DP Animation Maker Portable