Portable Topaz Gigapixel AI 6.3.3 (x64)
Beautiful photo enlargements using machine learning. Enlarging your image without losing detail has always been impossible… until now. Upscale your photos by up to 600% while perfectly preserving image quality.
Gigapixel AI Portable helps you do a single thing very well: increase image resolution in a natural way. This is pretty hard to do. Most upscaling algorithms don't know how to accurately fill in missing pixels, so you end up with blocky low-quality results.
To solve this problem, Gigapixel AI's neural networks are continuously trained on a wide variety of sample images to understand how photorealistic detail looks. After learning from millions of images, it can now believably increase resolution on a wide variety of different subjects (portraits, wildlife, landscapes, architecture, etc) and image types (DSLR, web/compressed, CG). The results are often magical.
Improve image quality.
Gigapixel AI can make your image appear like it was captured with a much higher-quality camera. It's been trained on enough images of different types of subjects (like portraits, landscapes, architecture, and more) to know what photo detail should look like. This allows you to increase your photo's resolution and quality very naturally with minimal artifacts.
Pixel count isn't the only thing that affects image quality. Normally, if you start out with a low-quality image, you'll just end up with a bigger low-quality image if you upscale it. Gigapixel AI's technology can instead create very believable and natural image detail that can often look amazing.
Add image detail that looks completely natural.
Normally enlarging an originally low-quality image will cause fuzzy square artifacts that visually degrade the image. Because Gigapixel AI was trained on an extensive dataset of mountain textures (among other subjects), it's able to enlarge the image while simultaneously increasing the resolution. You almost can't tell it was upscaled.
Enhance the texture of feathers
Feathers are often difficult to enhance correctly; they need to be both sharp and soft in different places to look natural. While this is difficult for normal enlargement methods, Gigapixel AI understands how to increase feather detail in a believable way.
Improve skin texture and sharpness
Portraits are another tricky subject – especially skin texture – because we are all very sensitive to "unnatural" skin or faces. When upscaling portraits, Gigapixel AI adds believable skin detail and texture for the kinds of results you see above.
Higher-resolution landscapes
Landscapes often look unnatural without fine detail. Gigapixel AI can add believable texture from existing detail and dramatically increase the image quality of your landscapes.
More detailed cityscapes
Man-made architecture often have more straight and clearly-defined lines than nature. Gigapixel's special "Lines" AI model was trained specifically on architecture and objects for better results.
Crystal-clear upscaling with no blocky artifacts
Normal upscaling techniques will create fuzzy and blocky artifacts that you can see above, but Gigapixel AI resolves edges sharply with few artifacts for much more natural results. (Pay special attention above to the fine details around the windows, trees, and mountain edges.)
Fix extreme pixellation in low-resolution images
While Gigapixel AI works best with input images that start with moderate or high quality, it can also work wonders on extremely low-quality and compressed images. In addition to increasing resolution, the "Very Compressed" model will also automatically remove JPEG compression artifacts, apply noise reduction, and sharpen the output in a natural way.
Create better prints
Large prints display every small bit of detail in your photo, so it's especially important that you start with a high-quality image. Gigapixel AI helps you achieve the extra image resolution to make your print really pop. In fact, Gigapixel AI works even better when starting out with an already high-quality image, so you can get especially good results here.
Enlarge Images by up to 600%
Create a beautiful 80 x 60 inch print from a simple iPhone photo. Or transform your DSLR photos into sharp and ultra-detailed 100MP images.
Use truly intelligent upscaling
After being trained with millions of sample images, Gigapixel can now enlarge your images with a surprising level of quality.
Get crisp and clear results.
Gigapixel performs around 2 million operations per pixel to get you results with as much detail and sharpness as possible.
No more fuzzy enlargements.
Breathtakingly sharp prints. High-resolution cropping in post-production. iPhone photos that look like they came out of a DSLR. No matter why you're enlarging your photos, you always want the best possible quality for your results. AI Gigapixel is currently the only photo enlargement product available that can actually add detail back to your upscaled photo.
Recover real details for actual sharpness
Increasing edge contrast is the simplest way to make an image look "sharp", and how most other upscaling software works. Gigapixel is different: it increases the actual sharpness of your upscaled photo by recovering real detail in your image. This is only possible through training and exposure to millions of test images.
Crisp photos that look like they were never upscaled
It's hard to believe that the crisp output image above was enlarged 4x, but it was. Gigapixel AI successfully determines which image features are stars (detail) and what's noise. Then, it naturally accentuates and recovers detail while suppressing noise in your upscaled photo.
The highest-quality image upscaling that you can get anywhere
Because of these exceptional results, Gigapixel AI is used by everyone from leading photographers, to video game modders, to major motion studios. If you ever need to upscale your photo while preserving beautiful detail, take advantage of the most modern technology in the space and give Gigapixel AI a try.
Image enlargement: interpolation vs machine learning
Interpolation-based photo enlargement software has been around for decades. Gigapixel's new approach based on machine learning is a giant leap ahead: state-of-the-art "deep learning" methods allow it to enlarge images while actually adding new details.
Interpolation
Interpolation algorithms work by approximating new pixels from the colors of surrounding ones. This does not add any detail to the image, it just smoothes out the transition between pixels.
Neural Network (Gigapixel AI)
A neural network analyzes thousands of photo pairs to learn how details usually get lost. The algorithm learns to "fill in" information in new images based on what it has learned… effectively adding new detail to your photo.:
What's NEW:

Major Changes
Improved Standard model with new architecture
New HQ model for high quality input images
"Fix compression" slider for the controllability over blocky processing or compression artifacts in Standard and HQ models
Fixed cropping not being applied on export
Other Changes & Fixes
Faster first-time model loading speed on Mac
Fixed face recovery processing failures on certain NVIDIA GPU models
Reduced crashes on Intel GPUs
And more UI fixes, e.g., preview idle in comparison view on view selection
Note: Microsoft Visual C++ Runtime 2015-2022 Required (if not already installed on your system)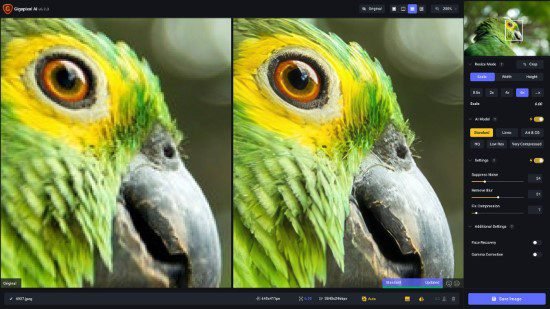 Download Topaz Gigapixel AI Portable