Portable iSumsoft Cloner 3.1.1.5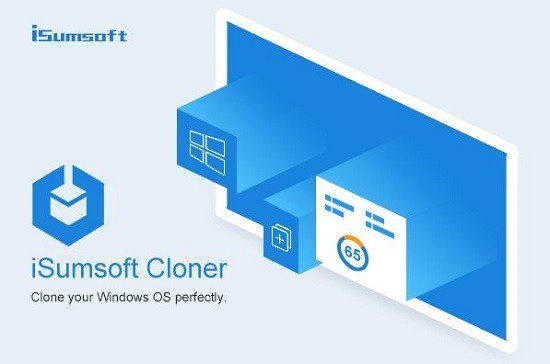 iSumsoft Cloner Portable is the secure and reliable system/partition cloning software that can accurately copy, backup and restore Windows operating system or hard disk partition. With this software, you can perfectly clone your system or partition from one hard drive to another, from HDD to SSD, or from one computer to another, with no data loss.
Once in a while, there may come a point when you need to format your system data and reinstall everything, usually because of poor software choices that you've made and the toll they took on your PC's performance.
In these very moments, you wish you had backed up previous system settings or important partitions from your drives. In fact, there are many programs that can do just that, and iSumsoft Cloner is among them.
A backup tool for your Windows
Many apps can backup files with ease, but iSumsoft Cloner has the ability to copy your Windows operating system from one disk to another. This is a huge time saver, as you don't need to reinstall the system and restore all the settings yourself.
iSumsoft Cloner also allows you to back up your system; all the data is quickly saved in an ICG file that the program can later restore. The most important thing to remember is to have another HDD or SSD ready with enough space to hold a copy of Windows or its backup file. The program can also create a WinPE boot disk.
Can be used to prevent data loss
While the ability to backup and restore Windows remains its greatest feature, iSumsoft Cloner is still a reliable tool when it comes to your everyday data saving. You can easily back up entire partitions of your hard disk drives to archives, so that you can keep them safe and restore them whenever you need to.
• 100% secure, clean and easy-to-use.
• Copy Windows operating system to another SSD/HDD without reinstalling.
• Back up and restore system/partition to HDD/SSD without any data loss.
• Allow you to create a WinPE boot disk, with which you can clone, backup and restore system/partition without logging into Windows.
Clone Windows OS to HDD/SSD
Copy: Accurately copy Windows operating system from one computer hard drive onto another drive/HDD/SSD. The copied Windows OS will work perfectly without reinstalling.
Backup & Restore: Back up the Windows operating system to an archive file and restore the backup file to any disk with enough space when needed. The restored Windows OS will work perfectly on the disk without any problem.
Protect you from data loss
With iSumsoft Cloner, you can copy the contents of an entire partition to another drive like from HDD to SSD, without any data loss. What's more, you are allowed to back up an entire partition to an archive file on an HDD/SDD and restore the backup archive when needed. This will protect you from data loss in the event of system failure, Windows upgrade, hard drive replacement or other unexpected situations.
How it works
Step 1: Install and launch iSumsoft Cloner on your Windows computer.
Step 2: Choose the function you want from Copy, Backup, and Restore.
Step 3: Select the source partition and target partition.
Step 4: Click on Start to start copying or backing up.
Download iSumsoft Cloner Portable