Portable Kernel Video Repair 20.12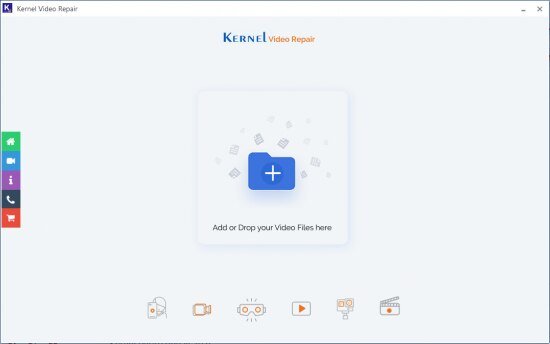 Kernel Video Repair Portable is a powerful software tool designed to repair corrupt or damaged video files. It is an essential tool for anyone who frequently works with video files and needs to ensure their integrity and usability.
Repair corrupt and damaged Video (MP4, MOV, MPEG, MJPEG, MTS, M4V, MKV, AVI, AVCHD, WEBM, ASF, WMV, FLV, DIVX, 3G2, TS, 3GP, F4V file formats) and saves to system location.
The software uses advanced algorithms to scan the damaged video file and identify any errors or corruptions. It then repairs these errors and restores the video file to its original state, ensuring that it plays back smoothly without any glitches or interruptions.
One of the key features of Kernel Video Repair Portable is its user-friendly interface. The software is designed to be easy to use, even for those who are not technically proficient. The interface is intuitive and straightforward, with clear instructions on how to use each feature.
Another important feature of Kernel Video Repair Portable is its ability to repair a wide range of video file formats. Whether you have a corrupted MP4, MOV, AVI, WMV or any other popular format, this software can handle it. This makes it a versatile tool for anyone who needs to repair different types of video files.
In addition to repairing video files, Kernel Video Repair also has a number of other useful features. For example, it allows users to preview repaired videos before saving them. This can be especially helpful if the video has been heavily damaged and you want to make sure it has been fully restored.
The software also has a batch repair feature, which allows users to repair multiple video files at once. This can save a lot of time for those who need to repair large numbers of videos.
Overall, Kernel Video Repair Portable is an essential tool for anyone who works with video files. Its powerful algorithms and user-friendly interface make it easy to repair damaged videos quickly and effectively. With its ability to repair a wide range of video formats and its many other useful features, it is a must-have tool for anyone who wants to ensure that their video files are always in good condition.
Features of Kernel Video Repair Portable
Repair All Sort of Video Files
The software can repair all kind of video files whether crashed, broken, corrupted or inaccessible (via any means). No matter how severely the file is corrupted or how big the file size is, the software can repair all such files efficiently.
Supports All File Formats
All the videos file formats adopted in Windows environment like MP4, MOV, MPEG, MJPEG, MTS, M4V, MKV, AVI, AVCHD, WEBM, ASF, WMV, FLV, DIVX, 3G2, TS, 3GP, F4V file formats are supported by this video repair software.
Handy Tool With Simple GUI
The repair of the damaged video file is just a click away. With the minimum and powerful features, Kernel Video Repair software delivers a smooth recovery instantly.
No Compromise With Quality
The video quality remains unhampered throughout the repair process. The instant recovery does not compromise with the integrity, quality and print of the recovered video file format. The recovery is secure and harmless.
Preview Feature for Video File
Once the corrupt video file is repaired, the software offers the users Preview option to have a preview for their repaired video file before saving to any destination location. It ensures the users that file is correctly repaired.
Saving to Desired Location
Video Repair software solution facilitates its users to save the repaired video file to the desired system drive location. You can directly browse and add the saving location to save the repaired video file
Download Kernel Video Repair Portable