Portable EximiousSoft Logo Designer Pro 5.20
EximiousSoft Logo Designer Portable is the most powerful and easy to use software for logo maker, logo creation. With which, you can create any type graphics for your websites. It provides fully vector-based drawing tools with many pre-drawn library objects. Just click the pre-defined shapes from the toolbar and which are placed on your design. Drawing couldn't be easier!
EximiousSoft Logo Designer Portable can also be used to customize high quality professional-looking business graphics such as such as business cards, letterheads, posters and other business stationery etc.. You can get access to a huge bank of well designed symbols to which you can apply a range of special gradients and effects. All objects and templates in this logo maker caters to a variety of businesses in most any industry, such as Technology, Finances, Healthcare, General Business and Retail, Education and Training, Travel and Tourism, Organizations, Sports and Fitness, Food and Beverage etc.. You can export logos to image files or print them from your own printer with high resolution.
Logo Designer Portable is a powerful and versatile software designed to help businesses and individuals create stunning logos and graphics. With its intuitive interface and comprehensive features, Logo Designer Pro makes it easy for anyone to design a professional-looking logo in minutes.
One of the key features of Logo Designer Pro is its extensive library of pre-designed templates. These templates cover a wide range of industries and styles, from modern and minimalist to bold and colorful. Users can easily browse through the templates to find one that fits their needs, and then customize it to create a unique logo for their brand.
In addition to the templates, Logo Designer Pro also offers a variety of design tools and elements to help users create their own logos from scratch. These tools include a drag-and-drop interface, a vast library of icons and symbols, and a range of fonts and text effects. Users can also import their own images and graphics to incorporate into their logos.
Another powerful feature of Logo Designer Pro is its built-in vector editor. This allows users to create logos and graphics that can be scaled to any size without losing quality. The vector editor includes a range of tools for drawing and editing shapes, as well as for applying colors and gradients.
Logo Designer Pro also offers a range of export options, including high-resolution PNG, JPEG, and SVG files. This makes it easy for users to use their logos across a variety of platforms and media, from websites and social media to print materials and merchandise.
One of the most unique features of Logo Designer Pro is its AI-powered logo design tool. This feature allows users to input their brand name and industry, and then generates a range of logo options based on that information. Users can then customize these options to create a logo that perfectly fits their brand identity.
Logo Designer Pro is designed to be easy to use for both novice and experienced designers. Its interface is intuitive and user-friendly, with clear navigation and helpful tooltips. The software also includes a range of tutorials and resources to help users get started and learn new skills.
Overall, Logo Designer Pro is a powerful and versatile software that offers a range of features and tools for creating professional-looking logos and graphics. With its extensive library of templates, design tools, and export options, Logo Designer Pro is a great choice for businesses and individuals looking to create a unique and memorable brand identity.
Features:
• High quality Logo templates: Provide 50+ pre- designed templates. Just choose a logo layout you like from the collection of pre-build templates, edit the elements of the logo, add your business name and slogan. And finally, apply some styling. That is your own impressive logo.
• Powerful vector-based drawing tools: You can create any shape graphics as you desired with these tools. Move, delete or add even convert anchors for a shape with simple clicks or drag.That's really simple.
• Output in more popular image formats : Supports your logos export to JPG, GIF, PNG, BMP, PCX, TGA, TIFF files (For JPG or GIF file, the background of images can be set to be transparent). Also supports to print logo from your own printer with high resolution.
• Layer Editing: Works like a great image editor program that supports strongly layer-editing. With the Layers feature you can control the position of various objects in your logo, you can place a more important object over the other and create different effects.
• Drawing Shapes With High Quality: Shapes or texts can be filled or stroken with solid color, gradient style or images high smoothly.anyone, regardless of creative ability, can blend shapes and text into an impressive logo in a few clicks.
• Stroke With Dash Style: Any shape objects even texts can be stroken with more pre-designed dash style.
• Bulit in 2000+ Symbols and Gradient Styles: Includes lots of high-quality shapes, signs, symbols, graphics etc. .You can apply a range of special gradients and other effects for which.
• Edit Visually: To create, move, resize or rotate shapes or texts only with drag or click. Making a great logo becomes really easy with Logo Deisnger.
• Supports alpha blend completely. Each shape or text object is allowed to include an alpha channel. Any object can be filled or storken with different transparency degree.
• Drop Shadow Enabled. Gives you the option to add shadows with customized settings to shapes or texts on your logo.
• Easy To Use: The program is intuitive enough to figure out what it does without the need to read user manual. Just start choosing logo templates, do some click or drag for modification. After half an hour you may find yourself with a logo that makes you look like a logo design star!
• Customize Any Shape: Just to create any shape with Custom Shape Tool. Supports to insert your own photograph to your logo.
• Good Interface: The Logo Designer program interface is extremely user-friendly and allows you to use various features to create a great logo in minutes.
• Undo & Redo: Undo or redo anytime anywhere.
Logo Designer Pro has more powerful functions than previous standard version, offers more profession graphics design tools for skilled designers for building business graphics or stationery. like Logo Designer, It still bring more pre-designed templates, symbols, cliparts, filters etc.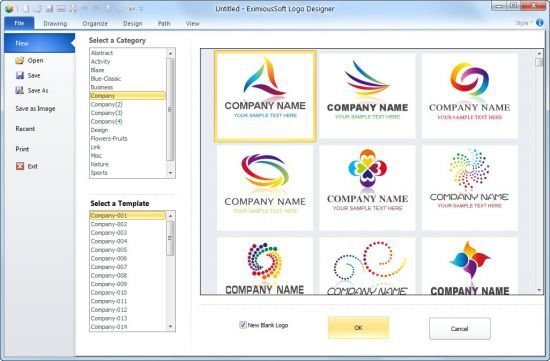 Download Logo Designer Portable