Portable Macrorit Disk Scanner Technician Edition 6.6.8 (x64) Multilingual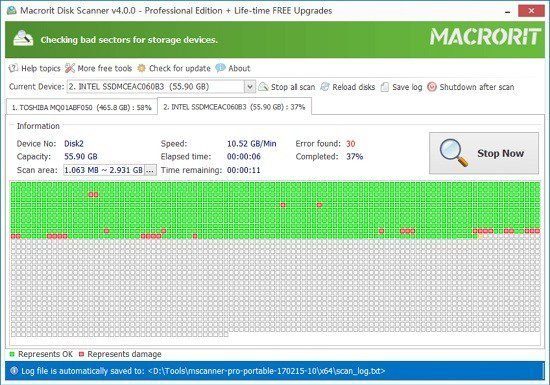 Macrorit Disk Scanner Utility is a smart bad sector scanning software that can help you quickly test the disk and mark the location of bad sectors.Hard disk "bad sectors" is the most common problems of the hard disk. Bad sectors are little clusters of data on your hard disk that cannot be read. Hard disks with bad sectors means the disk is not safe to store data; it will eventually lead to the important data loss of the hard disk or partition as well as errors with running files and the hard disk speed will slow down significantly and blue screen errors may also occurs.
Clean looks and straightforward functionality
The program comes with a simple and user-friendly interface that should not give you any troubles regardless of your technical skills. Even though the UI displays some basic information about the HDD, the vast majority is dedicated to exhibiting the results of the scan using color codes, the red color representing damaged sectors.
Functionality-wise, you solely need to select the hard drive you want to scan and then hit the Start Now button of this Disk Scanner Utility. The tool displays the results in real-time and, you can close all running applications if you want the scan to be completed faster. Moreover, it provides you with a log scan as a plain text file that can be accessed from the installation directory.
Supports numerous storage devices
You will be happy to learn that the program supports a plethora of drives, so you can employ it to determine the overall health of your drives. Among the supported devices you can count iPods, SD micro cards, memory sticks, USB Flash drives, FireWire HDD, SSD, USB HDDs, Floppy disks, Zip drives and Hardware RAIDs, just to name a few of the storage devices compatible.
In addition, it is important to note that the Disk Scanner Utility includes a function that enables you to perform scans in specific areas of the hard disk, an option that can come in handy for IT professionals who specialize in repairs, instance. On the other hand, you should know that the program does not include any function to address the issues found.
A tool that can help you avert data loss
In the eventuality that you noticed your file transfers to directories or drives on your computer are becoming sluggish or you are experiencing frequent blue screen errors, then you can employ Macrorit Disk Scanner Utility and determine whether the issues are caused by too many bad sectors.
Key features :
– New! Full support for windows 11.
– New! Upgraded to the famous Windows 8 / Office 2013 user interface.
– New! Full support 512Byte/1K/2K/4K sector size.
– New! Bugs fixed in previous version. (1. Memory access error on WINPE; 2. The point problem in the edit box; 3. software window cannot be closed during long-time scanning process.)
– New! Added splash screen, more friendly interface.
– New! Added portable edition for windows, automatically save log files to desktop.
– Support to check and scan whole disk, partition, free space.
– Support to select/specify a part of disk/partition to scan only. (Time-saving scanning method)
– Support to automatically shut down computer while finish scanning.
– Scan result will be automatically saved in the specified location.
– Scan disk with super-fast speed.
– Mark healthy sectors in green and errors in red.
– Small portable tool, 100% clean, safe, no spyware, no adware, no virus.
– Force to shut down or stop scanning process is supported. NO harm for computer.
– Supported Storage Devices: DE HDD, SATA HDD, SCSI HDD, FireWire HDD, SSD, USB HDD, External HDD, Hardware RAID, Floppy drive, USB flash drive, Compact flash card, Secure Digital card, Memory card/Memory stick, Micro card, Zip drive, IPod, Other storage devices
– Supported OSs: Windows Server 2003/2008/2012, SBS 2003, 2008, 2011,2012, Home Server 2011 & Windows XP, Vista, 7, 8, 10 (Both 32& 64 bit)
Whats New :
NEW

 Scan All Disks at the Same Time

NEW

 Allow for commercial use

NEW

Log report for all Disks

NEW

 Free Lifetime Upgrade Service
Portable Disk Scanning Software
Supports Windows 11/10/8/7/XP/Vista
[Unlimited Edition] Windows SBS 2012/2011/2008/2003
[Unlimited Edition] Supports Windows Server 2022/2019/2016/2012/2008/2003 (32-bit and 64-bit)
Fixed Ukrainian translation
Fixed some multilingual texts
Scan area feature is available for each disk, when Scanner find bad sectors on them, it will mark them as red to make it easy for you to isolate them
Download Macrorit Disk Scanner Pro Portable