Portable MailStyler Newsletter Creator Pro 2.10.1.100 Multilingual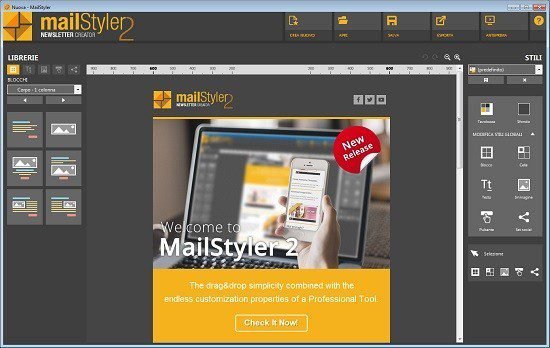 MailStyler Portable is the world's easiest-to-use newsletter creation software: it lets you build perfect email templates with a simple series of drag&drops, without writing a single line of code. It automatically writes inline css for email code for you. A revolution in the world of newsletters is there. It's called MailStyler. The only drag-and-drop editor that lets you create a newsletter dynamically, interactively, and incredibly quickly.
Quick and smart image management
Mailstyler can work with images from any source. Even large pictures can be resized thanks to his smart and intuitive crop&resize internal tool; they will fit perfectly into the message without having to use an external software like Photoshop. Images get also compressed in order to weigh as little as possible, fundamental requirement for email messages.
100% Responsive Emails
With MailStyler you can choose to create email responsive and 100% compatible. Mobiles, tablets or desktops: it does not matter where opened, your email will always be easy to read by maintaining a perfect rendering. In this way you can be sure to reach a wider audience and get more clicks.
No HTML Knowledge required
Our drag&drop editor is fully based on the interaction visual, and requires no HTML knowledge, but it maintains the flexibility and endless customization properties of a professional tool. Create your own personal templates easily and without having to write a single line of code.
Great Email Design on any Email Client
Every newsletter created with MailStyler get tested in order to be displayed properly by any Email Client. We follow all the innovations introduced by the various email client services and verify the results with tools such Litmus and EmailOnAcid (professional rendering email testing programs) to ensure emails correctly displayed: always and anywhere.
Software Features:
Here's some of the features that make MailStyler the best and easiest to use newsletter creator on the market. You'll be able to compose your own email template in seconds, simply dragging and dropping our ready-made elements.
Create templates with drag-and-drops
MailStyler offers a WYSIWYG, drag and drop email editor which is so simple and intuitive that it's impossible to make it wrong.
Neatly coded templates that will always look great
Worried by email rendering issues? With MailStyler, all templates will look perfect on any clients or webmails (e.g. Hotmail, Gmail, Outlook, Yahoo Mail etc). That's why you don't need to code in HTML/CSS.
No HTML/CSS knowledge is required
MailStyler lets you create emails and newsletters without any coding. You will simply combine our pre-made HTML blocks as you wish, building your newsletter brick by brick.
Unlimited editing possibilities
The range of tweaks that you can do with MailStyler is huge, and far beyond any competitors: size, styles, margins, fonts, boxes, images. Anything can be modified in a few clicks, to build a truly unique layout that fits your brand identity.
Images for any needs
MailStyler comes with a library of 2000+ images to enhance your creativity and help you compose an original design.
Dedicated cloud space
The Pro version of MailStyler offers a dedicated cloud space where to put and manage your images, and forget once for all any FTP uploading issues.
Compatible with all email clients, software and services
Each newsletter created with MailStyler is usable with all major email platforms, from the common free clients (Outlook, Thunderbird, etc.) to professional marketing software products and services (SendBlaster, MailChimp, etc.)
Automatic image resizing/cropping
Need to fit an uploaded image to a newly adapted box? With our resizing/cropping tool it's a matter of seconds. No more stretched pictures!
Responsive blocks
For a newsletter that renders perfectly on smartphones and tablets, we provide responsive blocks that will automatically resize if opened on a mobile device. To offer the best readability also on small screens.
Ready-made styles & palettes
MailStyler provides a tuned color palette with different balance of shades, to help you determine the best outfit for your email.
One-click exporting
Once finished your design, you can export it as an .eml or .html literally with one click and use it on any professional marketing software products, services and clients.
What's changed in MailStyler 2?
Everything. Only the simplicity has remained the same because email marketing has to be easy. The new version of MailStyler contains new powerful features designed to make the creation of your newsletters even easier than before.
What can you do differently?
– Insert images, icons and elements in preset blocks.
– Merge or separate multiple cells, and adjust spaces and sizes.
– Add predefined graphic styles to texts.
– Overlay text on images to create dynamic banners.
– Play with transparency and opacity on photos and text.
– Copy the style of a cell or a block to another cell or block.
– Export templates in pdf format.
– Enjoy advanced management of social icons.
– Optimize .png files when exporting.
Download MailStyler Newsletter Creator Portable