Portable Master Packager Pro 22.4.8361
Distributing customized installers to your clients shows not only that you are a professional, but also that you are willing to adapt to each specific requirement you might come across.
Master Packager Portable is one of the apps that can help build brand new such installers or modify existing ones.
Build MSI installers from scratch
As soon as you launch Master Packager, you need to choose the action you want to take: either create a new installer, or open an old MSI, MST or MSP one, so you can enhance it.
The first details you need to enter are the general information, such as product name and version, manufacturer, product code or installation folder. Next, you need to add the homepage, support and updates URLs, contact and phone number – and this is also the moment where you can choose to hide or display the Modify, Repair and Remove buttons.
When it comes to the summary info, you get to select the image type, code page and UAC status as you see fit.
Supports numerous types of files
Despite all these, the strength of Master Packager lies in the wide range of files and registry entries you can include in your installer to make it suitable for your or your client's necessities. Not only can you assign different files to each supported folder, but you can also adjust the shortcuts, INI files, application search, environment variables, or custom actions.
You can even modify the entries from the install execute sequence, then configure the ODBC data source and services.
When you consider your work is done, you can rely on the Validation function to detect compilation errors and fix them before sharing your work with others.
To wrap it up
All in all, Master Packager can assist professionals into coming up with beautiful and personalized installers without too much effort.
Create And Modify
Create MSI and MST files from scratch or modify Vendor Microsoft Windows installers.
Simple
Design that is created to be as friendly as possible. Self-explanatory user interface.
Fast
Work with MSIs having over 100 000 files or registries and experience impressive load time and UI responsiveness.
User interface
Don't miss anything. Interface that lets you use your display's full potential – All menus in one view.
Templates
Store properties, registries, summary information or custom actions and apply them instantly with predefined templates.
Repackager
Repackage extremely complex EXE installations to MSI with no or minimal modifications and full automation capabilities
Exclusive PRO Features
Master Wrapper
PSADT Actions
Script Editor
Master Repackager
Multiple restart support
File and Registry exclusion list
Hard-coded path resolution
Extension capture
Registry mapping
INI File capture
Environment variable capture
Shortcut capture
Service capture
Font capture
Service Control capture
ODBC data source and driver capture
File Extensions capture
Automatic Repackaging
What's NEW:
Features
• Master Repackager – Automatically search for packaging recipes in App-Library
• Master Repackager – Automatically set platform
• Master Repackager – Support MSIX Working directories
• Master Repackager – Support for MSIX with two executables with the same name
• Master Repackager – Added option to import registries from manage registries view
• Master Repackager – Allow user to add files in the File Manager from any location not only where source path = target path
• Master Repackager – Added option to add files and directories from the manage files view
• Master Repackager – Saving .msi file with application name in a file name instead of repack.msi
• Master Repackager – Exclusion list update with new files/registries for the 22.4 version
• Master Packager – Added shortcut to discord packaging community invite
• Master Packager – When adding .reg files software automatically will add the correct component bitness or ask a user to confirm
• Master Packager – When adding files larger than 2GB a user will receive a readable message that MSI doesn't support 2GB+ files
Issues resolved
• Master Repackager – Comparing the same snapshot detected changes
• Master Repackager – Ctrl + shift + W shortcut to autofit column width doesn't work
• Master Repackager – Fixed error building Oracle HFM Client as MSIX package
• Master Repackager – Fixed NullReferenceException if no uninstall registries are captured
• Master Packager – Fixed file size sorting in Advanced File view
• Master Repackager – Fixed MSI build failure for packages with specific shortcuts
• Master Repackager – Typo in MRP app library helps text
• Master Repackager – Advertised shortcuts are inserted as regular shortcuts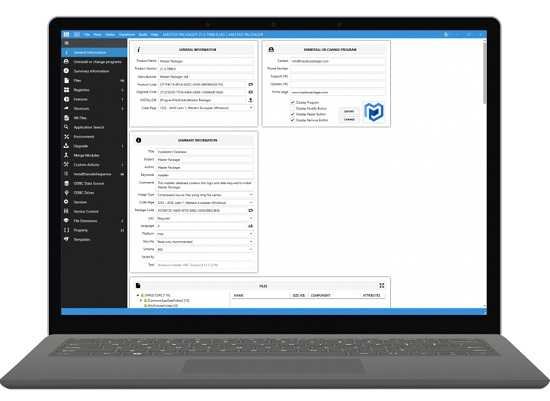 Download Master Packager Portable