Portable Abelssoft MyKeyFinder Plus 2023 v12.03.47266 Multilingual
MyKeyFinder Portable is a powerful and easy-to-use software that allows users to find and recover lost product keys for various software applications and operating systems. It is an essential tool for anyone who has lost their product keys and needs to reinstall their software.
One of the standout features of MyKeyFinder Portable is its user-friendly interface. The software is designed to be intuitive and easy to navigate, with clear menus and simple instructions that guide users through the process of finding and recovering their lost product keys.
MyKeyFinder Portable can scan a computer's hard drive and registry to find product keys for a wide range of software applications and operating systems, including Microsoft Windows, Microsoft Office, Adobe Photoshop, and many others. This makes it a versatile tool that can be used to recover lost product keys for almost any software application.
Another impressive feature of MyKeyFinder is the ability to create a backup of the recovered product keys. This is particularly useful for users who want to ensure that they do not lose their product keys again in the future. The backup can be saved to a USB drive or other external storage device, ensuring that the product keys are safe and secure.
MyKeyFinder also offers a range of customization options, allowing users to tailor the software to their specific needs. Users can customize the scan settings, create custom backup locations, and even exclude certain files or folders from the scan.
One of the most impressive features of MyKeyFinder is its ability to recover product keys from external hard drives and other storage devices. This is particularly useful for users who have lost their product keys but have a backup on an external device.
In addition to its product key recovery features, MyKeyFinder also includes a range of system optimization tools. Users can use the software to clean up their hard drive, remove unnecessary files, and optimize their system performance. This is a great feature for users who want to keep their computer running smoothly and efficiently.
Overall, MyKeyFinder Portable is a powerful and versatile software that offers a comprehensive solution for anyone looking to recover lost product keys. Its user-friendly interface, wide range of features, and customization options make it an excellent choice for both beginners and professionals.
Whether you need to recover product keys for a single software application or an entire operating system, MyKeyFinder has the tools you need to get the job done quickly and efficiently.
Recover your product keys, including MS Office and Windows serial numbers
Setting up the app takes little time and minimum effort. However, it is required to enter an email address and name to register MyKeyFinder for free (email confirmation is not necessary). Scanning the computer for serial keys may take a while.
The list of results shows the app name, registry key and serial number. Separate entries can be copied to the Clipboard for closer scrutiny and safekeeping. It is also possible to print selected entries as well as to export them to PDF format. A search function is available for dealing with large amounts of data.
Print or export the list of recovered keys
As far as program settings are concerned, you can switch to another language for the UI, set MyKeyFinder to automatically check for updates at startup and to confirm ignoring operations for an item, as well as to create a white list or black list.
MyKeyFinder has a good response time and runs on a low quantity of CPU and RAM, so it does not concern the computer's overall performance. It can be minimized to the taskbar to become non-intrusive. We have not come across any issues throughout our evaluation, since MyKeyFinder did not hang, crash or pop up error dialogs.
Easy-to-use key recovery tool for Windows and others
Thanks to its intuitive layout and overall simplicity, it can be handled by all user levels interested in quickly retrieving lost or forgotten serial numbers to various software, including Windows and Microsoft Office, provided that this information is stored within the operating system.
Product keys – restored
Scans the registry and presents the result as a clean list.
Scans external hard disks
Also scans external hard disks with a Windows installation for product keys.
Find WiFi passwords
How can I find out my WiFi passwords? MyKeyFinder shows them with one click too!
Product keys – restored
Directly after the start, MyKeyFinder starts its path towards your PC and scans certain areas of the windows registry. After 1-2 minutes, it shows you all product keys in a clean list.
No duplicates
Product keys might be stored at different locations, and may even be available multiple times. MyKeyFinder filters and removes all invalid keys and all duplicate entries, so that you don't have to worry about it.
Various export options
Need to print your product keys? MyKeyFinder can export the keys as a PDF, print them, or even copy them to your clipboard.
Search- and filter function
The search- and filterfunction is able to find every serial number you need. A blacklist filters excessive or outdated numbers to guarantee a better overview.
Plus version
External scans
Also scans external hard drives
W-LAN Passwords
Also finds wireless passwords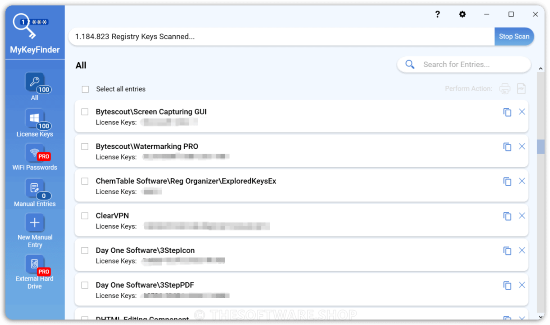 Download MyKeyFinder Portable