Portable Opera One Browser 104.0.4944.54 (x64)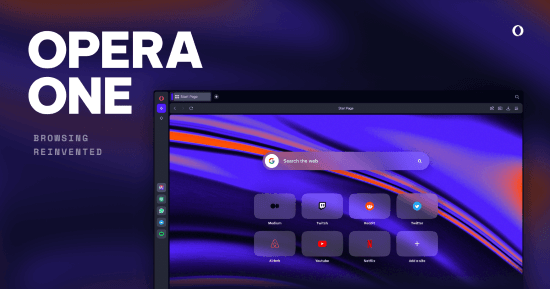 Today we'd like to introduce you to Opera One Portable. Opera One Portable is a completely redesigned browser that will replace the flagship browser for Windows, macOS and Linux later this year. Based on a modular design, Opera One delivers a fluid navigation experience that transforms the way you interact with your browser. Additionally, he has brought his UI to life like never before and integrated a multi-threaded compositor that enables innovative new features such as tab islands. This exciting upgrade comes just weeks after first integrating his Generative AI features, including AI Prompts and sidebar access to ChatGPT and ChatSonic.
Opera has long reinvented itself and its products to adapt to the evolution of the Internet. Opera One Portable takes a big step in that direction, especially by introducing a new modular design philosophy. We are now launching an early access build for developers, and the browser will adapt to your needs, bringing only the essential features and relevant modules to the fore when and where you need them. The modular design automatically adjusts based on your context for a smoother, more effortless browsing experience. Opera One will also take advantage of powerful new AI-based features that will be added in the near future.
Smooth navigation and modular design are made possible by the new multi-threaded compositor that Opera introduced first among the major Chromium-based browsers. What exactly is this and why does it improve the browsing experience? The compositor thread provides a faster and smoother UI layer that enables powerful graphics operations that are not interrupted by other processes. To do. This new architecture allows us to implement a modular design as well as exciting new features that set our browser apart from other Chromium-based browsers, including Tab Islands.
Opera One's New Tab Islands feature provides a smooth and intuitive experience that keeps you on task without changing your habits. Looking for the perfect place for lunch? Menu, location and restaurant details tabs open in dedicated tab islands. Do you have a lot of Google Docs for work? They too can have their own island of tabs. Browsing creates more islands of tabs so you can easily distinguish and switch between focused topics. In the newly reinvented version of Opera, tab islands are the first manifestation of modular design.
These are clearly distinguishable in his UX in the browser, indicated by separate colors and clear island borders.
Tab islands are automatically created to keep tabs together within the same browser context. You can also group open websites into a tab island by pressing CTRL/Cmd, clicking on the website you want to group, and right-clicking to create a tab island. You can also drag and drop between islands. They can also be added to existing tabs by dragging and dropping or by pressing the small plus button next to the island. An early 2023 update, including the addition of generative AI capabilities, paves the way for this newly redesigned browser. But of course it doesn't stop there. We plan to release our own AI engine in the coming months. We will continue to make the browser UI more intuitive and functional through our modular design advancements.
Opera One, the cutting-edge software designed by Opera Software, is poised to redefine the way users interact with the internet. With its exceptional speed, advanced security measures, and an array of innovative features, Opera One sets itself apart from other web browsers in the market. This comprehensive description will delve into the key elements that make Opera One a game-changer in the browsing landscape.
Lightning-Fast Performance:
Opera One is engineered to deliver unparalleled speed, ensuring users experience a seamless and swift browsing experience. Leveraging advanced technologies like Turbo mode and Opera's proprietary rendering engine, this software optimizes web page loading times, even on slower internet connections. Users can navigate through websites effortlessly, enjoying reduced loading times, enhanced page rendering, and smooth scrolling.
Enhanced Privacy and Security:
Opera One places a premium on user privacy and security. With built-in features like an ad-blocker and tracker blocker, it shields users from intrusive advertisements and malicious tracking attempts, ensuring a safer browsing experience. Additionally, Opera One offers a free VPN (Virtual Private Network) service, allowing users to browse anonymously and access geo-restricted content securely. This robust security infrastructure ensures peace of mind while exploring the web.
Customizable Interface:
Opera One understands the importance of personalization, offering a highly customizable interface that adapts to individual preferences. Users can select from a wide range of themes, allowing them to create a visually appealing browsing environment. The browser also supports extensions, enabling users to enhance their browsing experience by adding features and functionalities that suit their requirements.
Unique Features:
Workspaces: Opera One introduces the concept of Workspaces, enabling users to organize their tabs into separate workspaces based on specific tasks or projects. This feature allows for better multitasking and improved productivity, as users can seamlessly switch between different sets of tabs within their chosen workspace.
Opera Flow: Opera One takes seamless synchronization to the next level with Opera Flow. Users can effortlessly share links, files, and notes between their desktop browser and Opera One on their mobile devices. This feature eliminates the need for cumbersome email transfers or cloud storage, ensuring a fluid and efficient workflow across devices.
Snapshot: Opera One's Snapshot feature enables users to capture screenshots of web pages and instantly edit them within the browser. From adding annotations to cropping and resizing, this feature streamlines the process of capturing and sharing web content, making it ideal for research, collaboration, or simply saving interesting discoveries.
Personal News: With Opera One, users can stay informed and entertained with the Personal News feature. It aggregates news from various sources based on users' interests and presents them in a personalized and easily accessible format. This feature eliminates the need to visit multiple websites, providing a one-stop news hub tailored to individual preferences.
Download Opera Portable