Portable CyberLink PowerDirector Ultimate 21.6.3111.0 (x64) Multilingual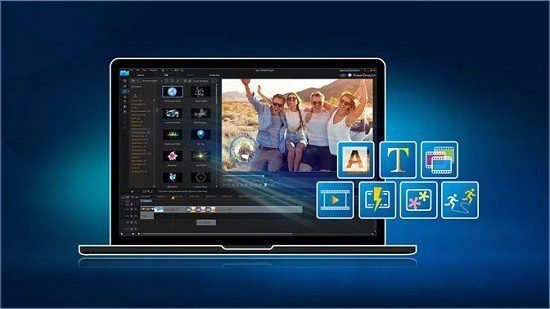 Easy editing. Precision controls. Unlimited Possibilities. PowerDirector Portable  delivers professional-grade video editing and production for creators of all levels. Whether you're editing in 360˚, Ultra HD 4K or even the latest online media formats, PowerDirector remains the definite video editing solution for anyone, whether they are beginners or professionals.
CyberLink PowerDirector Portable is a powerful video editing software that offers a wide range of features and tools to help users create professional-looking videos. Developed by the Taiwan-based company CyberLink, this software has been around since 1996 and has evolved over the years to become one of the most popular video editing tools on the market.
One of the key features of CyberLink PowerDirector Portable is its intuitive user interface, which makes it easy for both beginners and advanced users to navigate and use. The software is designed with a timeline-based editing interface, allowing users to easily drag and drop clips, images, and audio files onto the timeline and arrange them in the order they want. The timeline also includes multiple tracks, giving users the ability to add various elements to their videos such as sound effects, music, voiceovers, and more.
Another notable feature of CyberLink PowerDirector is its comprehensive library of visual effects and transitions. The software includes over 500 customizable effects and transitions, which can be applied to any part of a video to add visual interest and polish. Users can also create their own effects and transitions using the software's built-in tools, making it easy to create unique and customized video content.
In addition to its visual effects and transitions, CyberLink PowerDirector also offers a range of color grading tools, including color correction, color matching, and color adjustment. These tools allow users to adjust the hues, saturation, and contrast of their videos, giving them full control over the overall look and feel of their content. There are also built-in templates and presets available for those who want to quickly apply a specific color grading look to their videos.
One area where CyberLink PowerDirector excels is in its support for 360-degree video editing. The software includes specialized tools for editing and producing immersive 360-degree videos, allowing users to add text, titles, and special effects to their videos in a way that enhances the 360-degree viewing experience. This feature is particularly useful for those who want to create content for virtual reality (VR) platforms or social media platforms that support 360-degree video playback.
For those who are looking to create high-quality audio content, CyberLink PowerDirector also includes a range of audio editing tools. These tools allow users to adjust volume levels, add sound effects, and mix audio tracks to create a polished final product. There are also built-in audio restoration tools that can help to remove unwanted background noise and improve the overall quality of audio recordings.
When it comes to exporting and sharing videos created with CyberLink PowerDirector, the software offers a range of options. Users can export their videos in a variety of formats, including high-definition and 4K resolutions, and can choose from a range of presets optimized for different platforms such as YouTube, Facebook, and Instagram. The software also includes built-in tools for burning DVDs and Blu-ray discs, making it easy to create physical copies of your video content.
Overall, CyberLink PowerDirector Portable is a comprehensive video editing software that offers a wide range of features and tools for creating professional-looking videos. Its user-friendly interface, extensive library of visual effects and transitions, and support for 360-degree video editing make it an excellent choice for both beginners and advanced users alike. With CyberLink PowerDirector, anyone can create high-quality, polished video content that stands out from the crowd.
Integrate Complete Video Editing Capabilities Into Your Creative Workflow
Get the best of both worlds with still images and video in your production. PowerDirector works seamlessly with PhotoDirector to integrate edited photographs, graphics, or animated images. Refine your assets in PhotoDirector and add them right into your PowerDirector project or send out production stills and animated clips for a complete roundtrip workflow.
Powerful Tools, Infinite Possibilities, Inspiration Included
Unleash your creativity with the high-end performance and precision of PowerDirector 365. Harness the power of professional editing tools with an intuitive user interface, take advantage of a massive stock library, and bring your video ideas to life with monthly design packs.
Mask Designer (Enhanced!)
Create hyper-realistic image composites or expressive surrealist shots with our new advanced mask tools. Cut and combine images from different clips with unparalleled precision.
Dynamic Keyframe Controls (Enhanced!)
We've enhanced keyframing to provide more control over anchor points enabling dynamic motion as well as a new hold interpolation mode to apply your effects where you want them when you want them.
Customizable Motion Graphic Titles (Enhanced!)
Introduce every scene with an epic title. Use one of our stunning, ready-to-use motion graphic titles and customize the text and shape color to match your style.
Sketch Animation Overlays (New!)
Create the perfect tutorial video with animated sketch templates. Customize the size and color to match your style.
Refine and Match Colors, Fast (Enhanced!)
Set the tone. Keep color consistent across clips with one click or manually adjust the hue, saturation and brightness to match your look.
Add Customized Shape Objects
Insert customizable vector shapes with auto-fit text and precise keyframe controls. Choose from a wide range of text bubbles and callouts.
Dynamic Title Reveals
Get complete control over title animations and appearance with advanced tools to mask and reveal titles.
Green Screen Editing
Perform Hollywood-style green screen editing thanks to an improved chroma key engine and multi-key color sampling.
Intuitive Motion Tracking
Ensure 100% object tracking accuracy in your video clips with frame-by-frame motion tracking for both shapes and titles.
Stunning videos in a few clicks.
Pick from a huge range of ready-made templates complete with effects, titles and transitions in Express Projects. From there, it's simply a matter of adding your clips and clicking 'Produce'!
Easily Apply Speed Effects & One-Click Enhancements
Our Action Camera Center gives you everything you need to make quick edits, correct and enhance footage, as well as adjust frames, motion and more. Create the story you want, in just a few clicks!
Exceed Expectations
PowerDirector is renowned for being the world's fastest, most comprehensive video editing software. And with support for the latest video, photo, and audio formats, you'll be ready to tackle projects of any size.
Fast, by Design (Enhanced!)
Don't waste time waiting for your software to respond! Experience a superior editing performance with Intel 10th gen CPU optimization.
Professional Grade Support (New!)
Import and edit video shot on professional-grade cameras and in HEVC & VP9 10bit HDR10 & HLG, ProRes 10bit 4:2:2, XAVC 8bit 4:2:0 and MXF AVC 8bit 4:2:0 video compatibility. As well as support for AAC 5.1ch sound output.
Streamlined Workflow for YouTubers, Vloggers & Instagrammers
PowerDirector streamlines the workflow to make routine video production easier than ever – making it the best video editing software for Windows video creators!
Seamless Integration (New!)
Export your entire audio mix from PowerDirector directly into AudioDirector to deliver polished, pristine sound.
Nested Projects as PiP
Repurpose previous project files inside your new ones, and use keyframes to fully control the PiP object.
Audio Scrubbing
Hear audio while dragging the playhead through a project to quickly find a scene you need.
Video Pre-cut
Pre-cut long clips into short, reusable segments that you can use repeatedly throughout multiple projects.
Library Preview Window
Split-window mode for previewing clips, trimming, & inserting onto your timeline.
4K Preview
Preview your projects in 4K quality, and see how your video will look before you produce.
What's NEW:
In/Out PiP Transitions
Add dynamic energy by applying transitions to PiP objects.
Titles With Sound Effects
New animated titles with lively background sound effects.
Export Animated GIF
Easily create and share attention-grabbing GIFs.
Intel Hyper Encode
Boost performance by utilizing both integrated and discrete GPUs during production.
Slide Transitions Pack
Slide into the next scene with this pack of seamless transitions. Add them to your collection now.
Bright & Airy LUTs Pack for PowerDirector
This LUTs pack has the color palettes you need for a consistent style! Subscribe to PowerDirector 365 and get unlimited access to a growing collection of LUTs, templates, style packs, and background music.
Neon Stickers Pack
Attention grabbing, retro and cool. That's Neon! Get 20 vibrant stickers for you projects.
Nature Stickers Pack
Inspired by nature, add this large collection of 30 serene stickers to your collection.
Smoke Stickers Pack Vol. 2
These artistic stickers add a punch of color to your projects.
Social Media Stickers Pack Vol. 2
Whether it's for your social posts, or for a little burst of classic social media icons in your own projects, grab these 20 stickers.
Speech Bubble Titles
Draw attention to your titles with brilliant speech bubbles! This collection contains 20, grab them all now!
Clicks Sound Fx
A selection of 16 sound effects for your video projects.
Release Note:
Sound Fx: Natural Elements
Add sounds of the elements to your projects.
Summer Stickers Vol. 2
Summer is here and it's buzzing. Get into the summer vibe with 8 stickers.
Face Cover Stickers
Face cover stickers are innovative and fun accessories that allow individuals to express their personality and creativity while keeping their face covered.
Countdown Stickers
Countdown stickers are useful visual tools that add excitement and anticipation to any event or occasion, helping people keep track of time in a dynamic and engaging way.
Independence Day Stickers
Independence Day stickers are vibrant and patriotic decorations that allow people to showcase their national pride and celebrate the spirit of freedom and unity on this important holiday.
Father's Day Stickers Vol. 2
Let's say an extra thanks to the main man with these 15 stickers!
NEW Fonts
40 new fonts for your projects. Get them now.
Meta Sound Collection Background Music
Unlock thousands of new royalty-free background music tracks from the acclaimed Meta Sound Collection that fuels Facebook and Instagram. Choose the perfect background track for your latest video to complete your creative vision and keep your viewers bobbing their heads up and down to rock, electronic, jazz, hip hop, new age, or foreign pop music!
Black and White Outro Templates
Add a touch of effortlessness and golden-age appeal to your projects.
Download CyberLink PowerDirector Portable