Portable ScanTransfer Pro 1.4.4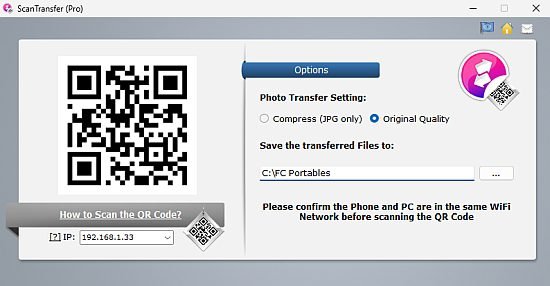 ScanTransfer Portable is smart software that allows you to transfer photos, videos and other files from your phone to your PC over Wi-Fi, without installing an app on your phone. ScanTransfer works with iOS and Android phones capable of scanning QR codes. You can scan using the iOS camera, Facebook or Twitter apps, or any other QR-enabled app.
The best part about ScanTransfer Portable is that the program DOES NOT REQUIRE you to install any apps on your phone. If you're using an iPhone or iPad, you don't even need to install the iTunes program. All you need to do is use your camera, Twitter or QR Scanner app to scan the QR code on ScanTransfer, then you can start transferring immediately. The program also allows you to transfer hundreds of files at once, and it will complete the task in seconds thanks to the technology that increases the transfer speed.
ScanTransfer Portable supports multi-device transfer, allowing you to transfer files from multiple smart devices at the same time. Moreover, your personal files and privacy will be well protected because ScanTransfer is a LAN (Local Area Network) application that will never leak your data.
Can transfer files from your Android or iPhone wirelessly
First of all, it should be pointed out that the program supports handheld devices running iOS or Android, but you need to pay attention to the requirements before starting the transfer, otherwise nothing will happen.
Once you've made sure that your phone and computer are on the same network, there are several options you need to consider regarding the photo transfer process. To be more specific, you can specify whether you want to keep the original quality of the images or you want to compress them. In addition, you are required for the output location.
Only requires you to scan the QR code
Once you're done, just scan the QR code that the app asks for. If you're using an iPhone, the easiest way to do this is to use your camera.
At this point, you will be able to select the photos and videos you want to transfer one by one or in bulk. There is no limit to the number of files you can send from your phone to your computer, and in terms of security, you may want to know that sending data over your local network ensures your privacy.
In our tests, ScanTransfer Portable worked flawlessly and we didn't have any problems. Its signature ease of use and responsiveness make it a user-friendly application that anyone can benefit from when trying to send files from a mobile device to their PC. However, it is hoped that data transmission in the other direction, i.e. from a PC, will also be possible in the future.
Download ScanTransfer Portable