Portable CyberLink Screen Recorder Deluxe 4.3.0.19620 Multilingual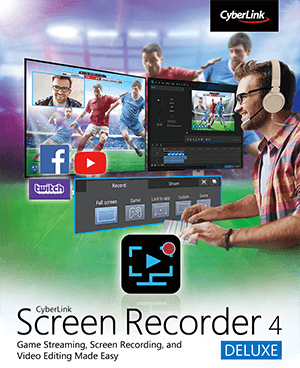 CyberLink Screen Recorder Portable delivers robust desktop capture and video streaming in a single application. No longer do game casters and online content creators need to juggle multiple applications or services for multistreaming video, or editing desktop capture to publish on YouTube or Facebook. Screen Recorder couples the easy-to-use editing features of PowerDirector – The No.1 Choice for Video Editors – with responsive, high-quality screen casting and capturing technology, making it the all-in-one solution for recording or streaming gameplay, vlogging, or sharing screen content with an online audience.
There are various reasons why you might want to share video content with the world. Whether it is a troubleshooting or application usage tutorial, a walkthrough clip in your gameplay, or an educational or business presentation, you can turn to a recording software utility, such as CyberLink Screen Recorder Portable.
Hiding behind a name that might be a bit minimalistic compared to the application's capabilities, the feature set of CyberLink Screen Recorder is not limited to capturing the screen activity, as you might think. Instead, its developers aim to provide an all-in-one recording tool that also allows video editing, sharing and streaming, in the attempt to avoid having to install separate applications to carry out all these tasks.
Record the screen activity or your gaming sessions
The interface is simple and functional. To begin with, CyberLink Screen Recorder enables you to choose what to record. It can capture the desktop activity targeting either the entire screen, a custom rectangular area, or the window of a specific application. Alternatively, you can configure it to record your game session, or capture the input of a device, such as a webcam. Resolutions up to 1080p and frame rates up to 120 fps are supported.
Optionally, CyberLink Screen Recorder can also capture mouse clicks, webcam, and microphone input. In other words, you can use it to create videos that are accompanied by audio comments or background music.
Custom control hotkeys and time-limited recording
The recorder has a default set of hotkeys associated with its main functions, such as starting or stopping the recording, pausing and resuming, toggling the microphone or the webcam on or off, or taking screenshots. You can customize them from the Settings window.
It's possible to set a time limit for the recording but, on the other hand, there are no scheduling or delayed capturing options available.
Video editing, sharing, and live streaming
CyberLink Screen Recorder also comes with an integrated video editor that enables you to enhance your footage. You can add titles and transitions, attach background music, or remove sections you don't like.
Once your video is ready to be shown to the world, you can share it on Facebook, YouTube, Vimeo, Dailymotion, Youku, or Niconico. On the other hand, bolder users can run live streaming sessions on Twitch, YouTube, or Facebook.
Stream live content, or record, edit and share videos
The goal of CyberLink Screen Recorder is to avoid having to download separate applications for recording, editing, sharing or streaming video content. Indeed, this application has it all bundled into a single package. With a few small improvements here and there, such as scheduling, delayed capturing, and extra items in the editor's toolbox (e.g., effects, watermarking, etc.), this application can become a real asset.
For Gamers & Streamers
Go beyond just streaming in-game action and start creating content that engages with your followers on Twitch, YouTube or Facebook. Integrate webcam commentary into livestreams, or record and edit gameplay to focus on the best bits.
For YouTubers & Vloggers
Powered by CyberLink's industry-leading video editing tools Screen Recorder is more than just screen capturing software. Record & edit content to provide your audience with videos that are detailed, high-quality, and informative.
For Work & Business
Make presentations more interactive with screen sharing through livestreams. Record video conferences, or create more effective training material by recording your presentations and editing them quickly with easy-to-use tools.
Livestream to Twitch, YouTube and Facebook (Enhanced!)
Using Screen Recorder you can connect directly to the platform of your choice and stream video in up to Full HD quality. Livestreaming gameplay to Twitch, YouTube or Facebook is a great way to share your love of gaming with the world.
Use a Custom Streaming Server (NEW!)
Not only does Screen Recorder let you stream to your favorite platforms like Twitch, Facebook & YouTube Live, it also lets you use custom streaming servers to reach your audience.
Multistream to Twitch, YouTube, Facebook and Custom Servers (NEW!)
Screen Recorder lets you multistream to up to five different services. This means you can simultaneously livestream to Twitch, YouTube, and Facebook, plus up-to two additional custom servers. It's an easy to reach a wider audience without the need for additional relay servers.
Reduced System Footprint
We understand that CPU and GPU processing power is vital for smooth gameplay and streaming. While other screen capturing solutions consume far too much of the precious processing power that gamers require, we've taken every step possible to ensure Screen Recorder minimizes CPU & GPU load as much as possible for your gameplay.
Integrate Your Webcam into Livestreams (Enhanced!)
Share more than just your gameplay. Share your gaming secrets, reactions and commentary with your viewers by integrating webcam & microphone audio and video on top of your in-game footage, even when you're streaming from a gaming console. You can also use chroma key to apply a custom background.
Record with Chroma Key (NEW!)
Get creative when adding webcam footage to your screen recordings. Remove the background from your webcam footage thanks to a powerful chroma key engine, and replace it with your own cool, creative background image.
Add Overlay Objects to Recordings (NEW!)
Overlay objects to your desktop and webcam recordings. It's an easy way to brand your videos, promote a sponsor, or add a unique watermark to your recordings.
Customizable Hotkey Support (Enhanced!)
Get recordings started quicker, mute and unmute instantly, pause without having to touch your mouse, and quicklt take screenshots by setting customized hotkeys for recording and streaming.
Record from PC or Connected Device
Whether you're a vlogger, gamer, or how-to expert, Screen Recorder will have you producing high-quality, detailed videos in next to no time. Record your whole screen, just a window, or lock to a specific app. For gamers, you can record gameplay from your PC even in exclusive mode, and also capture directly from your gaming console!
Easy-to-use Editing Tools (Enhanced!)
Don't spend hours figuring out how to edit your footage. Screen Recorder comes with a remarkably simple editing interface that allows you to quickly import and trim your footage, add titles and transitions, and also now add two unique audio tracks.
Real-time Webcam & Mic Preview (NEW!)
Setup recordings faster with real-time webcam & mic previews. See exactly what you'll look like before you hit record using the preview window, and quickly adjust resolution and settings. The microphone preview allows you to quickly adjust volume and preview audio levels.
Record & edit presentations
Allow staff to review presentations by recording, editing, and publishing them online. Perfect for visually explaining things to collegues, creating tutorials or interactive visual training guides for your teams.
Livestream directly to your audience
It's the easiest way to hold interactive presentations and connect with customers and staff.
Supported Languages
– English
– French
– German
– Italian
– Dutch
– Spanish (European)
– Chinese Simplified
– Chinese Traditional
– Japanese
– Korean
Download CyberLink Screen Recorder Portable