Portable Signal for Windows 1.39.5 (x64) Multilingual
Privacy-focused and secure messaging applications are not a novelty. Be that as it may, they're still not widely used, since we all know what advantages other, more mainstream platforms bring to the table.
The thing is, all those advantages come at a great cost usually in the form of our privacy and personal data.
Nowadays, there are a couple of good options when it comes to highly secure messaging apps, but probably none more popular than Signal Portable.
State-of-the-art end-to-end encryption (powered by the open source Signal Protocol) keeps your conversations secure. We can't read your messages or listen to your calls, and no one else can either. Privacy isn't an optional mode — it's just the way that Signal works. Every message, every call, every time.
There are no ads, no affiliate marketers, and no creepy tracking in Signal. So focus on sharing the moments that matter with the people who matter to you.
Signal is an independent nonprofit. We're not tied to any major tech companies, and we can never be acquired by one either. Development is supported by grants and donations from people like you.
What is Signal?
Signal is a secure and open-source messaging with a strong inclination towards privacy protection enforced by one of, if not the best encryption algorithms out there called Signal Protocol.
The platform was founded in 2013 by Matthew Rosenfeld, founder of Open Whisper Systems. Everything is founded by the Signal Technology Foundation (Signal Foundation), a fully independent non-profit organization, and, might we add, with no links to major tech companies.
Getting started with Signal
Signal Portable features bespoke, secure, and cross-platform clients for the most popular phone platforms such as iOS and Android, as well as Windows, macOS, and Linux.
First, you'll have to install Signal on either your iOS or Android device. Next, follow the on-screen instructions to complete the registration process which involves you having to enter your phone number (used to, receiving a unique access code that you'll have to enter within the app, and that's about it.
Please note that the phone number is used to link up your contacts and that the whole service works using the Internet. Furthermore, you can only contact and chat with people in your Contacts who themselves have Signal installed.
Installing Signal Desktop on a Windows device or on macOS is done with no more than a few clicks. Because your phone number is the only way for the app to identify you, you need to link your account (from your phone) to Signal Desktop. Don't worry, the process is quite straightforward, as it only requires you to scan the QR code that Signal Desktop displays when you launch the app for the first time.
What makes Signal worth your attention?
There are a lot of benefits that Signal Portable brings to the table. Security-wise, the Signal protocol is generally considered to be the most secure protocol out there. So much so that other messaging platforms have recently implemented it. Some of the biggest names include Facebook Messenger, Skype, and WhatsApp.
However, when it comes to privacy trust is a big factor, and there's also a discussion about the collected data. Thankfully, Signal only records a fraction of the information when compared to other messaging platforms (we'll talk about this point a bit later in the review).
The main benefit of Signal Portable is of course related to the fact that it uses end-to-end encryption. Messages are encrypted on your phone, tablet, or computer (in the case of Signal Desktop) before being sent, and only the recipient can decrypt them.
Another great benefit of Signal is the fact that everything is open-source. This means that the code can be independently audited by literally anyone, competent parties included.
What about data collection?
If you're worried about potential data being collected, then don't. As mentioned before data is store in encrypted form on your devices.
The only bit of relevant information stored on the Signal servers for each account is the phone number required you registered with, the specific date and time you joined Signal, and the last log-in date.
If you're really worried about your telephone number being used for this purpose, then rest assured that there's a work-around even for that. Just look at a tutorial online.
If you're the type that has a passion for research, then know that the service is fully GDPR compliant, and you can look up many of the published transparency reports for Signal, all publicly available on the Internet.
Privacy is nice, but what about features?
Even though Signal's main mission is to offer an arguably air-tight security messaging experience, you can rest assured that it doesn't compromise in terms of features.
You can share text, voice messages, photos, videos, GIFs, emojis, stickers, and files at no cost. You can make audio or video calls, create chat groups, connect with your friends, family, and coworkers as easily as you would by using any modern messaging app.
Signal also features disappearing messages (messages that will self-destruct). You can set messages to disappear from both you and the recipient's device after a custom amount of time.
The interface for both mobile and desktop apps is not spectacular in terms of looks (not that it should be sparkly and eye-catching), but everything is where it should be.
Both mobile and desktop clients are remarkably user-friendly, making it perfect for a broad range of people.
What's NEW
We fixed a bug that occurred after first setting up Signal Desktop where the initial messages in a "Note to Self" conversation didn't work. Now you'll only see mistakes when you talk to yourself if you make them yourself.
Link previews for YouTube Music no longer end on a bad note.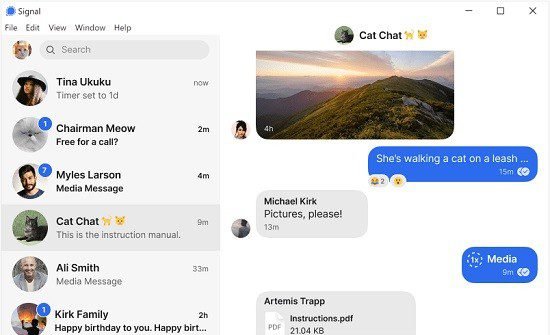 Download Signal for Windows Portable