Portable Asoftis Burning Studio 1.6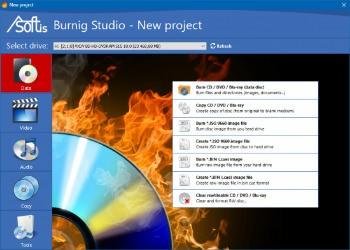 Asoftis Burning Studio provides a comprehensive toolset for burning or copying data and video discs, and creating ISO images. The application is compatible with various media types: CDs, DVDs and Blu-ray discs (including rewritable ones).
Compatible with all types of media, such as M-Disc, mass storage Blu-rays (BD-XL), standard Blu-rays (BD-R, BD-RE, BD-R DL, BD-RE DL), Dual Layer DVDs (DVD + R DL and DVD-R DL), standard DVDs (DVD-R, DVD + R, DVD-RW, DVD + R, DVD-RAM), and standard CDs (CD-R and CD-RW).
Supports data structures for DVD Video Disk (*.vob, *.ifo, *.bup) and automatically prepares structure folders to be written in. With Blu-ray Video discs it supports the hard drive structure by transferring it and also AVCHD data coding for Blu-ray burning.
The application allows you to burn traditional data on all types of media of all sizes. With non-closed media, you can add – update – additionally burn or "delete" data.
Supports all methods of writing TAO, DAO and DAO96, data types of media ISO 9660 (including Joliet, level 1 to 3, and Romeo), UDF (all versions including partition) and a combined ISO / UDF type. Naturally, everything is pre-set so it can be used immediately without the need for any setting up.
Supports all media types including Blu-ray, M-Disc, RW, DL, etc.
Uses an internal driver for burning and allows you to burn even in a corrupted system
Burns, makes copies, rewrites and appends all types of media
Supports all writing method (TAO, DAO, DAO96, etc.)
Benefits of the application:
– Using its internal burn driver or switching to a Windows ASPI driver
– Saving a project for later use where current files from the hard drive are always burned onto the disc from the original location
– Detailed settings of ISO 9660 or UDF for experts, including configuration help
– Supports all interfaces: EIDE, USB, FireWire (IEEE-1394), Thunderbolt, SATA, e-SATA