Portable Phoenix File Rescue 1.31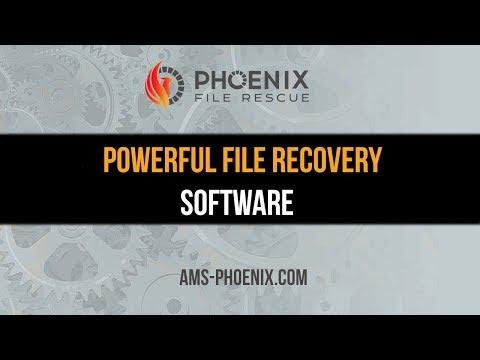 Need some emergency assistance to recover your lost files? Don't panic! Situations where valuable information is erased from a storage device happen all the time. In 99% of cases, the lost data can be restored painlessly. Now, you can do it yourself in just a few minutes' time. You do not need to turn to a specialist anymore — Phoenix File Rescue Portable, the powerful and easy-to-use file recovery program, is here to help. This software can restore deleted files in all popular formats, on a variety of devices and storage media: hard disks, SD cards, USB drives, digital cameras, mobile phones, and tablets. Recover your data in just three simple steps!
Supports various types of files
Relying on advanced file recovery algorithms, Phoenix File Rescue can scan hard disk partitions, removable file drives, or memory cards to detect files that can be retrieved.
The array of file formats supported by the application is enough to meet the requirements of most users. It can recognize some of the most popular multimedia formats (AVI, MP4, MP3, MKV) and images, documents, including Office, PDF and RTF files, as well as archives (ZIP, 7z), and other types (HTML, PHP, and XML). Moreover, you can filter the search results by the size of the file.
Save or burn files to disk, or upload them via FTP
Depending on your selection, the analysis takes more or less time to complete, and the list of files that you can recover is built. The results can be sorted by name and filtered by various criteria. Furthermore, Phoenix File Rescue comes with file preview capabilities, allowing you to take a look at photos to recover.
The recovered files can be saved locally to a folder of your choice, but you can also burn them to a CD or a DVD, or upload them to an FTP server. These options make sure you create a backup of the file as soon as it is restored by Phoenix File Rescue.
Restore lost data from various sources
Thanks to the wizard-like approach, Phoenix File Rescue makes data recovery a matter of a few clicks. The application promises to discover files that can be restored from hard disks or removable drives, as well as cameras, tablets, or smartphones, allowing you to get them back without a lot of hassle.
Phoenix File Rescue is a perfect choice if:
• your data storage device isn't physically damaged
• your computer recognizes the device
• you lost your data due to a system error, accidental deletion, or formatting
• you're running a Windows operating system
Using the latest algorithms, the program can scan any Windows disk or external storage device and instantly restore files of almost any type without damaging your other data. Phoenix File Rescue Portable successfully brings your electronic documents, photos, videos, music, archives, and even e-mails back from the dead. Two file recovery methods cover virtually all data loss situations, such as hard disk damage, accidental deletion, disk formatting, hardware malfunctions, malware infections, system errors, etc.
Phoenix File Rescue Portable requires no special knowledge or complicated, manual setup to use. Beginners and advanced users alike can effectively restore damaged and deleted files. All you need to do is follow clear prompts in the program. You can save time searching for files if you know their formats and their approximate sizes.
Looking for powerful file recovery software?
• You'll love the intuitive, easy-to-use interface, specially designed to be comfortable to work in.
• Convenient search filters for file type and size help you save time and find just the files you need.
• Thanks to the image preview feature, you can make sure the program has found the photo you're looking for.
• See the probability of recovering your deleted files before even starting the recovery process.
• Restore deleted files while preserving the original filenames.
Download Phoenix File Rescue Portable
Uploadrar – 30.8 MB
Hexupload – 30.8 MB