Portable Trascend RecoveRx 4.2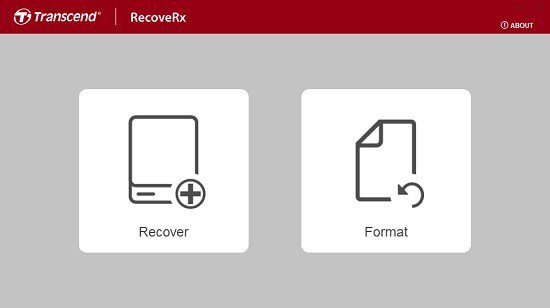 Transcend's exclusive RecoveRx Portable software features a user-friendly interface that allows you to search deep within a storage device for traces of erased files that can be rescued; the files include digital photos, documents, music and videos. RecoveRx supports almost all storage device types including memory cards, MP3 music players, USB flash drives, external hard drives and solid state drives.
With just a few mouse clicks, you can easily recover virtually any type of digital file. Moreover, RecoveRx Portable Software supports StoreJet/SD Cards/CompactFlash Cards Formatting and Data Protection functions, providing you the ultimate convenience to manage your memory device.
RecoveRx is an intuitive application designed to help you retrieve lost or deleted files from external hard drives, USB flash drives, SSDs, memory cards and digital music players. What's more, it lets you format and password-protect SD cards.
Restore lost or deleted files
The program's main function is to help users find and retrieve files that have either been erased or lost because of other issues. It can scan the device for any such data that can be recovered and save them all on a different drive.
While the recovery process is underway, you are given an estimate of how much longer the job will take. You can also stop the operation at any time without losing the files that have already been recovered.
Search for specific types of files
Naturally, you may only be interested in restoring images, videos or documents. The application lets you specify which extensions should be included in the search in order to avoid recovering unwanted files.
However, you are not shown a preview of the files before the recovery process starts, so it is impossible to find specific items before beginning the operation.
Format and lock SD memory cards
Aside from recovering data, the program also enables you to clear the contents of memory cards and Storejet devices. You can either run a fast or complete format.
Lastly, if you own a Transcend memory card, this application allows you to encrypt it with a password using the RDF8 card reader.
Recovery
Provides basic recovery and advanced recovery functions to bring the lost digital photos, documents, music and videos back.
Formatting
Supports formatting SD memory cards, CompactFlash memory cards, and StoreJet devices.
Supported Models
External Hard Drives
USB Flash Drives
Portable Solid State Drive (SSD)
Memory Cards
Digital Music Players
JetDrive Go
RecoveRx supports the following operating systems:
Microsoft Windows XP
Microsoft Windows Vista
Microsoft Windows 7
Microsoft Windows 8
Microsoft Windows 8.1
Microsoft Windows 10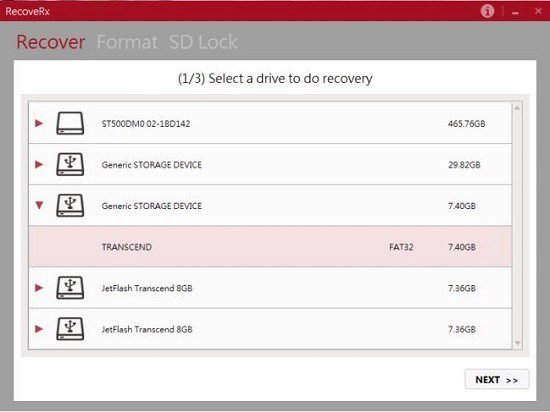 Download RecoveRx Portable Software
Uploadrar – 6.2 MB
Hexupload – 6.2 MB