Portable VovSoft Text to MP3 Converter 2.7.0
VovSoft Text to MP3 Converter Portable is an innovative software tool that enables users to convert text files to high-quality audio files. With this powerful tool, users can easily and quickly convert their written documents such as articles, e-books, emails, and other text-based content into spoken words, making it easier for people who prefer listening to reading.
The VovSoft Text to MP3 Converter Portable is designed with a user-friendly interface, which makes it easy for anyone to use. The program's layout is straightforward and intuitive, allowing users to quickly get started with their audio conversion projects. Users can import any text file into the software, including DOC, PDF, TXT, HTML, and RTF formats, among others.
Once the text file has been imported, the next step is to select the voice that will read the document out loud. The software comes packed with a range of natural-sounding voices, including male and female ones, each with a unique tone and accent. Users have the option of adjusting the volume and speed of the voice, ensuring that the final output meets their preferences.
Another exciting feature of the VovSoft Text to MP3 Converter is the ability to customize the audio output. Users can choose from a variety of audio file formats, including MP3, WAV, and WMA, depending on their needs. Additionally, the software allows users to add background music and sound effects to the audio file, creating a more engaging and immersive listening experience.
The VovSoft Text to MP3 Converter Portable is also highly versatile, allowing users to convert multiple text files simultaneously. This feature saves time and effort, especially when dealing with large volumes of text-based content. Users can even set the software to automatically convert new text files added to a specific folder, ensuring that they always have the latest audio versions of their documents.
One of the most significant advantages of the VovSoft Text to MP3 Converter is its portability. The software can be installed on any Windows PC, making it accessible to users who work from different devices or locations. The program's small size also means that it does not take up much disk space, making it suitable for use in low-specification computers.
In conclusion, the VovSoft Text to MP3 Converter Portable is an excellent tool for anyone who wants to convert their written documents into spoken words. Its user-friendly interface, multiple voice options, customizable audio output, and batch conversion capabilities make it a valuable asset for authors, students, professionals, and anyone who prefers listening to reading. With this software, users can enjoy high-quality audio versions of their favorite texts, bringing them to life in a whole new way.
If you need to simply convert some text into audio content or you're just looking for a way to preview some content without having to actually spend time reading it, Text to MP3 Converter can do both, offering you choices for the used speech engine, as well as the output audio format. The two main options offer users the choice of increased quality (WAV) or a more compact recording (MP3). "Speech Speed" option allows from 10x slow to 10x fast playing and recording. If you seek a basic application that can help you perform text to audio conversions, without having to resort to complex steps and configuration processes, try out this simple yet quite capable software.
Key Features of Text To MP3 Portable
Speech speed (fast-slow)
Voice pitch (high-low)
Spell
Emphasize
Multiple speech engine support
Read aloud
MP3 export
WAV export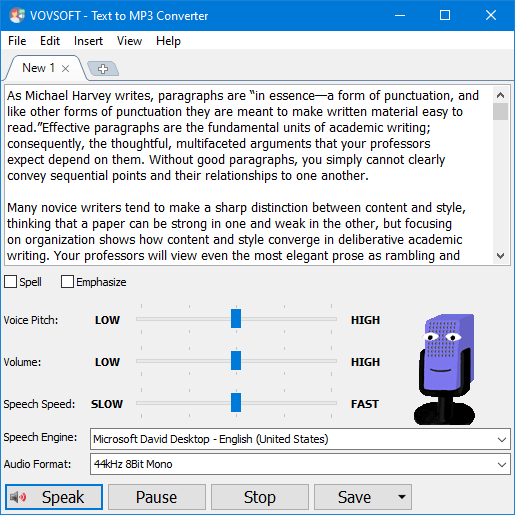 Download Text To MP3 Portable