Portable AVCLabs Video Blur AI 2.0.0 (x64) Multilingual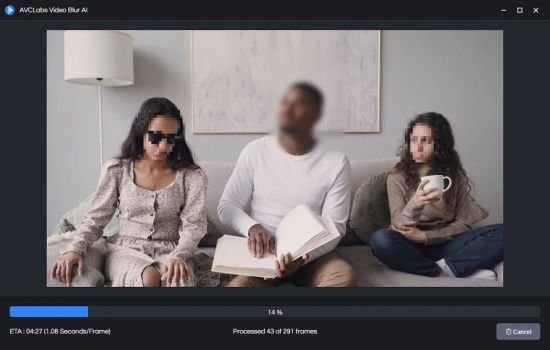 The AI-powered video blur app offers two options to blur videos: face anonymization and object blurring. This automated application for deep-learning-based vision recognition can be used to anonymize unwanted objects such as people's faces, logos, license plates, or credit card numbers, without too much human involvement, all done automatically by the compliant anonymizer algorithm.
Deep Privacy Preserving. Blur and Anonymize
If you're looking for an AI-powered and top-notch video blur app that offers precision and flexibility, look no further than AVCLabs Video Blur AI. Whether you want to blur faces or blur video objects that you do not want to appear in public, it has you covered. This is the unique and simplest app you need for perfect video blurring! Applying the blur effect, which is compliant with the generative adversarial network for face anonymization, will selectively and intelligently pixelate or censor the faces (even the multiple moving faces) or other unwanted objects in a clip, making it impossible to identify people and sensitive information in your videos. The great thing is that the use of deep-learning techniques makes the video and face blur automatically processed at the click of a button. AI will do the rest, without any complicated editing steps.
What Can I Do with Video Blur AI Portable?
The idea of being watched 24/7 has become reality with the rise in the use and prevalence of closed-circuit and monitoring cameras. There are many concerns about individual privacy and data protection. In this case, the anonymization of videos by blurring faces and other sensitive information is a big step in any endeavor to protect privacy (identity, location, or confidentiality) from surveillance by third parties like corporations who may want access for their own purposes.
AVCLabs Video Blur & Face Blur is a powerful yet easy-to-use video blur app that allows you to protect user privacy by blurring faces or other objects in your videos. With AI and deep learning techniques, this video blur app can assist with enhancing security for sensitive data like credit card numbers, license plates, and more.
Release Note
Introduce a new UI.
Add foreground and background blur options.
Download Video Blur AI Portable