Portable Windows Movie Maker 2023 v9.9.9.9 (x64)
Make your own movie using Windows Movie Maker Portable .With Windows Movie Maker, you can quickly turn your photos and videos into polished movies. Add special effects, transitions, sound, and captions to help tell your story. Share the movie with friends and family. Windows Movie Maker is a easy-to-use & powerful video creating/editing software application, designed for latest Windows7, Windows 8, Windows 10, Windows 11.
The old version works for Windows Xp and Vista. Windows Movie Maker contains features such as effects, transitions, titles/credits, audio track, timeline narration, and Auto Movie. New effects and transitions can be made and existing ones can be modified using XML code. Windows Movie Maker is also a basic audio track editing program. Windows Movie Maker Portable can apply basic effects to audio tracks such as fade in or fade out. The audio tracks can then be exported in the form of a sound file instead of a video file.
Key features – Windows Movie Maker Software:
With Windows Movie Maker, it's easy to organize and select the photos and videos you want to use in your next movie.
With Windows Movie Maker Portable, you can add text, transitions, effects, and more. Change as much as you want, or let Movie Maker do it for you.
Post your movie to your favorite sites, including YouTube, Facebook, Windows Live SkyDrive, and many others, right from Windows Movie Maker.
Offers a large working space
The bigger your monitor is the better, as the interface is split into several segments, each one with a well-designated role. The upper half is reserved for file input, where each image will be loaded as a thumbnail, respecting the upload order. A little bit to the right, you can find the preview screen, where you can test your work while in progress. This screen is backed by a media player that can play and pause the video, a fullscreen and a snapshot option.
Moving down to the other half, you can notice the effects toolbar and the timeline view slider. When you access one of the effects, the contents will be displayed where you first uploaded the pictures. For example, if you want to add a transition effect, pick one from the list, preview it and apply it generally or selectively.
Extra tools that may come in handy
If you access the TOOLS menu you quickly figure out that the application hosts several small applications that further enhance the process. A neat file converter, a compact editing tool and even a DVD maker are available for usage, without any restrictions. Each of them has an individual UI and can be very helpful, depending on the situation, as they can be used independently.
What you can do with Windows Movie Maker Software:
Try an AutoMovie theme
Just pick the photos and videos you want to use, and Movie Maker does the rest.
Share with friends
Once your movie's done, it's easy to post it on popular social networking and video sharing sites.
Add your photos and videos
Import photos and videos from your PC or camera into Movie Maker to start making movies.
Edit the video
Make your movie look like you want it to, with editing tools that let you easily trim, split, and speed up or slow down your movie.
Edit the audio
Add and edit your movie's sound track. Adjust the volume, fade music in or out, and more.
Below is the main interface of the latest version of Windows Movie Maker. The core feature is the Timeline. You can drag & drop images, video clips, audio, text and any other elements to timeline. It's very easy to put your images side by side and make a slideshow movie. Then you can add text to target images, add music to the movie, etc.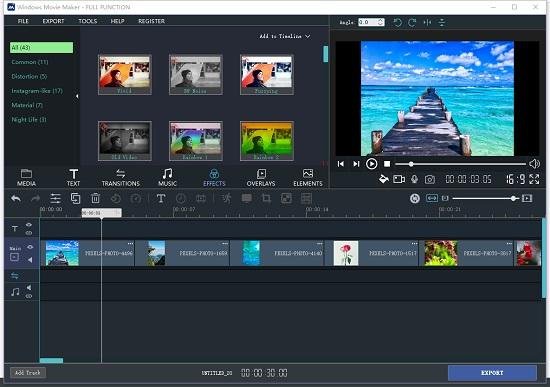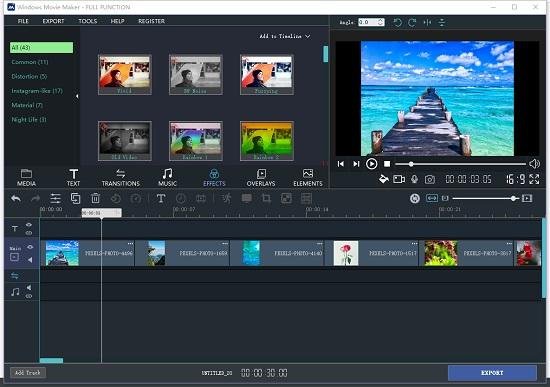 Download Windows Movie Maker Portable