Portable All Video Downloader Pro 7.15.6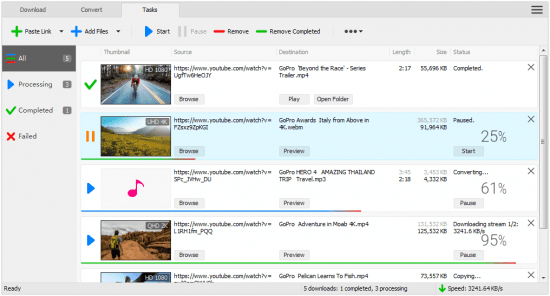 All Video Downloader Portable is a professional Windows app for downloading and converting your favorite videos from video sharing sites. It accelerates your downloads by up to 5 times!
There are a lot of situations where we would wish we had our favorite online content available to view offline. There are multiple scenarios, but the main problem in all of them would be the absence of an internet connection.
All Video Downloader is a neat tool that can help you download your favorite video content. Featuring a simple, light interface with intuitive commands, this program can be of great use for you.
Download videos with ease
The application supports hundreds of websites, including the popular YouTube, Dailymotion, and Facebook. The download process is pretty straightforward, as you just need to copy and paste the URL and you are ready to begin.
If there is a playlist of videos that you wish to get, you don't need to download each of them individually. You have the option of downloading the entire playlist at once, making it much quicker and more convenient to get your favorite content.
Various options
If you want to download a music video, chances are that you only want the audio from it. In this case, you can simply select the option that will do just that, so you can get the song without any video material.
All Video Downloader also works as a converter, with a plethora of supported formats at your disposal. Not only can you download files directly as whatever formats you want, but you can also convert those you already have on your PC.
And the conversion is not limited only to video formats. It supports a multitude of audio file types as well and can also convert to formats specific to a certain device, like an iPhone for example.
Conclusion
The program really is neat and can help you greatly if you want to download online videos. There are a lot of other applications available, but All Video Downloader holds its own with the number of features it offers.
Features
Download videos from hundreds of video sharing sites.
All Video Downloader Pro can download videos from YouTube, Facebook, Dailymotion, and hundreds of other video sharing sites. After downloaded, you'll be able to play them smoothly on your PC or mobile devices, even if you don't have internet access.
Accelerate downloads by up to 5 times.
All Video Downloader Pro features a multithreading download acceleration engine that can boost and increase your download speeds by up to 500% faster.
Download 4K, 2K, HD 1080p, HD 720p, and 3D videos.
All Video Downloader Pro allows you to download videos in different resolutions, including 4K/2160p, 2K/1440p, HD 1080p, HD 720p, 480p, 360p, and 240p. You can download 1080p HD videos to enjoy quality graphics on your TV, you can also download 240p videos in order to save space on your mobile devices.
YouTube to MP3 downloader.
All Video Downloader Pro allows you to download only audio stream directly from YouTube and save it as MP3, without downloading the entire video file.
Download entire playlist from YouTube at one time.
All Video Downloader Pro enables you to download an entire YouTube playlist with just a few clicks. All videos in the playlist can be downloaded automatically at one time.
Download multiple videos at a time.
All Video Downloader Pro supports simultaneous downloads that allows you to download more than one video at the same time.
Download subtitles in selected language and format.
Pause and resume downloads.
You may pause your downloads at any time. All Video Downloader Pro can resume broken download from where it was interrupted. You don't need to start from the beginning again.
Preview incomplete video while downloading.
While downloading, you can click the Preview button to play incomplete video and make sure that the content you are downloading is really the video of your choice.
Convert downloaded videos to any format.
All Video Downloader Pro can automatically convert downloaded videos to the format you choose. It supports MP4, FLV, WMV, MOV, ASF, AVI, DV, M4V, MKV, MPG, OGV, SWF, TS, VOB, WEBM, DVD, VCD, SVCD, and many others.
Optimize downloaded videos for any device.
All Video Downloader Pro can automatically optimize downloaded videos for your mobile devices, so you can watch them on your iPhone, iPad, Android phone, Android tablet, Xbox, Windows phone, PSP/PS4/PS3, Samsung Galaxy, etc.
Video to MP3 converter.
All Video Downloader Pro is capable of extracting audio streams from videos and save them as MP3, WAV, WMA, AC3, AAC, OGG, M4A, FLAC, MP2, or any other audio format.
Video and audio converter.
All Video Downloader Pro is a powerful video and audio converter too. It allows you to convert any video/audio files on your disk to the format you wish so that they are playable on your media player or mobile devices.
Ready-made video/audio format presets.
All Video Downloader Pro provides ready-made presets for all popular video and audio formats. You can also custom output video/audio format settings.
Schedule downloads.
All Video Downloader Pro can automatically start downloads at a set time, and shut down your computer when all done. You will no longer have to wait for your long list of videos to finish downloading.
Support drag-and-drop.
You may simply drag and drop a video link/URL from your web browser to All Video Downloader Pro's Drop Box to start a download. You don't even need to copy and paste video link/URL manually.
All Video Player.
All Video Downloader Pro includes a simple and easy-to-use media player – All Video Player, for playing MP4, WebM, FLV, MP3, AAC, and any other format video/audio files that Windows Media Player cannot play.
Download All Video Downloader Portable