Kigo Amazon Prime Video Downloader 1.5.7 Multilingual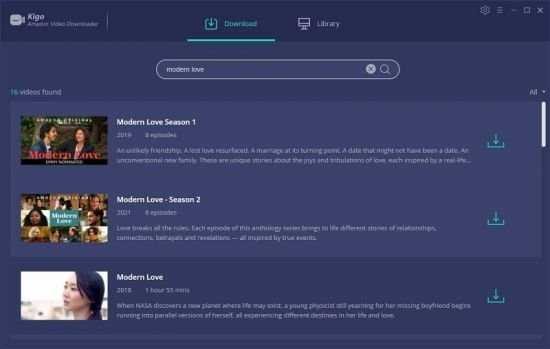 Amazon Prime Video Downloader Portable helps users to download the selected TV series and movies or other videos from Amazon Prime Video limitlessly so as to watch offline later on your computer, mobile phones, smart TVs or tablet.
After the downloading, when you are on the go, or have a road trip, or on a flight, or other no internet cases, you can still play Amazon Prime videos freely.
All movie streaming platforms are gaining a lot of popularity these days, and Amazon Prime is not different. However, despite supporting a wide range of movies and programs, you can only watch them, as downloading them is restricted.
And this is where Kigo Amazon Prime Video Downloader can come in handy.
Amazon Prime account needed
It needs to be emphasized from the beginning that you need to first login using your Amazon Prime credentials, otherwise you cannot enjoy the functions of this app.
Once this step has been completed, you can start searching for your favorite movies, episodes or shows until you find the one you want to download (you can look for relevant keywords or type the exact title altogether). Alternatively, you can just paste or drag and drop the video URL onto the dedicated field.
Customize several output settings
Before initiating the download, you should take some time to create the configuration that best suits your preferences. You can adjust the video quality and audio type, as well as select the destination folder.
Additionally, you can choose the audio and subtitle languages you like best. Also related to subtitles, you can save them as internal, external or hardcoded subtitles.
Once the videos have been downloaded, you can explore all the completed tasks and enjoy them on your PC.
Support Full HD Downloading
As known, Amazon Prime offers both 1080p Full HD and 4K Ultra HD resolutions for streaming, as well as HDR video support. Unlike Netflix, with the only $8.99/Month, you don't have to pay extra, both 1080p and 4K are included. And you can also download up to 1080p with Amazon Prime Video Downloader.
Keep Multiple Subtitles and Audio Tracks
According to the movies or TV series, the subtitles and audio tracks are also various. During the downloading process, all the multilanguage subtitles and audio tracks can be downloaded along with the videos.
Other Amazing Functions
Download Amazon Movies and TV Shows in HD Quality on PC.
Smart Search
Kigo Amazon Prime Video Downloader built-in smart search engine helps you find videos fast. If you search a TV show, there will be a prompt indicating you to select season and titles and start downloading what you want.
Save Amazon to MP4 Format
Save to MP4 format playable on any video player like WMP, VLC, Roku, RealPlayer, Amazon Fire TV, Microsoft Xbox 360, Samsung Phones, iPhone and other Android phones and Android Tablets.
Three Subtitles Saving Modes
One video always has several subtitles for users to choose. With Kigo Amazon Prime Video Downloader, you can not only download these subtitles offline, you can also subtitles as the internal subtitles, external subtitles and hardcore subtitles as you need.
Fast, Simple and Easy
The Amazon Prime Video Downloader is designed to grab and download Amazon Prime videos directly. It also supports Intel / Nvidia / AMD hardcore acceleration if possible. And the download speed is also ideal and you can choose the download quality.
Download Amazon Prime Video Downloader Portable