Portable Bandizip Professional 7.29 (x64)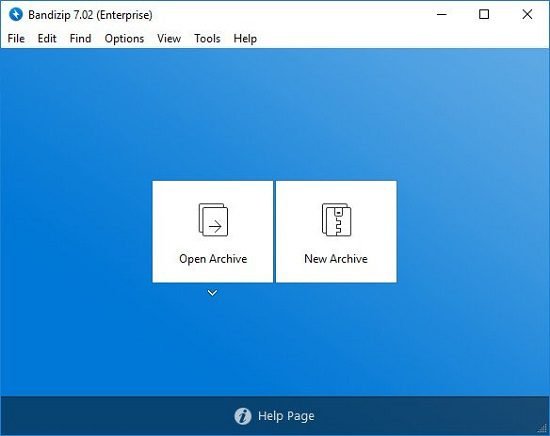 BandiZip Portable is an intuitive and fast archiving application that supports WinZip, 7-Zip, and WinRAR, as well as other archive formats. BandiZip supports for ZIP, 7Z, RAR, ALZ, EGG, TAR, BH, LZH, GZ, BZ2, ISO, CAB, WIM, XZ, ARJ, and Z archives files and users can create self-extracting files (.EXE) and multi-volume (split) archives files. Bandizip has very fast Zip algorithm for compression & extraction by "Fast Drag and Drop" and "High Speed Archiving" function.
When you archive multimedia files (AVI, WMV, MP3…) or archived files (ZIP, RAR, 7Z…), you can't get good compression results. These files are hard to compress and sometimes the file size could be bigger than the original one. Bandizip's "High Speed Archiving" function will allow you to compress or bypass the files its own algorithm. It will increase the archiving speed dramatically.
A number of file archiving software extract files to temporary folder, and then it copies the files to the targeted folder. BandiZip's "Fast Drag & Drop" function does not use temporary folder, and it just extracts to the targeted folder directly. It will increase the extraction speed dramatically.
Another advantage of BandiZip is that it supports Unicode system perfectly. BandiZip has "Code Page", and it will allow you to select a language in archive without breaking international characters. With "Fast Drag & Drop", "High Speed Archiving", and "Code Page" functions, BandiZip might be the sensation in archiving software market.
Back in the days when floppy disks roamed the digital world and file archives were just emerging concepts, there wasn't much choice in terms of compression software. Nowadays, there's increasing availability and diversity for such apps, therefore standing out in such a pool usually takes something different. Bandizip Portable aims at impressing users with a compression and decompression tool that sports a comprehensive format compatibility list, coupled with intuitive handling for keeping things accessible.
Choose to either zip or unzip files, and preview their content with a capable archive visualizer
There are two big selector buttons on the main interface, which allow one to either compress or decompress data. We liked the simplicity of the concept and the design, as it leaves little to be desired, while still retaining the minimalism required for novices or those who appreciate it.
Furthermore, the provided archive viewer is also quite well-designed, offering a standard view of the loaded files, with customizable data columns, which can be rearranged according to one's particular requirements.
Customize your OS experience thanks to the extensive settings on offer, which also feature strong context-menu integration tools
Of course, what good would a file zipper be if it weren't for its system integration features, and especially the context menu? And this is where Bandizip manages to offer a good degree of configuration, thanks to the dedicated features addressing the integration process.
Furthermore, since we're talking configuration, we believe that the entirety of the settings bank offers an ample amount of categories, each with an impressive amount of sub-entries, which we could see as quite fit for attaining your preferred setup in no time.
Useful zipper that provides support for an extensive list of formats and also offers quite good configuration
This software addresses those who need a capable archive tool, to help them compress or decompress files, in and from a wide range of formats, using an accessible platform.
Release Note:
Added a feature decompressing UU/UUE/XXE/PEA archives
Fixed a security issue that may occur when processing Zone.Identifier information (Thanks to Nobutaka Mantani)
Fixed a bug that "Extract each archive here (Smart)" and "Extract to separate folders" do not work correctly when you select multiple files and right-click them under certain conditions
Added a feature that can give a sparse property to the extracted files when the program extracts files from TAR archives having a sparse property
Added a feature copying full paths of selected files and folders to the clipboard
Fixed a bug that the program crashes when decompressing ZPAQ archives on a device with 32 plus logical processors
Fixed a bug that occurs when using the feature "Delete the archive after extraction" with an encrypted archive
Fixed a buffer overflow vulnerability occurring under certain conditions
Added a feature recognizing an empty string as an archive's password
Fixed a bug that when adding a folder to an archive by drag & drop on File Explorer, only files are added with no folder name
Fixed a bug that the tooltip over the ad space does not disappear
Other modifications
Download Bandizip Portable